It's time to resume my role as the new Mel Bracht of the local sports media!
Yesterday morning, KREF 1400AM – the long-running Norman-based AM sports radio outlet – shook the local sports media world when they announced they're partnering with I Heart Radio and taking over the beaming 94.7-FM frequency, and in the process, flushing something called The Brew down the toilet.
Here are some quotes via press releases:
"We are thrilled to enter the sports talk arena with such an outstanding lineup," [I Heart] Area President Jon Phillips said in a release. "This talent base is very aligned with Oklahoma University sports and we feel this will give us a unique advantage in creating content that is focused on the biggest sports entity in the state… We feel this partnership will greatly benefit both parties and ensure that Sooner fans can get reliable, accurate and timely coverage."

Casey Vinyard, owner of SportsTalk Media, which is the banner KREF operates under, added, "Our team of talented on-air sports talk professionals welcomes the opportunity to bring 'The Home of Sooner Fans' to a large FM signal in addition to our 1400 AM signal and streaming platforms. On behalf of the entire SportsTalk Media team, I'd like to thank Jon Phillips and iHeartMedia Oklahoma City for partnering with us at KREF."
Just like every other American male, I don't listen to as much sports radio as I once did thanks to all the choices of the attention economy, but I guess I approve of this news. Outside of Sam Mayes and their morning guys, The Franchise can be unlistenable at times, and there's only so much Regular Jim Traber mouth-breathing about poker and bitcoin a man can handle in the late afternoon, so it will be nice to have another FM sports channel to flip to while I'm in the car, and too lazy to connect my phone to bluetooth.
In addition to the FM switch, The Ref – which I guess is what it's called now – also parted ways with local Six-Star Superprep Rivals 100 Midlands Parade All-American OU Fanboy James Hale. It looks like James is now going the Patreon route. That's probably a good move for him. He will still be able to connect with his loyal followers, stalk 17-year-old high school football recruits, and have plenty of extra time to keep the cars of OU coaches clean and shiny. Well, that is if Carey Murdock doesn't beat him to it.
Replacing James is local radio legend Mike Steeley. Mike will take the stage from Noon - 2pm on weekdays with The Ref intern Tony Doorhut. I've been a Steelman fan dating back to his afternoon days on the old Sports Animal, and listened to him, Lump and Pork religiously back when I worked the corporate grind in the early to mid-aughts. It will be nice to have him, and hopefully Carl from Sling Blade, back on the OKC radio waves.
With the move to FM, the partnership with I Heart, and the fact they employ Toby Rowland –  the Palace on the Prarie-pushing voice of OU athletics – there's speculation that The Ref and I Heart will make a big push to purchase/secure OU broadcasting rights away from Tyler Media and 107.7 The Franchise. I have no clue if that's true or not, but the SoonerSports contract apparently expires soon, so if you're a fan of playing "common sense connect-the-dots," there could be something to it.
That being said, the powers at Tyler Media will not go down without a fight, and still want to remind OU fans who's the boss: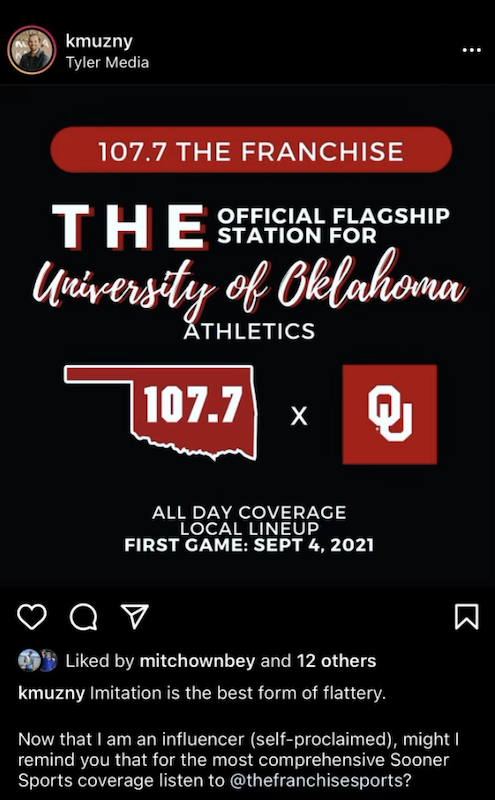 Here are some other notes, thoughts and tidbits.
• Dusty snubbed. I've learned through the Ogle Mole Network that Dusty Dvorasweat was considered for the Noon to 2pm gig that went to Steely. I guess Dusty's less than ceremonious departure from KREF a few moons ago prevented that from happening. That's great news!
• Will The Ref try to poach anyone from The Franchise or Sports Animal? You never know, but I doubt it. Just like all other old-guard media genres, sports radio has been ravaged by the rise of digital media, social media and the commoditization of advertising by Facebook and Google. Having a big ratings draw doesn't payoff like it once did, so stations are almost better off saving money, and putting on a cheap and grateful intern to fill air time.
• Are there enough men's testosterone clinics to support three FM sports talk channels in OKC? I have no clue, but Craig from Universal Men's Clinic better get to work writing more right-wing copy.
Stay in touch
Sign up for our free newsletter