Food
TLO Restaurant Review: Jiro Sushi
9:46 AM EDT on May 11, 2021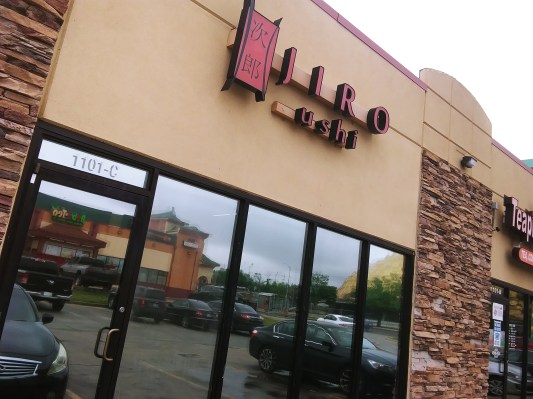 Oftentimes, it's hard to tell if Jiro Sushi, 1101 NW 23rd St. is really open. When I went last week, there were a few homeless people wandering the parking lot, an abandoned car that had been completely smashed out, and a guy scraping stuff off the windows. That, along with the missing "S" in its sign, made me think they had packed up and moved on, but I tried the door anyway, which remarkably opened.
Walking inside, it's another world, with its slim frame and metallic body; a server quickly guides you to your seat, through the slick eatery that has smooth polished walls like an 80s teen nightclub. My gal-pal Jodie thought that maybe this was part of a franchise from the sushi-based documentary Jiro Dreams of Sushi, and she might be right, but I really haven't researched it for the actual truth.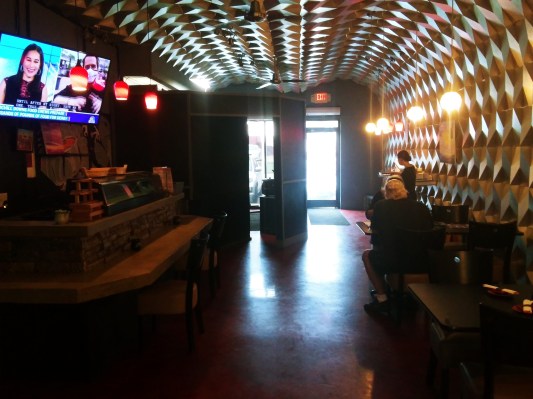 Regardless, we were taken to our seats and handed menus to look over. Like something out of a strange dream, speeding cars and traffic lights from the outside flickered off the walls and onto my menu, creating a strange discotheque of Asian delights that made my stomach rumble. All that was needed was some beat-heavy tunes coming for us overhead as we turned in our orders.
We opened the lunch with the Monkey Brains ($10.00) which, sadly, were not as adventurous as it would seem; that's not to say they aren't delicious though. A row of tempura harumaki liberally topped with spicy crab mix, eel sauce, togorashi and green onions, every piece was a lost crusade in my mouth, featuring a whip-cracking sensation of lost seafood tastes that, while nowhere close to a simian's cerebellum, still provided a spicy preamble to the lunch.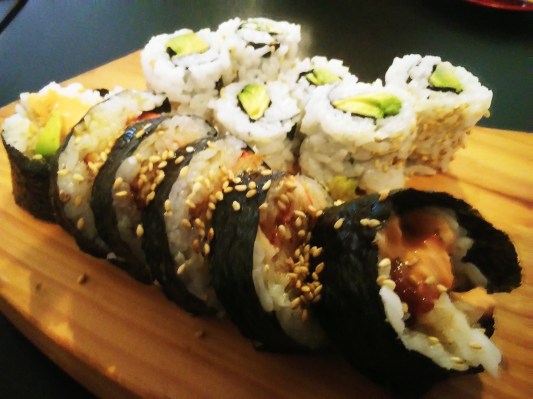 The Oklahoma Roll ($9.00) was next on the list, a surprisingly flavorful roll with spicy mayo, avocado, cream cheese, eel, and masago with eel sauce and sesame seeds on top. If we can forget for a moment that Oklahoma really has none of those ingredients that are truly native to this roll, it's a wonderfully tasty treat that really packed a bit of a punch to my own rancid fish-basket.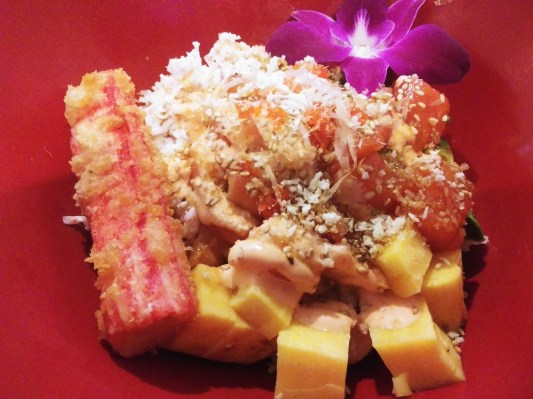 Jodie ordered the currently popular—at least in Oklahoma City—Poke Bowl ($14.00), a mélange of Japanese treats including rice, salmon, avocado, tomago and seaweed salad, all sauced up with spicy mayo and eel sauce. Topped with sesame seeds, masago, bonito flakes, panko and tempura crabstick, after having one bite and then another, it's easy to see why this town is going crazy for it.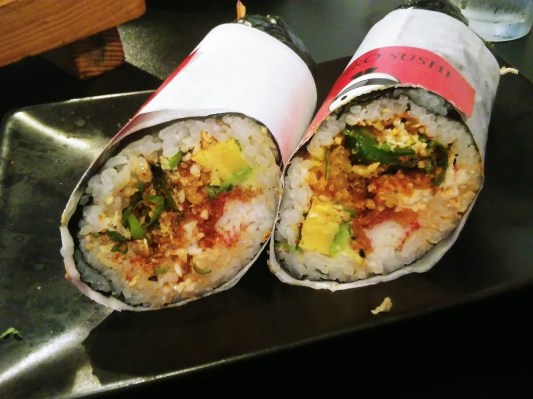 But it was my own eat, the incredibly complex Sushi Burrito ($12.00), that brought me to Jiro in the first place. Ostensibly a long roll of sushi, I had the crab stick tempura and shrimp tempura, mingled together with avocado, shredded crab, and tomago. Covered in spicy mayo, sriracha, sweet chili, and gochujang sauce—as well as toppings far too numerous to list here—it was truly one of the most beautiful things I had ever bitten into, an edible work of art.
Completely naked, it held tightly together as I took monstrous bite after monstrous bite, placing it back on the plate when I reached the halfway point of spicy flavors working overtime in my mouth. I don't know if Jiro is the first sushi place to make this or what, but they definitely deserve an award of some sort for originality—something missing in many local eateries. Cómpralo ya!
_
Follow Louis on Twitter at @LouisFowler and Instagram at @louisfowler78.
Stay in touch
Sign up for our free newsletter