Everything Else
Report: Stitt moves State Medical Lab to trailers
4:15 AM EST on December 11, 2020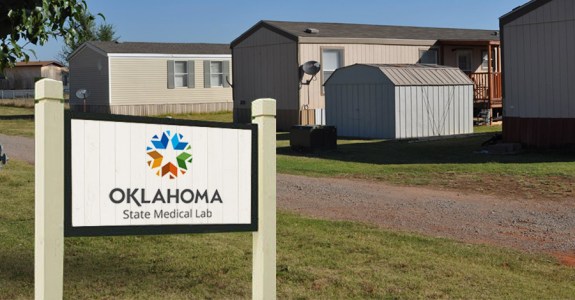 Stillwater is about to be home to another trailer park.
Earlier this week, The Frontier's Kassie McLung reported that the Oklahoma Public Health Laboratory's fancy new medical lab, and the future home of the Pandemic Center of Excellence For Governors Who Can Read Good, will be managed by outside contractors.
In the lab industry, I don't think that's very uncommon, but she also included this "You're doing fine, Oklahoma," moment – the lab will be operating out of trailers until the new lab is ready:
Contractors could soon manage the Oklahoma Public Health Laboratory, Interim Commissioner of Health Lance Frye told employees this week.

Additionally, health officials confirmed to The Frontier and StateImpact that the plan now includes temporarily moving portions of the lab into trailers while renovations to the interim facility are underway.
Jesus Christ. Nothing against trailers and the people who call them home, but why do Oklahoma governors have such a wild obsession with them? Do they have an Oklahoma stereotype quota to meet during their term?
Also, is moving our state's Public Health Laboratory to a trailer park really a good idea? Outside of a tornado tearing apart the medical lab and sending a smorgasbord of viruses, bacterias, and other pathogens high up into the atmosphere to sprinkle all over the world, what could go wrong with that? I can hear David Payne now:
"Wow. Look at Val's screen. Val, can you hear me? Val, are you there?"
"Yes, David, we're here in Stillwater at the Oklahoma Medical Lab. It's been totally blown away, David. There's damage everywhere."
"Did you get that?! Damage at the state medical lab! Are you seeing any injuries?
"Not yet, David but... there's this weird haze in the air and, it's getting... getting a bit hard to breath. My eyes are watering and skin is itching... It's actually starting to burn. My skin is burning, David. It feels like it's on fire!"
"We have itchy, burning skin in Stillwater. Repeat - itchy, burning skin in Stillwater."
"Ahhh! It burns David! It buuurns. Wait. Amy? Amy are you there. Wake up, Amy! Wake up!!!"
"Uhm, let's go to Jim Gardner's shot with Bob Mills Sky News 9. I think you can see Coronavirus molecules flying out the funnel."
Okay, that's actually a snippet from my new screenplay project called "Virusnado." Or maybe I should call it Coronanado and pitch it to SyFy.
That move is the latest development in a complicated — and at times controversial — plan to move the state's public health lab to Stillwater. The lab, which operates under the State Department of Health, has been crumbling for decades. At one point, its state of disrepair was so severe that it risked losing its accreditation. Gov. Kevin Stitt announced this fall that his administration would be the one to finally replace the lab...

The administration announced the relocation plan in the fall. Critics have raised concerns about the location, logistics, and moving the lab in the middle of a pandemic. It would move the lab to a different city, away from Oklahoma City's biomedical hub, and it would involve retrofitting an existing building into an interim facility while the state constructs a new building.
They bring up fair points. Also, why move the trailers to Stillwater when we have plenty of space at the Governor's Mansion yard?
Stay in touch
Sign up for our free newsletter