Everything Else
OKC Boulevard Grand Opening Marred by Human Ineptitude
8:38 AM EDT on August 21, 2019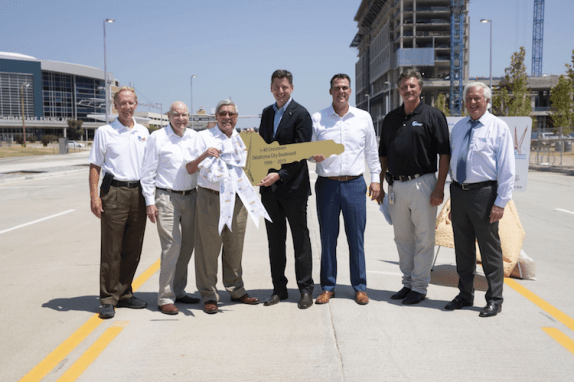 After 25 years of planning, eight years of construction, many heated city council and transportation meetings, and $120 million in public funding, the highly anticipated Oklahoma City Boulevard finally opened to drivers on Monday.
The event was cause for a huge ribbon cutting, with the mayor and the governor in attendance. The Thunder Drummers were even there to mark the occasion, which is strange because I was pretty sure they all got traded to the New York Knicks or something.
Although the Boulevard opening should have been a celebration for all downtown commuters, all is perhaps not well with the thoroughfare.
Steve Lackmeyer, the only journalist in town who is pessimistic enough to rival TLO, went on a Twitter spree about the dangers of the road. Apparently, the geniuses in charge of the project forgot to put up fundamental, take-for-granted road things like traffic lights and stop signs.
I'll save you the tweets and instead share a little from the article he wrote for The Oklahoman:
Travelers hitting the new Oklahoma City Boulevard on Tuesday encountered a new major corridor with no working traffic lights and limited views at a two-way crossing at Walker Avenue.

By noon, changes already were underway, but drivers will face another month before all of the signs and traffic signals for safe travel will be completed.

State, city and civic leaders led by Gov. Kevin Stitt and Mayor David Holt gathered in 101-degree heat Monday to cut the ribbon and open the boulevard to traffic after years of planning and construction.

But during the first morning rush hour on Tuesday, street signs were missing and stop signs were used for four-way stops except at Walker Avenue, where drivers in the inside lanes, with cars in adjoining lanes, had limited or no view of crossing traffic.

Meanwhile, pedestrians were struggling to cross the boulevard between Western and Shartel Avenues.
He's got a point. We can wait eight years to finish construction on the damn road, but not another month or so to install traffic and pedestrian lights? That would be like moving into your new Ideal Home before they finished installing the crown molding and fixtures.
After Lackmeyer shined his Holt signal towards the cloud, our mayor jumped on the scene to investigate, selfie stick at hand and ready to use.
This is the current scene at the most problematic intersection - Walker and the Boulevard. @OKCPD are here monitoring while @OKDOT & @cityofokc coordinate the installation of a well-marked four-way stop. pic.twitter.com/30PEIZRRmr

— Mayor David Holt (@davidfholt) August 20, 2019
Naturally, he blamed ODOT for the gaffe.
@okdot has been pressuring us to schedule the ceremony so they could open it. They would have had the ceremony weeks ago if we could have found a date that works. I defer to @okdot as to the readiness of the road but I can assure you the ceremony did not rush the opening.

— Mayor David Holt (@davidfholt) August 20, 2019
Uhm, couldn't you have just said "No, the road's not ready?" The way Holt describes it, ODOT is the mayor from Jaws – "Why, there's no safety issue here, none at all! If I don't see this road full of cars by the middle of August, it'll ruin this town!"
So how bad is this road?
Our intrepid editor Patrick took his life into his own hands and made a brave quest to travel the fearsome road. Watch his video if you dare:
Driving down the extremely dangerous OKC Boulevard! Don't try this at home! https://t.co/pEZD9VyHP8

— The Lost Ogle (@TheLostOgle) August 20, 2019
We checked with Patrick's family. He's home recovering and doing fine.
In all seriousness, roads in the area were a mess during the morning commute:
The @cityofokc and @OKDOT announced the opening of the long-awaited OKC Boulevard yesterday. But here at the intersection of that road and Walker we've seen multiple close calls with drivers confused oher whether or not to go pic.twitter.com/vJGCkUTG02

— Dillon Richards (@dillonjrichards) August 20, 2019
Yeah, that looks pretty irresponsible. A huge four-way crossing with little rinky dink stop signs that you have to squint to see? Why even bother with the stop signs anyways? Just make the intersection run on the honor system and let people pass whenever they feel like it.
Anyway, they better hurry up and get this stuff fixed, before someone gets seriously hurt or dies. Plus, I imagine the Boulevard will be getting tons of traffic soon. Not only because of the location, but also because Okies will drive on a road simply because it's there. That's what we do…instead of going to parks or taking strolls through the neighborhood.
Stay in touch
Sign up for our free newsletter