Everything Else
Oklahoma lawmakers blame mental health and lack of #ThoughtsandPrayers for gun violence…
10:14 AM EDT on August 7, 2019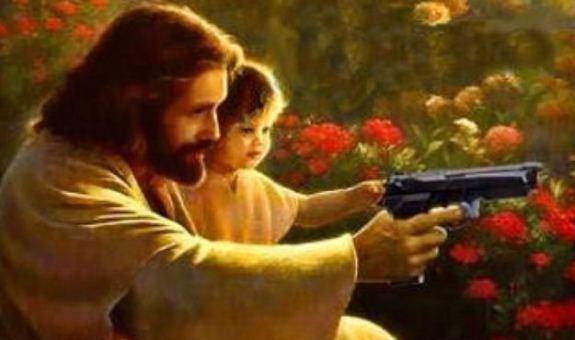 This weekend we were reminded that our nation is facing a crisis. With shootings in El Paso, Chicago, and Dayton killing 33 and harming dozens more within a matter of hours from each other, Oklahoma lawmakers are answering calls to action by their constituents with pleas for "thoughts and prayers" and mental health care reform. I have mixed feelings about this.
As the owner of an Oklahoma handgun license and Ruger LCP II (a gun), I am taking this time to reflect on my own values. I cringe at how easy it was for me to get a license, and gun for that matter. But I can honestly say I've never had a need to carry in public, so I've never carried my weapon with me outside of traveling to the range. So, as a gun owner, I am sad, remorseful, and reconsidering my own gun ownership. But as someone with a Master's Degree in Psychology and thus a pretty good grasp on the subject, I am pissed about our lawmakers blaming the epidemic on mental health. So, buckle the f%*k up for this article, ya'll.
Via News on 6…
Oklahoma lawmakers are weighing in as the country comes to grips with the mass shootings in El Paso and Dayton.
News On 6 has been working to get reaction from Oklahoma leaders in Congress and in the state on this weekend's gun violence.
Congressman Kevin Hern represents Green Country in in the U.S. House of Representatives.
He sent us a statement that reads:
"Sickening murders like this remind us all of the mental health issues raging on in our country, many undetected and untreated."
"We can all agree that these people should never be allowed to own a gun."
"Instead of pointing fingers and blaming others for the choices made by unstable individuals, we should come together in support of the victims and in support of a bipartisan approach to gun control."
Hern isn't the only Oklahoma lawmaker calling this a "mental health" problem. Here's a mental health term for you, Oklahoma lawmakers: cognitive dissonance. Cognitive dissonance is the uncomfortable feeling one experiences when their thoughts or beliefs don't align with their own actions or behaviors. For a group of lawmakers who regularly refuse to support laws that improve access to mental health care (local level lawmakers, too), for our most vulnerable populations, ya'll are sure talking a big game about needing to support those needing treatment.
But there are two things wrong with how our lawmakers are approaching this. 1) It is not a mental health issue. This is evidenced by the facts that most people with mental illness are not violent, only 4% of gun related deaths are attributed to mental illness, the rate of mental disorders in the US are similar to other developed countries with few to no mass shootings, and research has suggested time and time again that countries that experience greater numbers of mass shootings are typically those with the most guns. Side note, the US alone owns 42% of the world's guns. 2). Even if it was a "mental health" issue, our lawmakers seem to have done little more than write a tweet, let alone any bill or other initiative to solve the crisis.
So how do they plan to solve this epidemic?
Governor Stitt said he spoke with Texas Governor Greg Abbott Saturday and shared with him that Oklahoma stands with Texas.
Stitt wrote on Facebook, "like you, I also woke up to learn of another horrific attack, this time in Ohio."
He went on to say, "we grieve for those who've lost loved ones and we pray for God's mercy, justice and peace."
--
Senator Jim Inhofe Tweeted the following response:
"Kay and I are continuing to grieve for those killed in El Paso and Dayton. We are praying for their loved ones and for those who were hurt.
There is no place in America for hateful attacks like these."
--
Representative Markwayne Mullin sent News On 6 the following statement:
"My prayers are with the victims, their families and the people of El Paso, Texas and Dayton, Ohio. These horrific acts of violence have no place in our country and we have to come together to take action. But changing our Constitutional rights isn't an option. As President Trump stated today, we need to reform our mental health laws and find real, bipartisan solutions that will actually fix the problem we are facing.
Oh, so they're betting on old reliable, eh? Good ol'thoughts and prayers. Now I'm not religious, but I do have a minister's license I printed off the internet. And I think that gives me enough clout to tell you that thoughts and prayers alone won't get this fixed. If lawmakers really think they are doing, "God's work" in office, it's about time they let their actions show it by working to fix this. Because, you know, cognitive dissonance is uncomfortable.
Goddang, Hayley is salty. Follow her on twitter @squirrellygeek.
In my spare time, I officiate secular weddings, read about dead people, and search for the American Dream.
Stay in touch
Sign up for our free newsletter