Everything Else
Oklahoma to get new license plate as part of Kevin Stitt re-brand…
12:36 PM EDT on July 9, 2019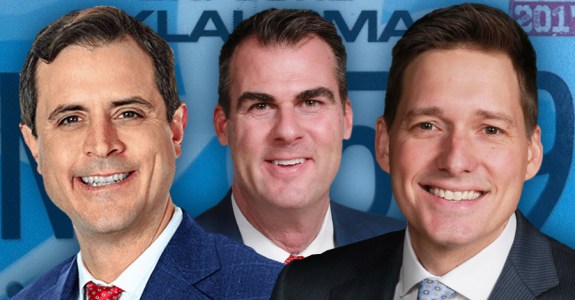 Gov. Kevin Stitt is finally addressing one of Mary Fallin's most visible mistakes.
According to this article in The Oklahoman, Lt. Gov. Matt "Sunshine" Pinnell – a key player in Kevin Stitt's brown-noser cabinet – is leading yet another effort to "re-brand" Oklahoma as a tourism destination for the easy-to-dupe.
The attention-getting part of the plan includes coming up with a new license plate that – if we're being honest – will probably be as bad as the universally ridiculed, Twitter-inspired plates Mary and her tourism team micromanaged.
Via Not NewsOK.com:
Oklahoma is "better than OK" and Lt. Gov. Matt Pinnell wants everyone to know.

Oklahoma's second-in-command is leading the charge to craft a cohesive brand for Oklahoma that includes a new state logo, slogan and selfie-worthy "Welcome to Oklahoma" signs on major state highways.

Pinnell, who also doubles as the state's secretary of tourism and branding, also wants to ditch the widely criticized scissor-tailed flycatcher license plates Gov. Mary Fallin unveiled in 2016.
Yep, it's official. Oklahoma is… "Better Than OK!" Boy, that instills some confidence. Maybe we should just go ahead and make that our new state motto. Turn it into a logo, plop it on a license plate inspired by the Instagram logo and Ayipioeeay, I think I just saved our state a few million bucks.
Here's what Matt Pinnell told the Oklahoman:
"If we don't define who we are, every other state will," he said. "That's politics 101. You have to define who you are before your opponent does and there's 49 other states that are competing for the same jobs and same tourism dollars."
Yeah, watch out California, Florida or any other state with either oceans, mountains, nice weather or an unlimited supply of entertainment options – you're not going to define who we are. We are! By the way, we're Oklahoma in case you've never heard of us.
Also, I know I'm not a pandering, self-serving politician who's looking to advance my career, but what does "Politics 101" have to do with developing a cohesive, strategic branding campaign to promote our state's tourism industry? The only commonality between politics and branding is that both rely on deeply rooted lies and falsehoods to cover up the truth and present a manufactured reality. I think that's something Pinnell – a lifelong politico who looks like he's been a member of a Newsboys cover band or two – knows well.
All snark aside, our state could probably use a re-brand. The only question is, Who's going to lead it? In the past, we've usually left that stuff to Ackerman McQueen – the preferred agency of the local ruling class – but they're still recovering from being shot down by the NRA.
Fortunately, there's a new "marketing expert" in town to take the lead: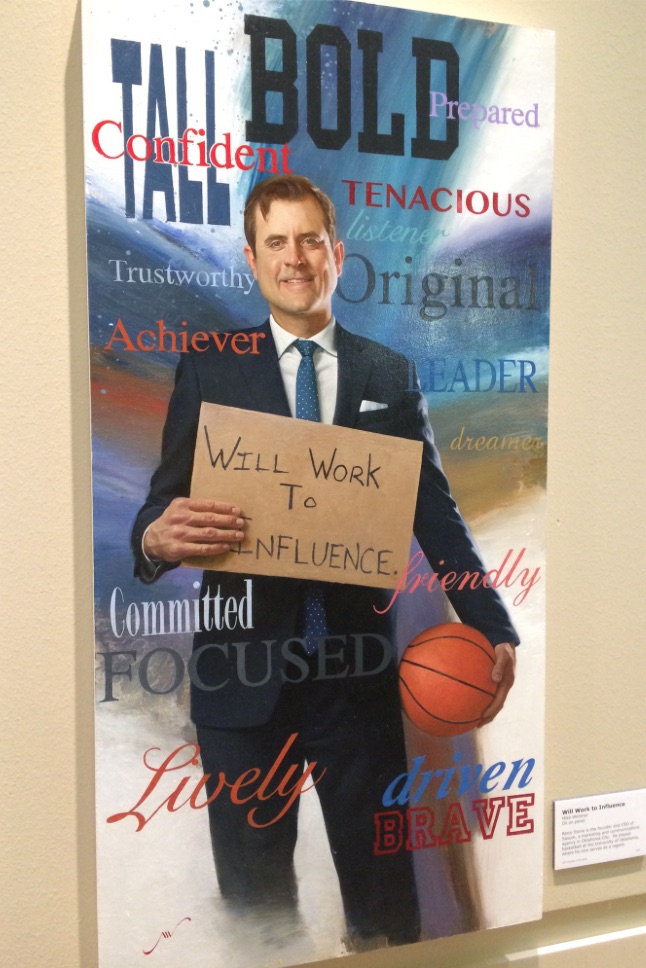 Yep, they've selected Renzi Stone to oversee the state's re-brand. For what's it worth, that's a real painting that is (or was) on display at the Oklahoma History Center. I think it's part of their award-winning Narcissism in Oklahoma exhibit. It's a nice work of art that, I assume, was painted at gunpoint — which explains why the artist forgot to include words such as egotistical, conceited, self-serving and hardwood.
Here's more:
Pinnell is working with Renzi Stone, CEO of the Oklahoma City public relations and marketing firm Saxum, to gather the state's top advertising, graphic design and branding experts at an August summit devoted to rebranding the state. Pinnell likened the process to building an advertising agency — dubbed OklaX — from the bottom up.

The experts, recruited from both the public and private sectors, will work on a volunteer basis through the end of the year to craft the new brand in the hopes that it can be unveiled early next year, Pinnell said.
As a guy who cut his career teeth in the corporate marketing and advertising world before developing a loved, loathed and recognizable digital media brand that's reached millions of people, let me say I think this a great idea.
First of all, if you want good, quality, reliable work, make sure you rely on unpaid volunteers. Whether they're TLO contributors or marketing experts from the private sector meeting at Quartz Mountain, they're the hardest, most reliable workers out there. They'll give this project the attention it deserves.
Second, nothing fosters the creative process more than committees, groupthink and bureaucracy. Sure, some people would say you'd be better off hiring a respected local design firm or even a freelancer to wrap themselves up in the project and have the freedom and flexibility to practice their craft without micromanagement, but the more voices you have in a room making logo changes the better.
Let's wrap this thing up:
In the meantime, Pinnell and his team are interviewing leaders in state, local and business communities across Oklahoma on how best to brand the state.

The public also can provide input online through a five-question survey at projectbluesky.ok.gov.
Pinnell pointed to iconic slogans like "Virginia is for Lovers," "I Love New York" and "Keep Austin Weird" as the sort of lasting branding he wants for Oklahoma.
Oddly enough, I think we had that slogan. It was "Oklahoma Is OK." Sure, it's easy to mock, but it's also a genuine, honest, self-deprecating description of this place we call home. Maybe we should pull a Tyrion Lannister and wear the slogan like armor. Then those other 49 states can never use it against us.
Stay in touch
Sign up for our free newsletter