Everything Else
Mayor Holt takes bold stand against airport cow-tipping t-shirts…
10:45 AM EST on February 22, 2019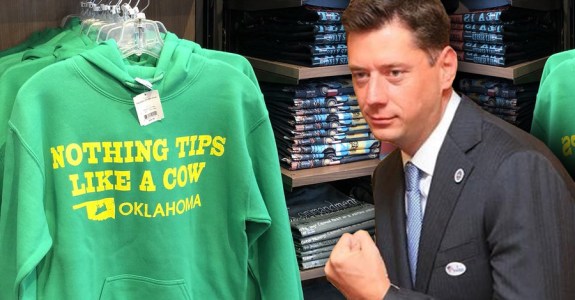 It's been over a year since David Holt was elected mayor of Oklahoma City and so far, I think you can say he's done a solid job replacing Mick Cornett as our city's Cheerleader in Chief.
Sure, he may be a bit self-absorbed and spends too much time documenting his life on social media, but who under the age of 40 doesn't?
Overall, he's an upbeat, positive, self-promoter who says the right things, shakes the right hands, and kisses the right asses at the Downtown Rotary Club. Considering he's a former state lawmaker who introduced costly, fruitless legislation that targeted welfare recipients, that's probably the most we can hope for.
In addition to that, David is relatable and accessible on social media, which the OKC cool-kid echo chamber clique on Twitter seems to love. Yesterday, he shared this status update about a secret, covert mission he's been working on behind the scenes.
Uhm.... what? His "personal mission" was to remove cow-tipping t-shirts from Will Rogers World Airport? Huh? That's strange. This whole time, I thought his personal mission was reminding everyone on social media that he's the mayor of Oklahoma City!
Here's David's second tweet about the shirt:
That's hysterical. Imagine being the person in charge at the airport and hearing the mayor is mad and wants to talk to you.
"Mr. Kranenburg, Mayor Holt is on the phone and he's pissed."
"Oh no! What's he mad about this time? Construction delays? Our lack of direct flights to other cities? The parking garage always only having rooftop parking available?"
"Cow-tipping shirts."
Listen. Country folk stereotypes about Oklahoma culture can get old, but I kind of like the shirt. Part of what makes Oklahoma City a great place to live is that you're always, at the most, either 15 minutes from downtown or cow-tipping. Just pick a direction and go. That's something other Big League cities do not offer.
Plus, cow-tipping is a right of passage for our youth, right up there with eating your first onion burger or getting into your first fight at the State Fair. Sure, it makes us seem like uneducated rednecks, but as Tyrion Lannister says "Never forget what you are, the rest of the world will not. Wear it like armor and it can never be used to hurt you."
Anyway, I'd like to congratulate David Holt on accomplishing his personal mission, which I'm sure ended with him now having a box or two of green cow tipping shirts in his garage. If he's looking for a place to send them, I'd suggest reaching out to former Orange-County Register snark columnist Jeff Miller. He'd enjoy them.
Stay in touch
Sign up for our free newsletter