Everything Else
This teenager from Sapulpa really wanted his car title…
4:11 PM EDT on October 24, 2017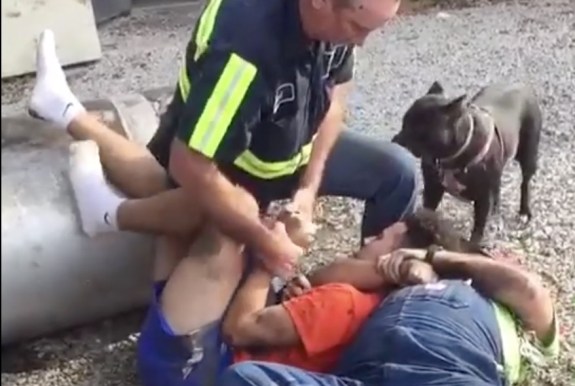 Who's ready for another close up look at life from deep within the heart of Derplahoma!
Late last week, a Facebook video made the rounds showing a stubborn 17-year-old (who really wanted his car title) being held to the ground by a couple of Bubba, Oklahoma tow truck drivers in Sapulpa.
Here are the three videos. (Yes, it's a trilogy.) You know it's going to be a good one when a pit bull is the most rational and well-behaved thing involved.
So, is anyone else confused by what they just watched? Was the car title printed on gold leaf or something? Why were men in overalls choking a teenager and kneeing him in the stomach? Why was the teenager fighting back? Why were the people filming the interaction so calm?
Fortunately, the Tulsa area news media flocked to the scene to try to figure out what the hell was happening.
Here is the Fox 23 report:
A teen says he was assaulted at a tow truck company in Sapulpa over the title of his car, and part of the incident was caught on video.

Christian Heath, 17, is on the academic team at Broken Arrow. He's a member of the National Honor Society who hopes to go to the University of Oklahoma.

He says he totaled his car a couple weeks ago, but he never expected what happened when he went to go pay the towing company.

"He jams his elbow into my stomach where I can't breathe whatsoever, so I push him off me, and his buddy tightens his grip on my neck," Heath told FOX23 Monday. "Boy, that hurt so bad."

Heath went to A&W Towing in Sapulpa to pay a bill and retrieve items out of his car.
Wait a second. A&W Towing?! That's awesome! I think that's located across the street from Virgil's Auto Parts and Barque's Plumbing on Sarsaparilla Way. I wonder if they also give you a frosty cold mug of rootbeer after they tackle you to ground and choke you? It would be a nice touch.
"I just came up and I was like, 'Hey, I'm here to get my car,' Heath said, "and [Paul Hulbert] said, 'OK, do you have the title?"

That's when Heath said the trouble started.

He said his dad had just bought the car from him, and the title wasn't in his name, but the previous owner had signed the back.

"So, he gives me title, and I go inside to make a copy of it," said Hulbert, the owner of the company, "which we always do."

Hulbert said the signature was hard to read.

Heath said he was on the phone with his dad, who told him to take the title and leave.

"He just walked off with it inside, with his copy and my title, so I just swiped it out of his hand," Heath said. "I didn't touch him. I made sure not to touch him."
At this point, the ordeal becomes a he said, he said. Here's the A&W Towing interpretation of events:
"[Heath] grabbed the stuff out of my hand, knocked me down, knocked my glasses off," Hulbert said. "Then, my friend, who was here, came over and helped me and held the kid down, so we could get our paperwork back."

Video footage taken by one of Heath's friends shows what happens next.

In the video, two men appear to hold Heath down on the ground. A man seen in the video with his arm around Heath's neck does not work at A&W. Heath can be heard saying that he can't breathe.

"I said, 'If you're being choked, you wouldn't be screaming,'" Hulbert said.
You know, I think that kind of depends on your interpretation of "choking." Maybe I'm old fashioned, but when someone goes Brutus the Barber Beefcake on you and puts you in a sleeper hold, I consider that choking.
"I was scared at one point I was going to die," Heath said.

Video shows Heath saying that one of the men used racial slurs in the incident.

When FOX23 asked Heath if he thought race played into the incident, he said he did.

"He didn't want to do business with me whatsoever," Heath said. "I think he thought the car was stolen."

Hulbert said race wasn't an issue.

"Anyone who looks at that thing can tell I didn't say anything to him," Hulbert said. "It wasn't racially biased at all. I mean, I didn't even know he was black. He's real light-skinned. I thought he was an Indian or Mexican."
Yeah, that's right. If he was going to use a racial slur, there's no way he would have used the N-word. He would have used something more appropriate like... well.. I'll let you figure it out.
The Creek County Sheriff's Office did respond to the scene after Heath asked his friends to call 911.

Heath was put in handcuffs and taken into a patrol car, but he was later released.

Heath and his family have hired an attorney.
You know what's interesting? In this entire Fox 23 report, they never told us what happened to the damn title? Did the kid get it back? Did the dog run away with it? Did they use it as a napkin to clean up spilled rootbeer? We still need answers.
Stay in touch
Sign up for our free newsletter