Everything Else
Mary Fallin's minions are turning on the OCPA
1:30 PM EDT on September 7, 2017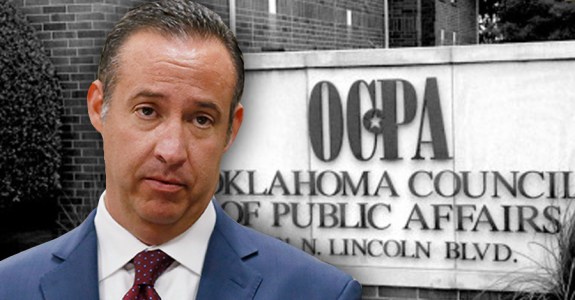 There are a lot of people, groups and organizations to blame for the failing state of Oklahoma.
One that deserves a lot of the credit is the Oklahoma Council of Public Affairs. A conservative think tank that operates more like a lobbying group, the organization follows an extreme right-wing "every tax is a bad tax" obstructionist ideology, and has used its clout and influence to place its most loyal minions and supporters – like House Speaker Charles McCall – in positions of power.
As result, Oklahoma government finds itself trapped in a perpetual revenue crisis, and Mary Fallin is now having to call a special session of the Oklahoma legislature to try to fix it. (LULZ).
Naturally, the OCPA thinks that is a bad deal. Check out what their leader Jonathan "The Impractical" Small had to say about it:
"There is simply no need for a special session. For the fiscal health of Oklahoma, officials should look into moving funds already available instead of proposing hundreds of millions of dollars in new and damaging tax increases on hard-working Oklahoma families. If the executive branch is creative enough to completely drain our state's constitutionally protected Rainy Day Fund for $240 million, then they are creative enough to allocate a portion of TSET's $1 billion endowment. Doing so, along with using surplus revenues, would completely meet the cash flow needs of the agencies affected by the loss of cigarette tax money until February when the Legislature reconvenes."

"For the long-term fiscal health of Oklahoma, state officials need to focus on state spending. Oklahoma state government is now on track to spend more money next year—more than $17.9 billion—than at any time in state history. The simple truth is we don't have a revenue problem; we have a spending and a transparency problem. Hard-working Oklahoma families and small businesses are already chafing from the constant demand of tax consumers. It would be destructive and repugnant for the Governor and the Legislature to come into special session—costing taxpayers around $30,000 per day—just so they can pass whichever tax increases Scott Inman deems best."
Yeah, that's right. Despite every fact and figure telling them otherwise, the OCPA and their buddies at the Capitol refuse to believe or acknowledge that Oklahoma is in a budget crisis and needs to find revenue. Wouldn't it be fun to be that blind and ignorant to the world around you? Anyone have a blue pill?
In fact, the OCPA is so lost in their own world that people like Preston Doerflinger – Mary Fallin's speed demon budget director – is now calling them out on their stupid bullshit.
Check this out:
It is reckless and dangerous for special interest groups to peddle misinformation and disregard facts concerning the state budget and the need for special session.

The comparison of borrowing funds for cash flow purposes to raiding the Tobacco Settlement Endowment Trust (TSET) shows a complete lack of understanding regarding the intricacies of the budget as well as the Oklahoma Constitution.

It would appear the playbook that OCPA is working from has outlived its usefulness. Fortunately, they have proven time and time again that their relevancy in the discussion on how our government runs has faded.

h/t @jordannlucero
That's nice. It's good to see someone from Mary Fallin's administration show the courage to stand up to OCPA. It's kind of like seeing Cersei taking a stand a against the Night King, which makes me wonder if there's going to some sort of twist later.
Although I applaud Doerflinger for issuing a statement, I disagree with his final point. The OCPA still seems to be pretty relevant. Check out what their minion Charles McCall said in his press release:
"The cigarette tax is the only feasible tax option Oklahomans have said they would support. It would help us replace the funds lost when the Court rejected the cigarette fee," said Speaker McCall, R-Atoka. "Unlike our Democratic colleagues, House Republicans have no intention or desire to tax the life out of Oklahomans just to grow government – especially at a time when our citizens are living on less. We are not going to raise a billion dollars in taxes to fill a $215 million budget hole."
Yeah, who cares that Oklahoma had to slash billions from its budget over the last couple of years and can't afford to pay for basic and essential public services, let's just make it look like we only have a $215 budget hole. Spoken like a true lemming. The OCPA should be proud.
Stay in touch
Sign up for our free newsletter