Everything Else
TLO Restaurant Review: The Earth Café and Deli
5:08 AM EDT on July 25, 2017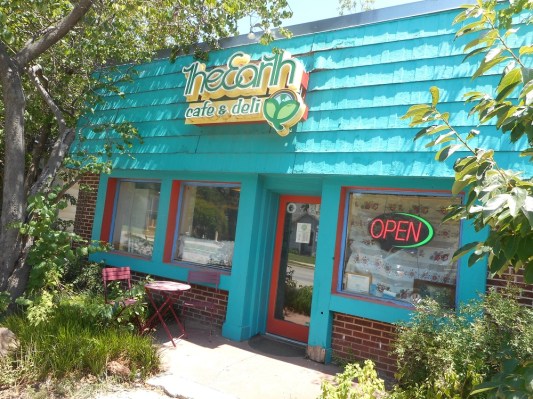 One of the many things that, now in tearful retrospect, I took for granted during my time in Fort Collins, Colorado, was all of the, for lack of a better word, hippie food joints that seemed to dot the landscape almost as much as the purple mountains majesty.
From the Tuesday two-for-one tempeh burgers at Avogadro's Number to the sweet potato burritos with poblanos and cilantro crema at the Rainbow and everywhere orgasmically organic in-between, it was, eats-wise, at least, truly a dreadlocked paradise filled with dancing bears slathered in almond cheese skinny-dipping in a tie-dyed Poudre River of culinary good vibes while turning up the Freedom Rock, man.
Sadly, it seems as though the free love for this style of eatery isn't as prevalent in Oklahoma, but, then again, try getting a chicken fried steak in Colorado, natch. It's the nature of the beast when you move from the country's fittest state to the fattest state I guess, not that I'm complaining, mind you. But, still, it would be nice if I didn't have to travel to the nearest college town to order up a couple of tempeh tacos as a breather in-between personalized meat sessions and gravy-based appointments.
But don't tell me this town ain't got no heart; you just gotta poke around until you find a joint like the Earth Café and Deli, 309 S. Flood Ave. in Norman.
Tucked away in an eccentric brick house in a typical Norman college neighborhood, the Earth has apparently been around in Norman since 1969, so you can only imagine what type of groundbreaking accomplishment that was, especially at a time when most of the hit country songs on the radio advocated the outright assault of dope-smokers with long-hair. Provisions to the people, right on!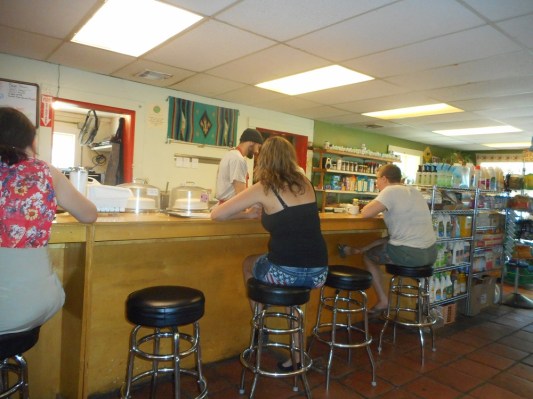 Walking into the Earth immediately transported me back to the Fort, from the recycled décor to that immediately distinctive…organic...scent that usually occupies dorm rooms with Bob Marley posters or the holistic health area of a Sprouts, rock crystal deodorants and Dr. Bronner's shampoos sharing the same counterspace the way God intended. It's a smell I've missed and a smell that gave me the immediate munchies, memories of contact highs from too many bluegrass jam sessions causing a hollow rumble in my soul and a true need to feed.
While I was both the squarest and roundest person in a room full of mostly thin free-spirits, the free-range dove of culinary rebellion and healthful counterculture was thoroughly in my mind as my third eye scanned the menu. While my first choice, the tempeh tacos, were sold out for the day, I felt that their organic blue corn nachos would substitute nicely for these here purposes. The quiche, a personal love I don't get enough of was a solid second selection, with their highly recommended tuna fish sandwich rounding out the bill for this long, strange trip.
Remember in the 80s when there was a whole homophobic cottage industry against this egg-based dish, with alpha-male meatheads proudly wearing shirts that read "Real Men Don't Eat Quiche"? Those were the worst of times and, quite frankly, the stupidest of times, and it makes me wonder how many people to this day still haven't tried this magnificent morning mélange because of that utterly bizarre smear campaign. Their loss.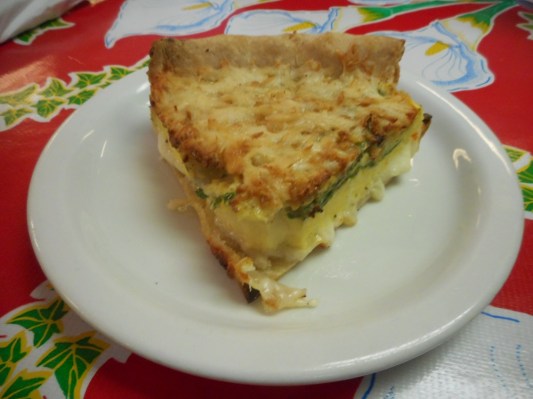 The Earth's quiche, any of them off the menu or the specials board, I firmly feel, could turn even the most ardent anti-quiche Regan-era red-piller into an Untied Colors of Benetton poster child plaintively asking for seconds please, it is that inscrutably delectable, that universally concocted to near perfection. The slice of Quiche Solo ($5.99) I ordered was a quartered off piece of heaven, with fluffy eggs and gourmet cheeses abound, filled in dutifully with greens such as spinach and kale, some roasted onions and tomatoes, served inside the flakiest of crusts.
Moving on, I think many people would probably expect me to be highly critical of the Earth's nachos because of…ahem…do I have to say it out loud? I'm gonna give them a Latin pass here because, straight up, these nachos are the bomb, a weapon of mass deliciousness that prove this dish is more than just some "chips and melted cheese."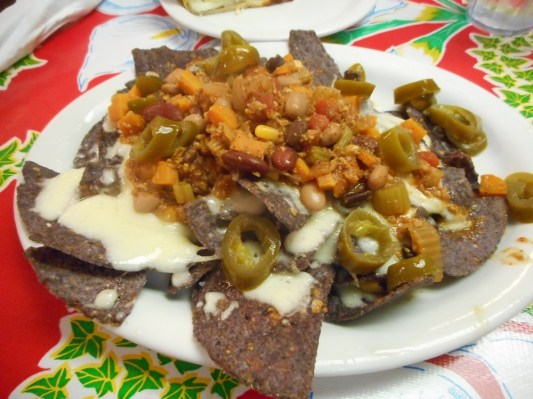 With a base of organic blue corn tortilla chips and cheese, I topped my order with their supremely spicy vegetarian chili and some jalapenos ($7.99) and was pleased with how multi-layered and completely covered every inch of these chips were; no skimping and microwaving here, holmes. From the surprising ganas of the rich, thick chili to the sensual gooeyness of the high-quality cheeses used, their take on this classic snack is a savory meal to enjoy, one chip at a time.
Now, as I've said many times before with God-given authority, when it comes to sandwiches, a place for me will live or die, thumbs up or thumbs down, usually on the mere basis of their tuna fish and/or tuna salad. It's the quintessential deli item that walks such a fine line of a delicatessen's own creation myth, utilizing the simplest of on-hand ingredients that can both create a subtle traditional treat to a lunchtime artform where a little inspiration can craft an edible jewel of the sea.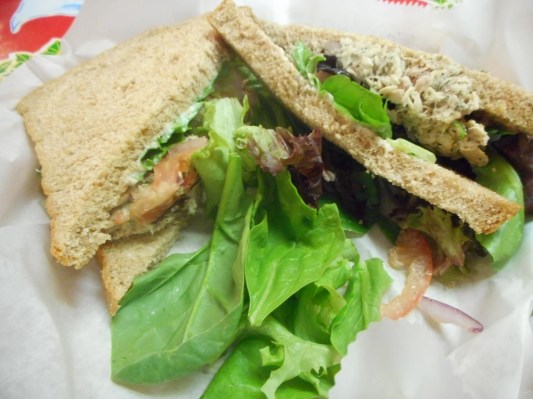 The Earth's wild-caught tuna sandwich ($7.99) was transcendent enough to make Aquaman pop a load of seahorse eggs, with a distinct fresh-flavor (read: not from a can) that was paired off with fresh greens, tomatoes, red onions, vegan mayo and stone-ground mustard coming together and learning to love one another right now. The picture above doesn't do the actual product justice, as the sandwich was actually packed with far more of the listed innards than expected, making for a wholeheartedly filling catch of the day, if not week.
Padded alongside a small natural foods store that helps to complement the surroundings, the Earth is a real American Oklahoman beauty, a well-rounded piece of Utopia that, in a better realized world, one that was dreamed in a dream one afternoon, would be on every corner in the city where it's been waiting to meet you, and, more importantly, waiting to feed you. ¡Cómpralo ya!
_
Every silver linings got a touch of grey. Follow Louis on Twitter at @LouisFowler.
Stay in touch
Sign up for our free newsletter