Everything Else
5 Acts Not in the Oklahoma Music Hall of Fame (And Really Should Be)
5:10 AM EDT on May 25, 2017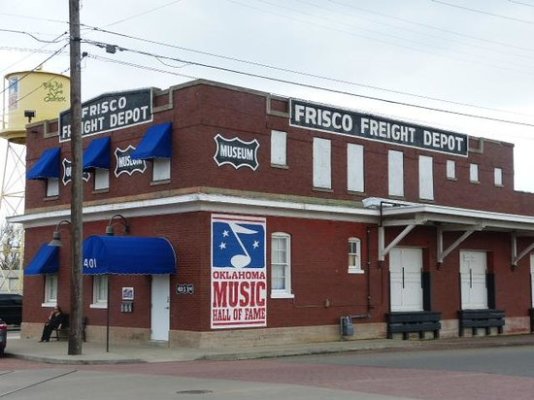 It was recently announced that likeable-enough 90s bubble-gummers Hanson are going to be inducted into the Oklahoma Music Hall of Fame. While many people who are only superficially aware of the HOF program let out cheers of misplaced nostalgic glee, for followers, historians and serious fans of the Sooner State's musical contributions, the HOF continues to be a maddeningly jumbled mess that seems to favor flavors of the month many times over actual figures deserving of the honor; it seems as though inducting lesser-known but no less important figures is just an embarrassing afterthought.
For example, only this year—and, sadly, now posthumously—was a true genre-bender like Red Dirt forefather Jimmy LaFave even considered, while absolutely legendary pioneers like Lowell Fulson, Jimmy Webb and J.J. Cale were only inducted in recent years, playing second-fiddle to the already-inducted (and mostly undeserving) likes of Kristin Chenoweth, Carrie Underwood and, yes, Toby Keith. That being said, all in the name of pro-activity, here's a handful of artists that I feel should be inducted come 2018, if only for the sake of history, diversity and ingenuity, as well as their solid contributions to Oklahoma's cultural atmosphere.
-
Uncle Wallis Willis
If you've ever sang old spirituals—and who among us hasn't—chances are it was written, arranged or transcribed by Choctaw freedman Wallis Willis. Living up in Indian territory near Hugo around the mid-1800s, Willis composed such "hits" as "Steal Away to Jesus," "The Angels are Coming" and, most famously "Swing Low, Sweet Chariot," made into a worldwide standard via a 1909 recording by African-American acapella group the Fisk Jubilee Singers, one of the oldest pieces of recorded music to be entered into the United States National Recording Registry. So take that, Devil.
-
Big Chief Henry's Indian String Band
A Choctaw family string-band with father Big Chief Henry Hall on vocals and fiddle, in the early 1920s this Oklahoma-based trio were actually quite popular, touring throughout the South, playing at fairs and the like, eventually earning a recording contract from RCA, releasing tunes like "Choctaw Waltz," "Indian Tom-Tom," and the folk favorite "On The Banks of the Kaney." Sadly, this is one of those groups that, while their music has miraculously managed to survive, barely any history about the band has, leaving Big Chief Henry and his boys practically forgotten, even in their home state. Now that ain't right.
-
Dwight Twilley and Phil Seymour
The extensively music-geek sub-genre known as "power-pop" is often times hard to exactly describe to the passive music fan without rattling off an extensive list of obscure bands; it's kind of one of those sounds where you "know it when you hear it" and few musicians exemplify that better than Tulsa's Dwight Twilley and Oklahoma City's Phil Seymour. Like an Okie-fied Velvet Underground, the melodic pop-rock sound of the Dwight Twilley Band inspired scores of jangly bands for years to come thanks to catchy tunes like "I'm on Fire" and "Looking for the Magic."
Even though Twilley and Seymour split in the late 70s, they both found moderate solo success; Seymour (who died in 1993) sang back-up on a few Tom Petty tunes and scored a hit with "Precious to Me" while Tulsa-based Twilley continues to tour and release music, charting in the 80s with the songs "Girls" and "Why You Wanna Break My Heart." And if you still don't know what power-pop is after that, then I can't help you, son.
 -
The Gap Band
There's so much written about the 70s Tulsa scene with Leon Russell and all them other blues appropriating white guys, but it always seems as though true funksters like the Gap Band are woefully relegated to mere footnote status. It's a crying shame too, because no 70s playlist, mix-tape, skate-jam or black light zodiac-sex poster freak-out would be complete without a hot buttered serving of stank joints like "Oops Upside Your Head," "Beep A Freak" and, of course, "You Dropped a Bomb on Me" filling up most of side one. Here's a truth-bomb for side two: the Oklahoma Music HOF hasn't done the best of jobs of honoring many of this state's modern-day African-American artists and brothers Charlie, Ronnie and the late Robert Wilson shouldn't be having to wait this long to get their hometown due.
-
Jabee
Over the past ten years, few Oklahoma artists have put in the Gladwell-esque time and energy into not only their craft, but community and culture the way Oklahoma City's Jabee has. Creating a musical legacy one album at a time, it's probably not telling tales out of school that 2016's Black Future is Oklahoma's first bonafied hip-hop masterpiece, helping to put a long established local scene on a national map, with icons like Chuck D and Killer Mike taking notice. With a distinct lack of rap or hip-hop, as well as true artists from the past decade (outside of country music, natch) representing the here and now, few would be a better ambassador than Jabee. Ya heard, HOF?
-
I just realized Garth Brooks isn't in the Hall of Fame. That's kind of weird, right? Follow Louis on Twitter at @LouisFowler.
Stay in touch
Sign up for our free newsletter