Everything Else
Oklahoma lawmaker doesn't want Internet trolls tweeting about her butt….
12:47 PM EST on March 8, 2017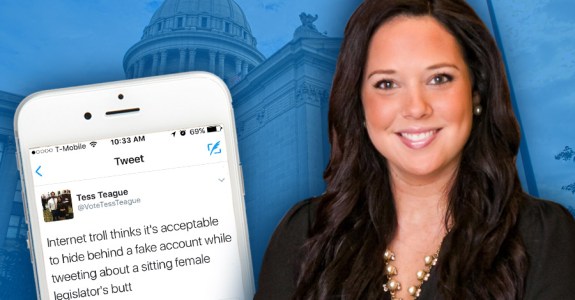 One by-product of the Trump presidency is that we're going to see more politicians copy his controversial communication tactics. They're going to be direct. They're going to be confrontational. And they're not going to take shit from anyone.
Case in point, meet Oklahoma lawmaker Tess Teague. She's the new mimosa-sipping State Representative for House District 101. Yesterday, she confronted a parody Twitter account that apparently made a wisecrack about her butt:
Before we continue, I want to be very clear – we had nothing to do with this. We stopped creating parody Twitter accounts when they stopped being funny way back in 2010.
Anyway, I agree with Tess Teague 100%. You should never anonymously tweet about a sitting female legislator's butt. You should only do that when they are standing and everyone can see it.
I searched Twitter to find the tweet and account in question. This is what I discovered:
Really? That's it? The tweet wasn't even that bad. Hell, it wasn't even really about her butt. They could have said the same thing about Ralph Shortey or Scott Inman. On an "Oh My God I'm So Offended" outrage scale, I'd give that a two or three tops.
This was Teague's response:
Yeah, I respectfully disagree. As a professional Internet troll, I can easily say that the number one goal of any troll is to eelicit a response from the person they are trolling. This troll isn't failing. They're succeeding.
Anyway, this got me thinking what we could do to get a response from Tess. For fun, I decided to take a look at some tweets in her timeline and troll them. Since I'm classy, I'll do my best to avoid any butt jokes:
No, I don't think anyone would dare you to say that. Are you a 19th century southern belle?
"Oh, I do declare I feel sin for that dapper hunk of a man! Dare I say his trimmed beard and chiselled jaw makes me melt like butter over a biscuit."
-
Question 1: So what is it, a pin or badge?
Question 2: Something tells me that the guy in the background shouldn't be there.
-
Wow. How sweet of you! Thanks for finding the time to make "minor edits" to legislation that affects the lives of hardworking Oklahomans in between liquor store runs and DJ meetings. Hopefully you weren't late to your exfoliation. I'd feel so guilty if that happened.
Actually, I think the whole point of Teague's Twitter account is to brag about doing her job as a state rep...
-
Hmm? Maybe this explains the butt joke?
-
I wish she would have posted a selfie with this tweet. It would have been funny to see all the brown on her nose.
Actually, I'm just joking around. I also think the people who help advance my career and give me powerful leadership positions show "tremendous leadership."
-
Hopefully she's praying that Trump gets kidney stones.
-
Oh no, we've elected one of those "Brag About My Engagement Ring on Social Media" types to the legislature! I don't know who I feel more sorry for – her constituents or Mr. Sin In A Suit. I bet half of her friends have already muted her on Snapchat.
-
Anyway, you can look at all of Tess' tweets on Twitter. I say we all troll her by anonymously @-replying her with pics of massive engagement rings or sinful men in suits.
Stay in touch
Sign up for our free newsletter