Everything Else
TLO Restaurant Review: Barrios
4:03 AM EST on January 10, 2017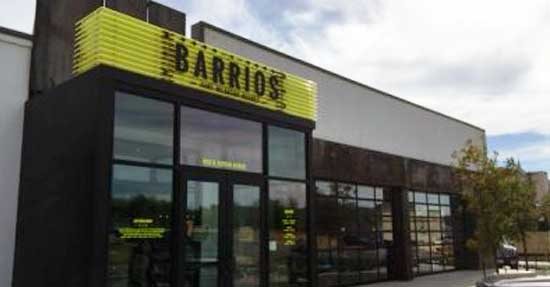 I don't want to be that guy, but let's face it, I am that guy. So before we get to the actual meat and bones of the new pseudo-Mexican restaurant Barrios, I need to address the big enchilada in the room: man alive, does their name make me uncomfortable…
Barrios is the latest outing from the Good Egg Dining Group, located in the gentrified Midtown District at 1000 N. Hudson Ave. Their mission, according to their website, is to provide "fine, fresh, made with love Mexican food," including "authentic Mexican cuisine, street and market food, plus a new take on regional TexMex (sic)."
While this is all well and good—more power to them—what bothers me, as a Latino, is that, by definition, a barrio is commonly referred to as the "Spanish-speaking quarter of a town or city, especially one with a high poverty level." In other words, not Midtown.
For the Good Egg Dining Group to open up an expensive, upscale Mexican eatery that many of this city's impoverished minorities could probably not afford to visit and call it Barrios, well, it's definitely culturally problematic. Let's look at it this way: would Good Egg open up a fried chicken joint in the Plaza District called Mama's Ghetto Kitchen?
Don't answer that. God only knows what they're gonna do if The Drake closes.
(Editor's Note: This would probably be a good time to point out that Barrios is named after a long time group of Good Egg employees who just happen to have the last name Barrios, but who cares, Louis is on a roll.) 
Now all that being said, when I was offered a chance to sample their food for free, like the cuenta chiles I am, I was all over that bitch like adobo seasoning on rice. Stopping by the concrete and glass structure for brunch on a Saturday afternoon, we were led to the patio area which, I have to say, is utterly gorgeous. With plenty of light and just enough shade, as well as mucho elbow room to move around and spread out, it's probably one of the better al fresco situations in the city.
Normally I order water, but since it was someone else footing the bill, I started off with the waiter-recommended Mexican wedding iced tea which, holy matrimony, took the concept of sweet tea—something I normally abhor—to a whole new level. Keep 'em coming, I said as I downed glass after glass, diabetes be damned. I'll deal with the painful divorce from my kidneys tomorrow.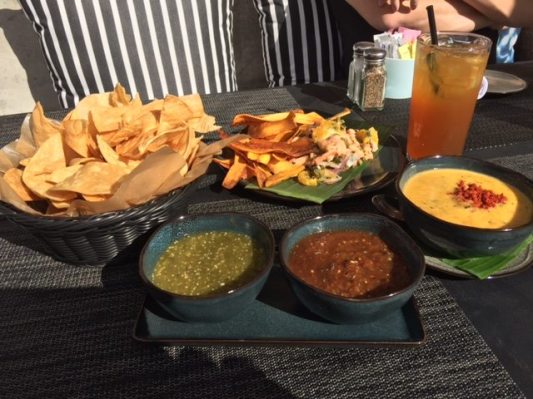 As my guest and I were brought out the set-up, the cool breeze gently wafted through the patio. I really don't think I've enjoyed a patio this much since Café do Brazil went and screwed theirs all up with that remodel. The typical fare of tortilla chips and serviceable salsas were laid out, as well as a Tex-Mex queso with red chorizo ($9.00) and Valencia orange and salmon ceviche with plantain chips ($13.00).
While the queso was alright—I've had about the same at, say, On the Border—the fried plantains and especially the ceviche was absolutely bold and brilliant and very reminiscent of a recipe I had once in a friend's kitchen in Mexico City and have been forever craving since. To be fair, she didn't live in the barrio either. As a matter of fact, her family was quite well off but I, of course, screwed things up. That, however, is a story for another time.
What I'm trying to say is if you've got $13 bucks to throw around, order yourself the ceviche at Barrios.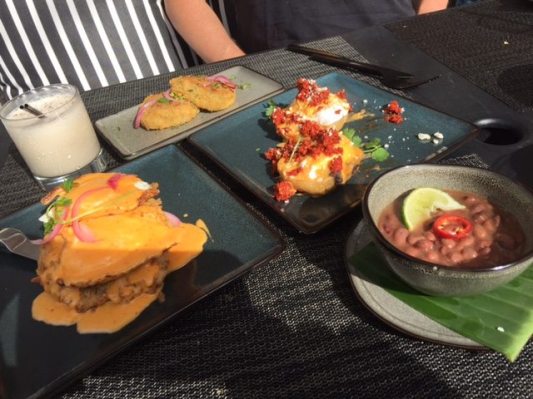 Luckily, before I could start really crying over past failures, our entrees arrived. They looked immaculately presentable and camera-ready, as most Good Egg food does when it arrives at your table. I had put in for the "Full Breakfast Milanesa" ($13.00), which is basically chicken fried steak with two up eggs, Pequin chili hollandaise, Tex-Mex potato cakes and kale slaw and, because I wasn't paying, an extra side of borracho beans. My partner treated himself to the Barrios Benedict ($9.00), or poached eggs on sopes topped with Pequin chili hollandaise, as well as black beans, chorizo, and, why not, Tex-Mex potato cakes.
My "Mexican" chicken fried steak was alright, about as spicy and flavorful as the one I ordered not too long ago from Cheever's, so let that be a frame of reference for you. It was alright, I guess, with the Pequin chili hollandaise doing most of the heavy lifting.
And while my dining partner absolutely adored his Barrios Benedict, I felt that same way I did about them the way I did about the chicken fried steak, that they were otherwise tepid eggs doing a serviceable job on the plate with the addition of the aforementioned hollandaise, which was made all the more useful when the tasty Tex-Mex potato cakes showed up, sopping up the runny yellows perfectly.
All in all, not bad, but, you know…still, Barrios ultimately leaves me conflicted.
Aside from the troubling name that I know, if addressed, will be played off as some sort of even-more bothersome stylized gringo "tribute" to the streets—how about we just change it to the more appropriate Fresas and call it a day?—I don't think I could ever really go there to eat a full meal, especially when some of the best Mexican food of your life is a mile or two down the way in the real barrio. Gotta support la Raza.
On the other hand, if you called me up and said "Hey Louis, I was gonna go chill with some Mexican wedding tea on the patio at Barrios, wanna come? And, oh yeah, I'm buying!", then how could I possibly say no?
-
Don't even get me started on Revolución. Follow Louis on Twitter at @LouisFowler.
Stay in touch
Sign up for our free newsletter