Everything Else
College Football Musings from the Train: The Last Ride
10:54 AM EST on January 3, 2017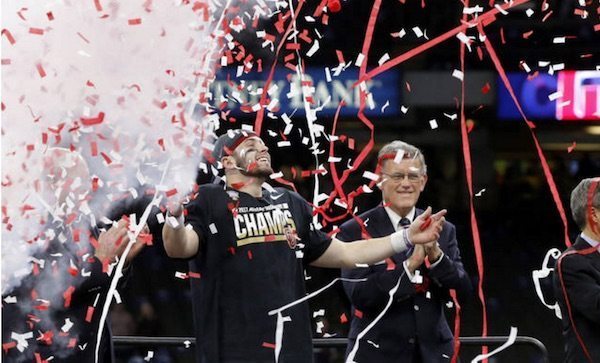 10) Oklahoma starts off slow, physically smashes Auburn.
I went to KC with the family this weekend for the annual Christmas/Booze Festival with the in-laws. Then, when I all I wanted to do was sleep, I drove home yesterday, arrived two hours short of kickoff. Made dinner. Got shit unpacked, and watched Auburn kick OU around for a quarter + of football. I figured, what the hell? So I started writing the article. Hence the tone moving forward. Whatever.
Oklahoma racked up 524 yards, 228 rushing yards, 28 first downs, committed no turnovers, and scored 35 points (a season high for the Auburn defense) in crushing the spirit of a wildly talented Tiger team 35-19 in New Orleans. The Sooner defense, until that last meaningless drive by Auburn with backups littered on D, gave up 248 total yards. Yeah, it was Auburn without their starting QB for a half. But this is the same historically shit Oklahoma D that made Pat Mahomes III look like Peyton Manning.
So in other words, Oklahoma played a complete game in NOLA against a good (not great) Auburn team, beating them in the exact manner no one expected.
Baker Mayfield, who as noted below, has struggled against great defenses, was marvelous after a 2 for 9 start. He finished 19 of 28 for 296 yards and two scores. When the Auburn defense was stuffing the run and bracketing Westbrook, dude found Mark Andrews, Jeffrey Mead, and the running backs for check offs and 10 yard patterns.
Joe "Punch and Run" Mixon was a star. 91 yards rushing, 89 yards receiving and two touchdowns. With the offense struggling at the beginning of the game, he was the guy who kept Oklahoma's hope alive. Credit goes to Lincoln Riley, who never panicked and modified the offense to fit what Auburn was doing on D, and who refused to give up on the running game (a la Bedlam), which proved to demoralize an elite Auburn defense in the second half, giving the Tigers no chance at a comeback.
But ... the story of the night (besides the shit Brent Musberger caught for wishing Mixon well. Fuck you, haters. Read a police report sometime. Then get outraged timely, not when it's convenient for you) was Samaje Perine. Three years into a stellar career, he eclipses a record many thought would never be passed. Not in this day of pass happy offenses. With his (second to) last run of the night, Perine passed Billy Sims to become the all-time rushing leader in Oklahoma history. All yards rushing in bowl games were counted for both players, so it's legit. Could not have happened to a better man. Congrats Samaje! Enjoy the NFL.
All in all, what was an apathetic attitude from this fan bore a great performance from an Oklahoma team that appeared weak and frail a few months ago. Expectations will again be sky high in 2017. Oh boy ...
-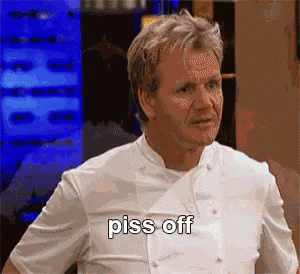 9) So about that whole "historic offense" versus an SEC defense?
The knock on Baker Mayfield has been poor play in big games. That's not really fair. He hasn't struggled in big games - he has struggled against great defenses. Houston. Ohio State. Clemson. Texas in 2015. He's fun to watch. He's a joy in conference. He does get happy feet under pressure. And, unlike the regular season, seemed confused, scared, and (dare I say) intimidated.
Auburn???? Yeah, not so much. After a brutal start, he was magical. He was a star. This against an absolutely for real defense.
What OU played was not some horseshit secondary like Kansas or Iowa State or Texas Tech. They were playing men. The only way to get Baker going was to involve the running backs. Even Westbrook was overmatched to start the game, and certainly on deep routes. That happens when you are stuck going against over the top coverage. But the great ones, I mean like Calvin Johnson and Larry Fitzgerald, they find a way, right? He did. So did Jeremy Mead. So did Mark Andrews. So did Joseph Mixon.
See the next point. OU still has personnel issues, even on this offense. Yes, this offensive line has great potential in 2017. Maybe more than potential after how well they played after the first quarter against a superior defensive front 7. Yes, OU has two elite running backs. Yes, Joe Mixon is the best player on this team and played like it. And yes, Mead *could* be that guy in 2017. But I'm not sure this is the elite personnel to be elite against elite competition. It was last night ... but will it be against Ohio State in 2017?
-
8) Our guys looked really small. Like tiny compared to the Tigers.
This has little to do with scheme and much more to do with the Jimmies and the Joes. Oklahoma does not have the talent to beat a fired up and interested Alabama or Clemson squad. Those teams are more talented where it counts – in the trenches. But Oklahoma took an enormous step forward on the offensive line last night, giving pause to the concern that Oklahoma is weak up front.
The Auburn front seven, especially the front four, is Ohio State good. So it's not hard to understand how and why they dominated the Sooners' offensive line for the first several drives. That, however, became moot, primarily due to the play calling of one Lincoln Riley, who moved players around, got playmakers the ball, and refused to give up the run game. Lincoln Riley is brilliant. OU needs to find a way to keep him in Norman. He runs an offense that can do some things moving forward.
On defense, the Tigers offensive line is huge. Not that OU's linebackers are legit size, save maybe Jordan Evans, but they make the good guys look like high schoolers. Yes, that didn't matter last night. Guys like Emmanuel Beal and Steven Parker and Caleb Kelly were all over the place. But it's hard to expect that type of performance against a more dynamic offense with equal talent.
Throughout the season, Mike Stoops' schemes deserve to be the subject of derision. But he has a personnel problem. Oklahoma has a couple of guys on that defense that look like NFL guys. Jordan Thomas. Jordan Evans. Matt Romar. Neville Gallimore. They are NFL size guys. The rest of that defense is a bunch of cornerbacks playing all over the field. That includes Caleb Kelly and whoever is going to be starting at middle linebacker next year. If Mike Stoops wants to stick around and keep up the momentum from this game, he better find some LARGE talent on the front 7. Because they may have a few decent players in the coffers, and guys that play bigger than they are, but they don't have anywhere near a championship caliber defense e.g. one that can go into Columbus and beat the Buckeyes in 2017. You've got a whole offseason to build this defense around an elite offense. Let's see it done.
-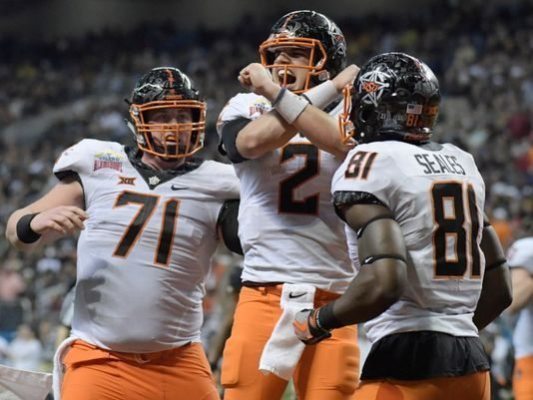 7) Oklahoma State Dominates
Emblematic of a terrible bowl season, a decent performance by the Big XII, and the ridiculous hype of the Pac-12, The Oklahoma State Cowboys crapped on the Colorado Buffaloes 38-8 last week.
OSU ran up 527 yards of offense, including an efficient 318 passing yards from quarterback Mason Rudolph. It was a nice comeback game for the Junior who was pretty bad against OU. Rudolph was on point, especially to returning star James Washington, who hauled in 9 catches for 171 yards and one of those scores.
The success of the pass game did not trump what was the key to OSU's offense in 2016 - a vastly improved running attack. Justice Hill once again led the way with 100 yard. Chris Carson, who discovered how to run the ball the second half of the 2016, chipped in 61 yards on 11 carries and a score. This is the same program that couldn't muster a 100 yard rushing game using a Betty Crocker Cookbook. Now they look to enter 2017 with a legit ground attack.
But let's get real – this bowl game was about the defense. Colorado looked completely overmatched against the OSU front seven. And it wasn't just Vincent Taylor. They entire defensive line and linebacker corp played their best game of 2016. Oklahoma State would end the game with only 3 sacks, but they pressured the Buffs all game. And that same front seven completely mauled the CU run game, limiting Colorado to 62 yards on the ground. It was an encouraging performance coming off the heels of the Perine/Mixon double cock smack in Bedlam.
No OSU fan could have predicted this. Colorado was in the playoff discussion late in the season. They were a division winner of a conference considered superior to the Big XII. And OSU made them look like a SWAC team.
-
6) 2017
I know we've talked about this, but after watching that game in San Antonio, OSU looks good. Like competitive for the conference title good. Rudolph is back. Washington is back. The offensive line was greatly improved from 2015. The running game has a burgeoning star in Justic Hill. The offense alone will win the Pokes 10 games.
But that defense and what they did against CU? That's what the Cowboys did for some of 2016. And that's what could make OSU a conference champion in 2017. The front seven obliterated CU, and it wasn't just Taylor. Young, athletic guys showed what they can do when given PT.
OSU has OU in Stillwater next year. Each is favorite to win the Big XII next year regardless of what ESPN tells us. With all that talent on offense returning and a decent defense capable of dominating, this could be the year. Well, except for that whole "Gundy versus OU" problem.
-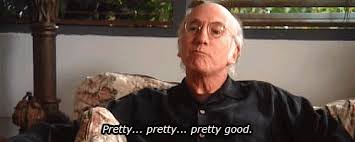 5) So is the Big XII better than shit?
You have to say ... yeah, pretty much. Especially after Monday night.
Oklahoma State obliterates the second best team in the PAC-12. Yes, it's possible the PAC-12 wasn't any good. But that was embarrassing for the west coasters. Kansas State beats what was at one point a playoff contender in its backyard. Baylor crushes Boise. TCU had every chance to beat favored Georgia. Oklahoma physically dominates one of the best defenses in the SEC. Hell, only West Virginia showed their ass.
This guy isn't saying the Big XII is some great conference. But Hell, they aren't the worst. The conference's defenses showed up better than at any point in 2016. The offenses proved to be hard to stop. OSU ain't beating Alabama or even Ohio State. But they aren't the mediocre AF SEC either.
-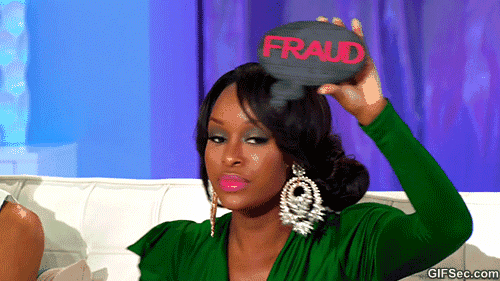 4) Texas A&M was a complete fraud
Think back about two months ago when the College Football Playoff Committee released its initial Final Four. You had Alabama, Clemson, and Michigan. And coming in fourth, you had 7-1 Texas A&M. Trevor Knight, despite having a normal Trevor Knight year, was lauded for his play on the field and leadership in the locker room. The defense was led by prohibitive number one pick Myles Garrett. Swag was back.
And then the Aggie went all Aggie, dropping four of their last five games, finishing 4-4 in conference, 8-5 overall, and culminating in an embarrassing 33-28 loss to outmanned Kansas State in a virtual home game in The Houston (?) Bowl.
Taking a page from the Josh Huepel how not to call a Trevor Knight-led offense, the Aggies threw the ball 48 times versus 28 rushing attempts. Knight was his usual average self, putting up decent passing numbers, but throwing a pick. Oh, and he ran the ball for a scant 20 yards. Though in reality, the offense was not the problem. It's when you give up 414 yards of offense to a bad, bad offensive team, including 208 yards threw the air via a quarterback who for the year couldn't complete a forward pass. That's the problem. The great Aggie defense and dynamic offense was a fraud from jump street.
Texas A&M in the SEC is the exact team Aggie program it was in the Big XII. 8 or so wins. A big win against a name opponent on occasion. Bad losses, especially at the end of the season. Ridiculous expectations. Delusional fan base. Classic Aggie.
-
3) What a completely boring bowl season
Jeez, this year's bowl season has sucked. 14 of the 658 bowl games have been decided by less than a touchdown. The big bowls games have been worse. Aside from the Orange Bowl and Rose Bowl, the big name matchups have been lopsided.
The college football playoff has been the biggest culprit. Ohio State's "impossible to stop" (per Mike Stoops) offense was dismantled by former Oklahoma DC Brent Venables, putting up a grand total ZERO points against Clemson. The Buckeyes were hammered 31-0 by the Tigers in a game, where as hard as it is to believe, the score was not indicative of how bad Ohio State was slapped around.
Alabama/Washington was no different. The Huskies drew first blood against 'bama with a great 64 yard first quarter drive. UW would finish the game with less than 200 yards from scrimmage. Yeah, that Alabama defense is pretty legit. Unlike everything else from the SEC in 2016. How does Alabama keep doing this? They lose 10 guys to the first round? Fuck it. Win the natty.
So now we are stuck with Alabama/Clemson II. Which hundred of college football fans love, and rest of us could give two shits about.
-
2) Final Four - 2017
USC - Returns a lot, especially on offense. Crazy talented on both sides of the ball. Bad conference. All that equaling a no or one loss season and a trip to the playoff.
Ohio State - Despite getting drummed by Clemson, this team returns pretty much the entire team. They should be the favorite in 2017.
Alabama - Rather, Ohio State would be the favorite if not for Alabama
Florida State - Because the ACC is good now, and Clemson HAS to come down the earth.
-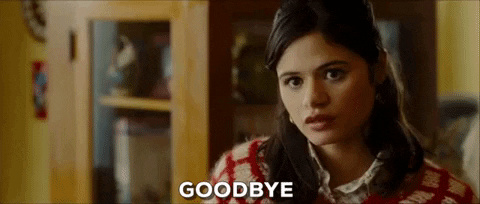 1) Thank you
This will be my last article for The Lost Ogle. Two kids, my career, and related obligations doesn't permit me to put the time and effort into these articles that I should. Thank you to Patrick for giving me an outlet to vent after so many great wins and a few terrible, horrible losses. I think I speak for everyone when I say I look forward to a better year in 2017.
See you on the other side.
Stay in touch
Sign up for our free newsletter