Everything Else
TLO Restaurant Review: Coolgreens
9:18 AM EDT on September 13, 2016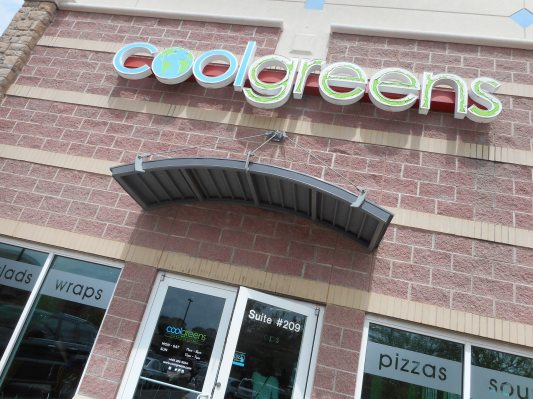 Over the past few weeks, my TLO restaurant review columns have been inundated with barbeque, tacos, and sno-cones, all to extreme degrees of esculent enjoyment. And, if that weren't enough, the State Fair is coming up soon and only God knows what I'm going to put in my mouth there for this beloved obscure blogging institution.
Desperately needing a healthy dining respite in-between, when I was recently asked where I would like to dine for my birthday lunch, I without hesitancy said that I would like to give the much-lauded "healthy lifestyle" joint Coolgreens out near Quail Springs a try.
(I chose the location at 14201 N. May Ave. #209 mostly because I also needed to drop my recently deceased dog Harry off at the Ever Faithful Pet Funeral Home and Crematory which was only a block or so away. Two birds, one stone, happy birthday to me.)
Known for their high-quality fresh ingredients and spunky ability to make low-calorie, health-conscious eats feel decadently delicious, Coolgreens eateries have exploded over the Metro over the past few years, and, especially because someone else way paying, I was more than excited to give their laminated menu a try.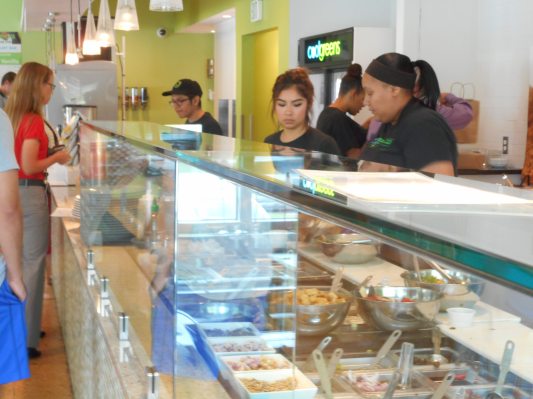 Walking into the eatery, however, is like walking right into the middle of a Taylor Swift song, with almost every table occupied by pert college girls and hot moms keeping it tight in yoga pants dining on salads with berries in them while showing their girlfriends the "Live, Laugh, Love" placard they just purchased at Pier One. All that was missing was a Starbucks Pumpkin Spice Latte, but what can you do, c'est la vie (which I think is French for "shake it off.").
The décor of the restaurant was like a cross between Chipotle and a Super Target, and, even though I felt woefully out-of-place amongst the highly sexy clientele, once I saw their signage for the new Sriracha Chicken Sandwich, I knew I was far too lazy to want to go anywhere else. And besides, if the portions were too small and the food unsatisfying, there's always Popeye's on the way home, right?
With a relatively small menu—something I appreciate, mind you—I went ahead and put in my order for the aforementioned Sriracha Chicken Sandwich ($9) and, as a bonus, the appealing sounding Jamaican Jerk Wrap ($7), both priced far more economical than I had originally imagined and, when they came to my table, far more complicated, flavor-wise, than I had expected to give them credit for.
(Coolgreens, in addition to sandwiches and wraps, also offers flatbread pizzas, but that's just nonsense.)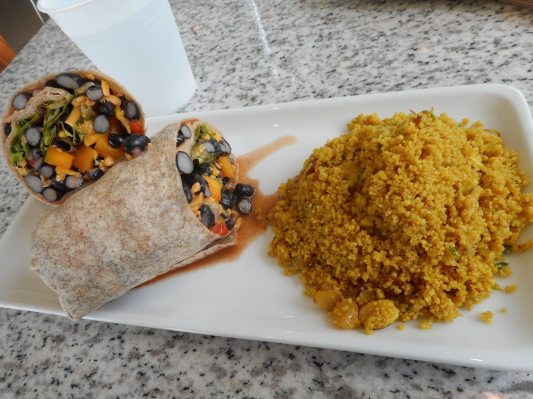 The first to arrive was my Jamaican Jerk Wrap, divided with precision into two halves so all the premium ingredients were on display like a red light girl in Amsterdam—the crisp mixed greens, the tangy mango salsa, a helping of cheddar, the zippy jerk seasoning and mango zing dressing and, best of all, a good deal of black beans. This wasn't the minuscule little wannabe-burrito that I had envisioned; this wrap was a low-calorie monster.
Sided with a decent serving of cold, well-meaning cous-cous, this Jamaican Jerk Wrap really was something special, with the cool fruity innards and flavorful beans and cheese mingling with the surprisingly spicy jerk seasoning, crafting a wholly healthy, amazing hearty slice of island paradise; I was immediately enamored with this wrap. What other secrets are you hiding under that dress, Coolgreens?
Saving the other half of my wrap for later, with due diligence my second order, the Sriracha Chicken Sandwich, was set before me and, like the wrap, this was a lot more sustenance than I had originally figured. Noticing the hot, melty "artisan cheese blend" pouring out the sides, there's no way this could be all that healthy I thought, but, you know, when in Rome.
In a word, this sammy is the bomb. Hot in both temp and flava, the well-earned taste of the heralded Sriracha sauce does its best to appreciate and not overtake the succulent chicken breast, with the red bell peppers, Poblano peppers and boy howdy, lime Sriracha cilantro dressing, creating a tongue-searing flavor profile that is both highly original and edibly daunting. Thankfully, the side order of cool, creamy pasta salad issued a nice counterbalance that made for a wonderful piquant diversion.
Coolgreens was an absolute surprise and, should my other dog die anytime soon, I can't wait to get back there—the California Cobb wrap and Tuna Steak Sandwich are still calling my name. Maybe they'll have a booth at the State Fair? Deep fried Tuscan Chicken Sandwiches anyone? With Dr. Pepper-infused kohlrabi slaw? Maybe? Maybe?
_
I'm thinking abut renting a Rascal to get the full state fair experience. Follow Louis on Twitter at @LouisFowler.
Stay in touch
Sign up for our free newsletter