Everything Else
TLO Restaurant Review: Charcoal Oven
12:23 PM EDT on August 30, 2016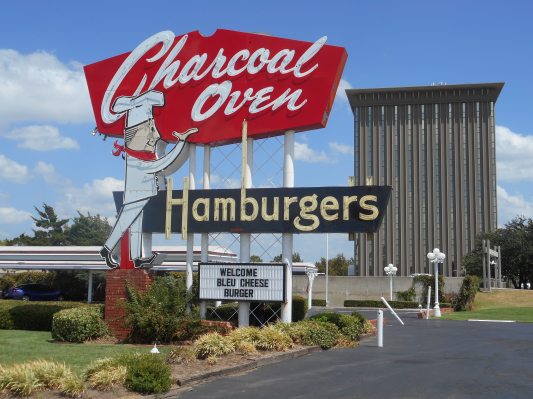 News that Oklahoma City's beloved Charcoal Over is closing its gates after 50 or so years of business is hitting people pretty hard, with lines stretching out onto Northwest Expressway as bereaved burger-eaters desperately try to get one of the joint's final famous sandwiches before the oven is turned off forever.
Absolutely beautiful to look at, Charcoal Over, with its bright white paint job, manicured lawns and 1950s aesthetic, always reminded me of a classic burger drive-in from a David Lynch film, like it should have been prominently featured in the opening sequence of Blue Velvet in-between the firemen waving and the finding of the ear.
Now, if I'm to be truthful, my fandom of the place doesn't really run that deep. The only time I ever really ate there was in college when I had friend who would close up on weekends and, if I showed up at the right time, she'd hook me up with a couple of Penn Squares or Thetas as I waited for her to lock up so we could go make-out somewhere, the smell of onion-heavy fry-grease in her black hair being quite possibly the ultimate aphrodisiac. That was a little over 20 years ago and I don't remember much about the burger except that I think it had shredded cheddar cheese. Or am I confusing them with Johnny's?
Hearing the news about Charcoal Oven closing was a real surprise because, as I'm sure with many locals, driving by it everyday for five decades, you start to believe that it's always going to be there. That there will never be a time when it won't be there, so there's no rush to stop by for a nice al fresco lunch or to pick a couple of bags up on the way home, because there will always be tomorrow.
Except when there isn't.
I myself had been meaning to get out there to review it for months now, and as I cruised through their gorgeously elaborate drive-thru system that feels more like a tunnel of love than a place where food gets shoved out of a window, that's when the first pang hits you: in a few weeks, this will be no more. The death of a beloved local icon right before your very eyes. The classic neon signage, the old-school kitchen, all that lush greenery…in a few weeks, it's all supposed to be cleared to make way for a new tire shop.
As they handed me those big white grease-stained bags of food, the pungent smell of deep-fired onion immediately filled every inch of airspace in the car. I inhaled deeply, knowing that this would be the last time that I would ever know that smell again. That smell of fresh-cut onion rings…that smell of her hair…that smell of my youthful indiscretions of future past, both romantically and gastronomically.
For the record, I ordered a classic Charcoal Oven Cheeseburger ($5.99) with regular seasoned Suzy-Q fries ($2.79) and, because I knew I'd never eat anything with this name ever again, a classic Chick-A-Doodle-Do Country Style Chicken Sandwich ($6.49) with regular onion rings ($3.69). This all seemed like a pretty good representation of what Charcoal Oven was all about, right?
Unwrapping these sandwiches in my living room, still hot and fresh if a bit malformed—show me one place where the burger matches the picture—I noticed that on their various numerous social media pages, customers would continually complain about the Oven's prices, but, seriously, one bite into that 100% Angus beef Charcoal Over Cheeseburger, greasy juices flowing down your chin from the near-steak quality meat, the cheddar cheesy goodness comforting the tangy, tart Hickory BBQ sauce…it was well worth the price, if not more, ya dirty cheapskates.
The seasoned Suzy-Q fries, beautifully coated and cooked in that special kind of grease that has a past life to it, were absolutely classic, each golden brown Q better than the last, no ketchup even needed. The ketchup would've ruined it, honestly. Part of me wish I had ordered a large.
While I freely admit that I am not really a fan of chicken sandwiches—sorry Chick-Fil-A sycophants—I gotta say that Charcoal Oven's Chick-A-Doodle-Do is the thing that could've made me a total convert. This plump, succulent, moist cut of crispy chicken, topped with fresh onion rings, was a real surprise, all presented with a bow on top in the form of creamy 1000 Islands dressing; I couldn't believe it but I actually loved this sandwich more than the burger. Obviously homemade and handcrafted-to-order, here is where the remorse started to set in.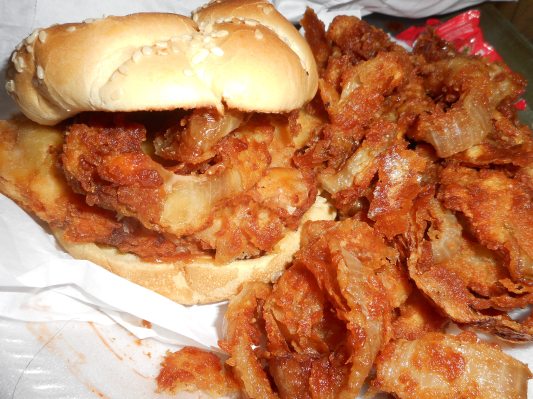 And the onion rings—these onion rings! Everyone has in their head the idea of what the perfect onion ring is like and, more often than not, you're disappointed for a variety of reasons when truth collides with reality. But Charcoal Oven's carry the deliciously dangerous stigma of pure Inception all over them, as if they retrieved everything that I believe it takes to make a perfect onion ring out of my head when I was sleeping and then made it into a reality: crispy outer coating, thick moist cuts of onions, a fresh-never-frozen feel, all packed into a proudly greasy sack.
Unless I'm still dreaming, of course…
Either way, I believe that Charcoal Oven, if not closed when this goes to print, closes sometime this week. I highly recommend you make it a point to get out there and order something. It doesn't have to be what I ordered, but grab something. Take a date, take a spouse, take the kids, take your parents...I would call up that old girlfriend who used to work there, but she died a few years back.
You really don't know what you got 'till it's gone.
-
Come to think of it, I don't think I've ever been to Johnny's. Follow him on Twitter at @LouisFowler.
Stay in touch
Sign up for our free newsletter