Everything Else
Bloomberg came to Oklahoma to document Walmart's "out-of-control" crime trouble…
11:15 AM EDT on August 18, 2016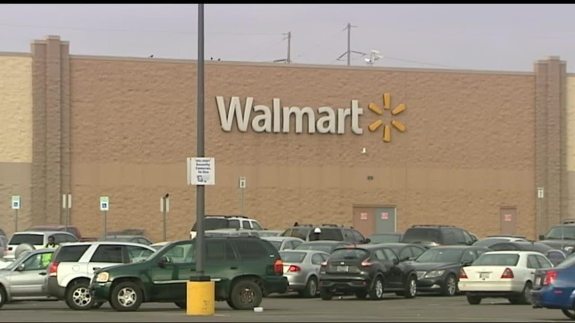 Like most normal people who wear deodorant and brush their teeth, I can't stand Walmart. In fact, I'm proud to say I haven't set foot in an Oklahoma store in many years. The last straw took place in 2013 when I was looking at cheap clothes for my James Franco from Spring Breakers Halloween costume and a flea jumped on me.
Seriously, why would anyone shop at Walmart, especially in Oklahoma?  Yeah, I guess you can maybe save a dollar or two on groceries over Target, Sprouts or Buy For Less, but I think that's a fair price to pay to feel like you haven't walked into some inescapable white trash wormhole. It's like each SuperCenter has a giant magnet made of pseudoephedrine that draws in the methheads and people who want to buy Here Comes Honey Boo Boo on DVD.
Another big problem with Walmart stores is they harvest crime like it's a cash crop. We know this all too well in Oklahoma. It seems like every other day there's some stupid crime story involving a Walmart. My personal favorite was the time some lady tried to set up a "shake and bake" meth lab in the detergent aisle. I also liked the one where two teenagers were caught spraying deer piss around the store to make it smell better.
Anyway, knowing Oklahoma's storied relationship with Walmart and all its ilk, it shouldn't be a surprise the Bloomberg visited Tulsa to do a big story on the retailer's "Out-of-Control Crime Problem" and how it's impacting law enforcement and taxpayers.
Here's a snippet:
Darrell Ross—Officer Walmart to his colleagues in the Tulsa Police Department—operates for up to 10 hours a day out of the security office of a Walmart Supercenter in the city's northeast corner. It's a small, windowless space with six flatscreen monitors mounted on a pale blue cinder-block wall, and on this hot summer day, the room is packed. Four Walmart employees watch the monitors, which toggle among the dozens of cameras covering the store and parking lot, while doing paperwork and snacking on Cheez Whiz and Club Crackers. In a corner of the room, an off-duty sheriff's officer, hired by Walmart, makes small talk with the employees.

As soon as Ross walks in the door, around 2 p.m., he's presented with an 18-year-old who tried to leave the store with a microwave oven. Ross focuses his gaze and talks in a low voice to the young man, who just graduated from high school and plans to go into the military. He also attempts to calm the boy's mother, who rushed to the store and is worried that her son won't be able to enlist if he gets a criminal record. "You need to start taking responsibility for your actions," Ross tells the teenager. "You're a man now." He tells the mother that because it was the boy's first offense, he won't be arrested—but if he messes up twice more, he'll be charged with a felony. Ross slips a pair of reading glasses out of his bulletproof vest and writes the young man a summons to appear in court.

Before he can finish the paperwork, Walmart security employees catch another shoplifter. They bring in a middle-aged woman with big sunken eyes and pale cheeks, her hair tied in a messy bun. Employees caught her using phony gift cards. She rattles off excuses: The cards were given to her by a friend, she's just gotten out of the hospital, she's dehydrated. At one point she pretends to vomit into a trash can. Picking up the odor of pot, Ross takes a look in her handbag and finds marijuana roaches, along with a small scale and a pill bottle full of baggies. A computer check reveals five outstanding warrants for her arrest.

It's not unusual for the department to send a van to transport all the criminals Ross arrests at this Walmart. The call log on the store stretches 126 pages, documenting more than 5,000 trips over the past five years. Last year police were called to the store and three other Tulsa Walmarts just under 2,000 times. By comparison, they were called to the city's four Target stores about 300 times. Most of the calls to the northeast Supercenter were for shoplifting, but there's no shortage of more serious crimes, including five armed robberies so far this year, a murder suspect who killed himself with a gunshot to the head in the parking lot last year, and, in 2014, a group of men who got into a parking lot shootout that killed one and seriously injured two others.
That's nice. As they say, any publicity is good publicity, so it nice to see our Walmart's get the national attention they deserve. You can read the rest of the report here.
Stay in touch
Sign up for our free newsletter