Everything Else
David Stanley is still using questionable advertising tactics…
10:36 AM EDT on July 29, 2016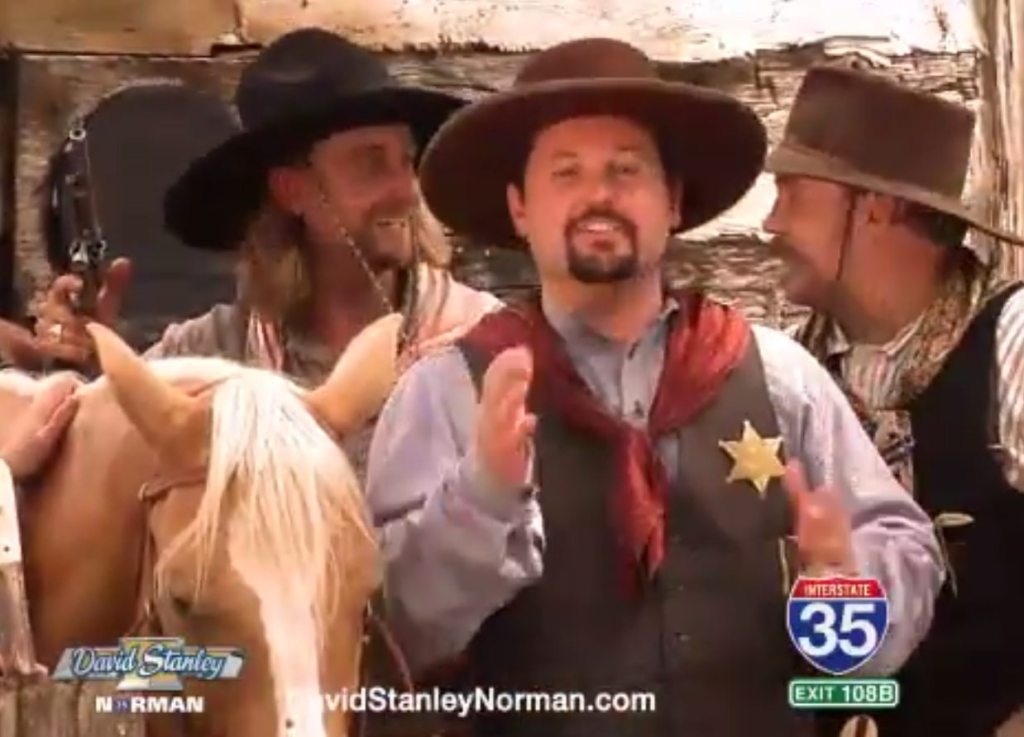 Back in 2014, we reported that David Stanley – one of the largest, if not the largest, auto dealers in the state – was fined $350,000 by the Oklahoma Motor Vehicle Commission for false and deceptive advertising.
In a desperate-for-content media age where stories about a concrete paver ripping off an old widow for $300 lead the 10pm news, the report was curiously not picked by any media outlet in Oklahoma City. Obviously, that's because people in the local media do not read The Lost Ogle. It has nothing to do with David Stanley spending millions upon millions of dollars in local web, print, radio and TV advertising in Oklahoma each year.
The $350,000 fine was apparently due to a "long, ongoing problem" the Oklahoma Motor Vehicle Commission had with David Stanley's advertising practices. They had hit the dealer with small fines over the years, but the financial benefits of the ads far outweighed the costs of the fines. The $350,000 penalty, along with a threat to revoke or suspend the dealer's new auto license, was supposed to end the practice.
David Stanley agreed to play along. The dealership promised to stop, and brought in an attorney named Toby Flowers to review all future ads. I'm not sure if Toby still works for the dealership, but if so, he may want to check out what's going on at David Stanley Dodge of Norman.
Check out this spot on the company's Facebook page:
Yep, what a great deal! From July 27 - 30th, you can walk into David Stanley Norman Dodge and buy a vehicle for as low as $88. We know it's legit because there's no fine print, and Rob Stanley, the annoying guy in the TV commercials, "liked" the post. It really is that simple.
Or is it?
I was tipped off to the promotion by an Ogle Mole. Apparently, a David Stanley sales employee named Tiffany posted the offer in the "Chickasha Buy-Sell-Trade" Facebook page: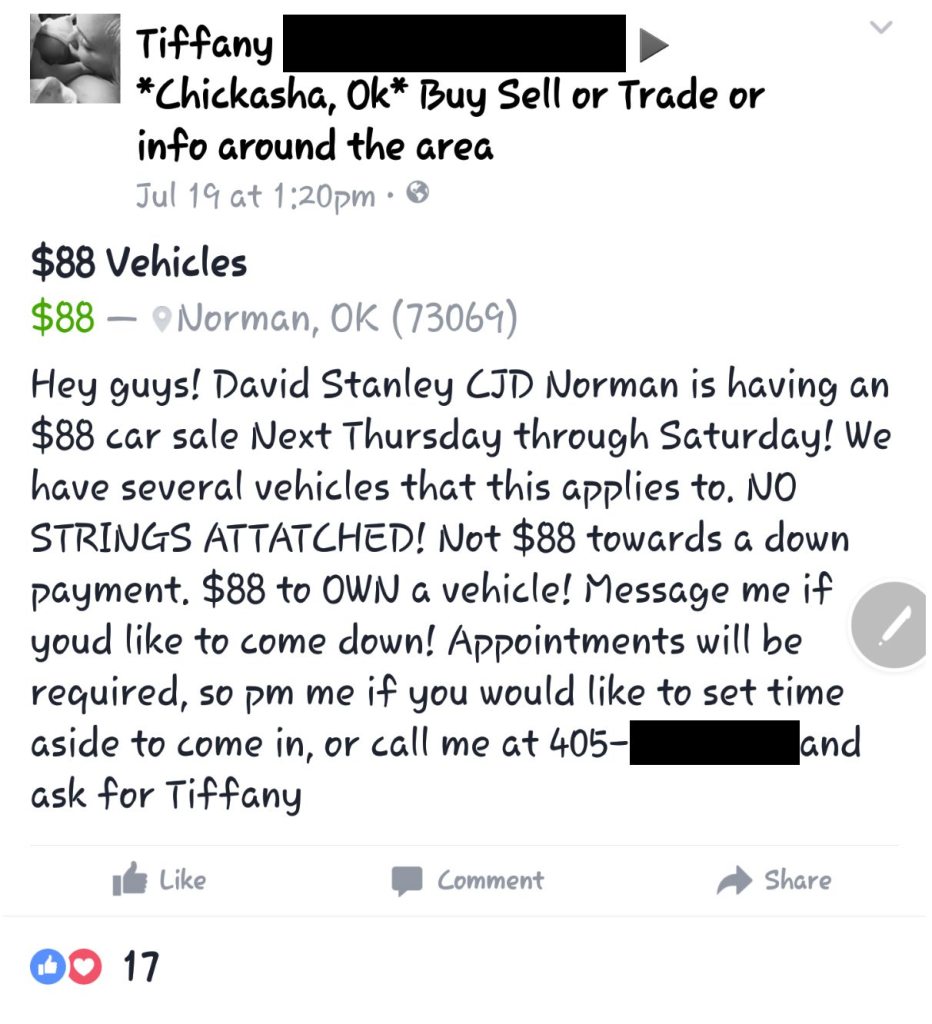 The Mole made contact with Tiffany, and had the following conversation over Messenger: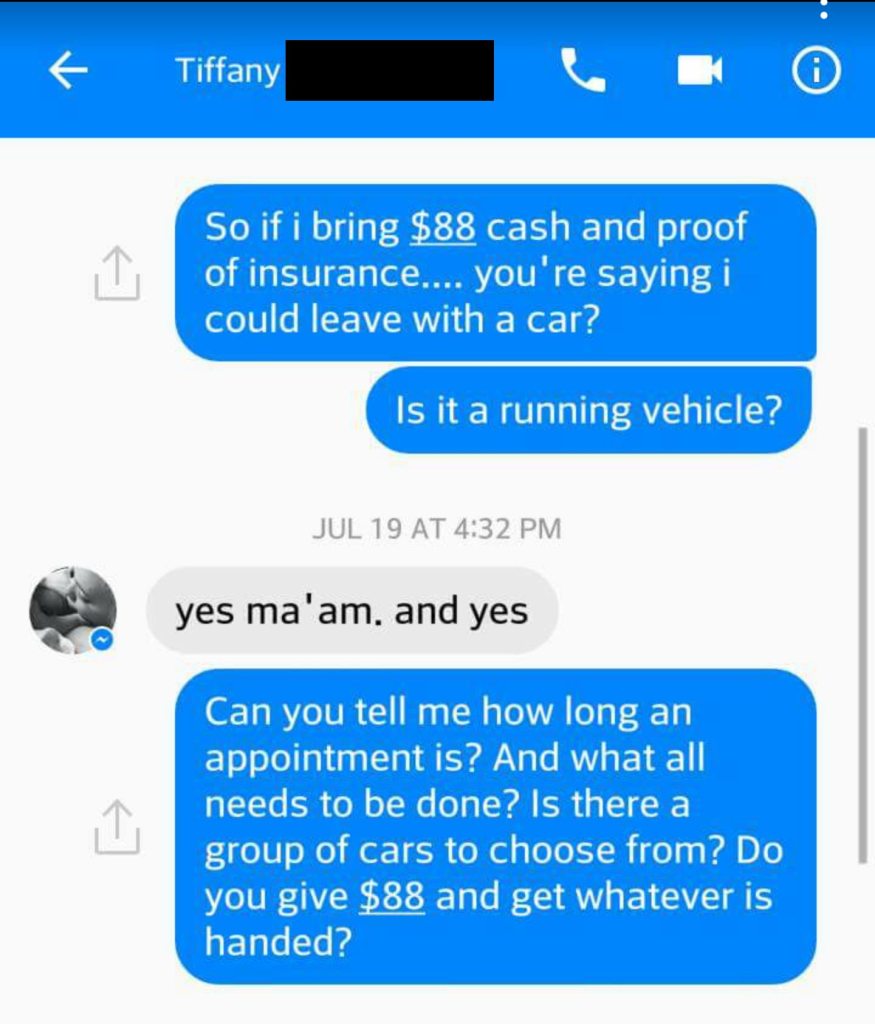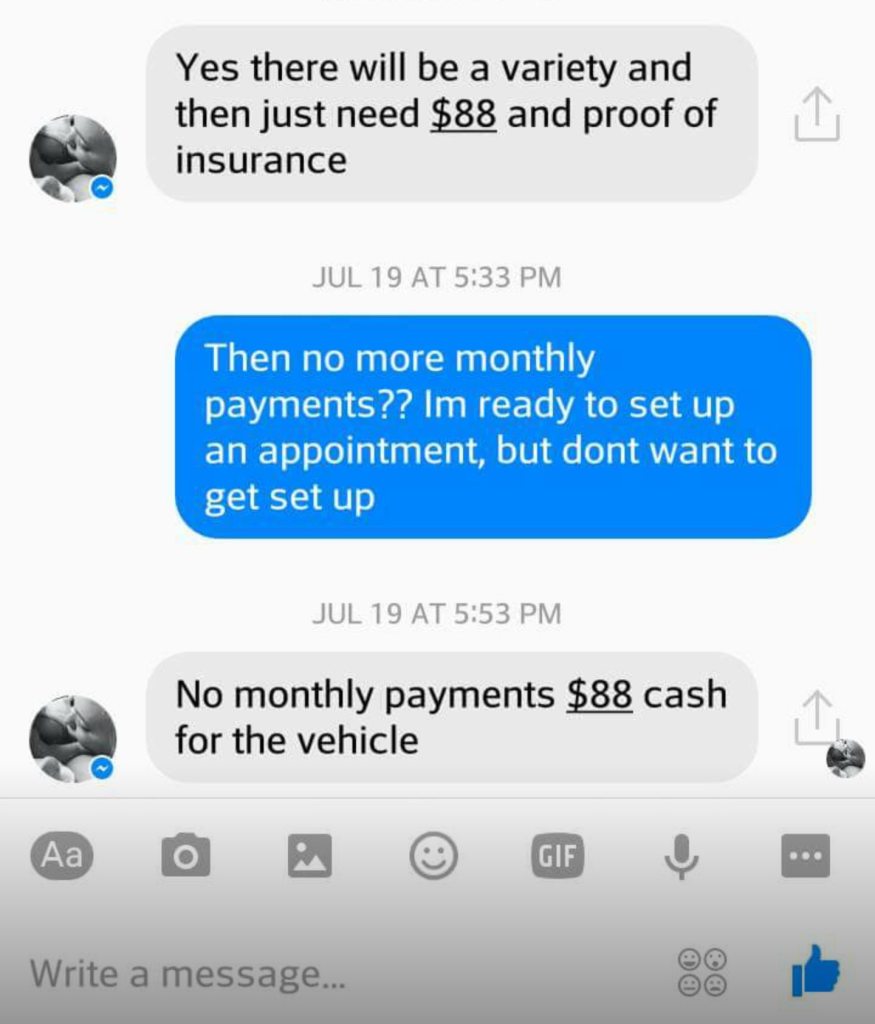 Yep, $88 for a car... NO STRINGS ATTACHED. You know what they say, if it sounds too good to be true, don't worry, it's probably a 100% legitimate and fair offer.
Skeptical yet curious, The Mole grabbed her husband and drove all the way to Norman to buy a car for $88. Here's her account of what happened when she got to the dealership:
You had to fill out a raffle form with all your information and place it in a DRAWING to have the opportunity to buy a vehicle for $88. And you had to be present.

When I asked for Tiffany, one person said she was on the phone, and another said she wasn't even there!!

I asked for a manager and a guy named Xavier came out. When I showed him the post, he laughed in my face. In front of a packed showroom, he was rolling his eyes and being VERY condescending and rude to me and my husband. He left. Not too long after, someone comes over the intercom calling all salespeople for a meeting.
That's interesting. You can't walk into to the dealership and buy a car for $88? You have to enter and win a drawing to get a vehicle for that price? Why were those details not shared in the Facebook ad, or any applicable fine print? That sounds like false advertising to me.
Somewhat upset that she wasted a drive to Norman, the Mole began to video the sales meeting with her phone. She was then asked to leave the dealership. That's a shame, because she missed out on a perfect chance to play an exciting game of musical chairs!
Seriously, check this out. The dealership made a group of people who look like they just stumbled out of a dimly lit Indian casino play musical chairs to win extra raffle tickets. When the game is complete and the last few people register, the drawing is held. After several attempts, they find a winner who is present. The winner then proudly and promptly tells everyone she's going to trade in that $88 car for the purchase of a new vehicle. Bait. Switch. Sold.
Here's the clip:
Wasn't that painful to watch? First of all, it's sad to see such sad, gullible people being duped by a business. Second, what the fuck was up with MC Beatbox? He looks like he's part of Knuckle's posse.
Anyway, I'm not 100% sure what the rules are when it comes to deceptive advertising, but sending your salesmen out on social media to lure people in with too good to be true offers that end up being nothing more than a creatively packaged bait-and-switch that involves musical chairs sure sounds fishy to me. David Stanley should be held accountable by the Oklahoma Motor Vehicle for continuing to employ such classless, deceptive, predatory tactics that prey upon the not-so-smart Oklahomans who live among us.
Also, I can't wait to see what The Oklahoman, News 9 and the rest of the local media digs up when they examine this info and pursue the story further. Wait. I forgot. They don't read The Lost Ogle, so that will never happen.
(p.s. - If you're still reading this, you probably do read The Lost Ogle. Be sure to share this post on social media so others can be warned about David Stanley's marketing tactics, and know to go somewhere else when it's time to buy an $88 car.)
Stay in touch
Sign up for our free newsletter