Everything Else
Mike Morgan left a salty note on Aaron Tuttle's Facebook Page…
10:19 AM EDT on April 28, 2016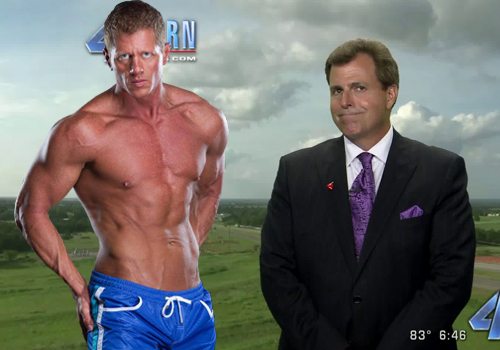 In today's installment of As The Doppler Turns...
Last night, an Ogle Mole sent me a screenshot of a salty Facebook comment that KFOR Chief Meteorologist Mike Morgan left on Aaron Tuttle's Facebook Page. The comment was in response to this Washington Post article that Aaron shared with his 100,000+ followers. The article, which was written by Angela Fritz, was highly critical of the local and national media weather forecasters, including KFOR Channel 4, and the role they played in generating fear about Tuesday's weather fizzle.
Yeah, that's right. Aaron "Mr. F5 Tornado May Hit The Metro" shared an article that criticizes the fear inducing weather media, an exclusive group that Aaron Tuttle has been a part of for over a decade...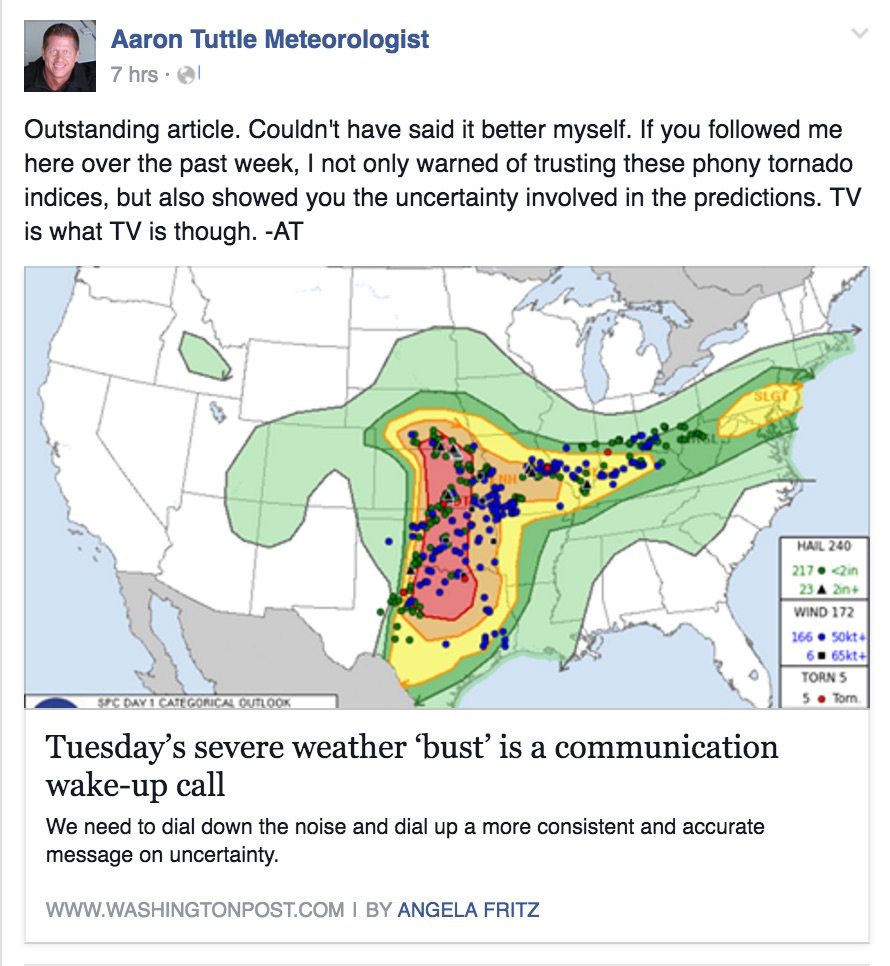 Forget what Aaron said, I agree with the Washington Post article 100%. Tuesday was the wake-up call. We need a responsible weather media that doesn't resort to clickable headlines and panic-inducing forecasts when predicting the weather. All that does is drum up fear, tv ratings and website page views. We need responsible, non-sensationalized weather reporting like what you'd find in the Washington Post...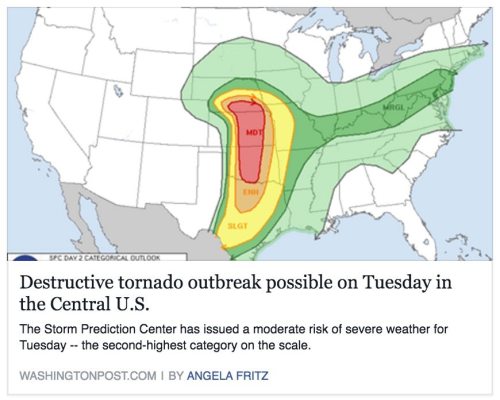 Okay, so maybe the Washington Post isn't the best example for non-sensationalized weather reporting, but on a positive note, it's good to be reminded every now and then that hypocrisy exists in places outside of Oklahoma. Sometimes, like today, we really need it.
Anyway...
Mike Morgan didn't like the fact that Aaron Tuttle shared the article on Facebook. We know this because Mike left this now deleted Facebook comment on Aaron's wall: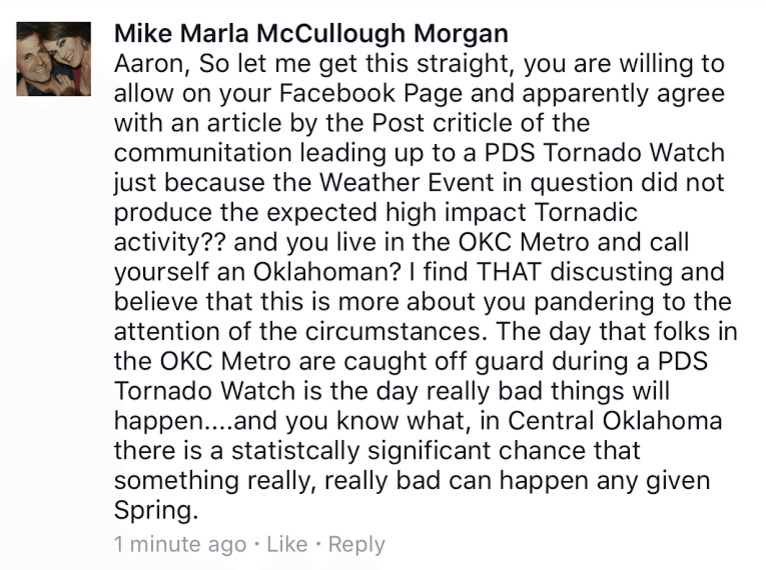 First of all, it's not surprising that Mike would do something like this. Say what you want about the guy, but he sticks up for himself. He's emailed us in the past, and one time he even asked to see Steve Lackmeyer's balls. The guy doesn't back down.
With that disclaimer out of the way, is anyone else worried that we're about to see the universe collapse upon itself and break up into several maxi-wedge grinders on the dryline? We have Mike Morgan, a man who never turns down an opportunity to pander to the attention of the circumstances, accusing Aaron Tuttle, a man who never turns down an opportunity to hype severe weather days in advance, of pandering to the opportunity of circumstance by sharing an online blog post critical of people who hype weather days in advance. What's next? Mike Morgan calling out Aaron Tuttle for wearing glittery, shiny blue gym shorts? Aaron Tuttle shaming Mike Morgan for wearing too much bronzer? I'm not sure my mind can comprehend this highly-complex level of hypocrisy.
In case you care, the winner of this hypocrisy battle is Aaron Tuttle:
Don't you love it? At 10:26pm on Tuesday night, only a few hours after the OKC metro was able to make it out of a forecasted PDS weather event relatively unscathed, Aaron Tuttle decided to let his 100,000+ followers know that he is concerned about Friday, and they should probably read about it. Then in the first sentence he tells them that he's concerned, but shouldn't worry about it and just go on with their lives. WTF? I wonder if he also told people to jump and sit at the same time. Obviously people took him for his word, because his fear mongering status has been shared nearly 2,00o times. Who knows? Maybe he's right and Oklahoma City is hit with a swarm of angry Tasmanian Devils, but shouldn't he follow his own advice and maybe wait until a day or two before the forecast to share his concern?
You have to admit that Mike Morgan and Aaron Tuttle having a feud is kind of cool. I'd love to see them grab a storm chaser as a partner and battle things out in a hail-filled octagon. The only thing that could make this thing even better is if another weatherman, perhaps even one less self aware than Aaron or Mike, could jump into the fray. Impossible, you say! That man doesn't exist! Well, I beg to differ...
Holy shit! Brady Brus is getting in on this action?! Gather up Dr. Harvey Jenkins, Hipster Boo Boo and Joe Exotic and grab some popcorn. We're about to have a diabolical weatherman extreme face-off!
Actually, Brady's Facebook comment wasn't so bad... if it ended after "Keep up the good fight." Unfortunately it didn't:
Oh my God, Aaron Tuttle and Brady Brus are becoming buddies (I'm pretty sure that last bit about "defamation" was a reference to their 100% mutual, unabashed hatred for this website). I think the prophecy from Gary England's Weather Scrolls is coming true. It predicted that during the fourth month of the fourth El Nino of the new millennium, two evil weather spirits would combine forces and wreak havoc on the world with an evil weather machine and frivolous lawsuits! With Gary England out of commission, who will harness the powers of the Severe Weather Forces and save us?
That's easy: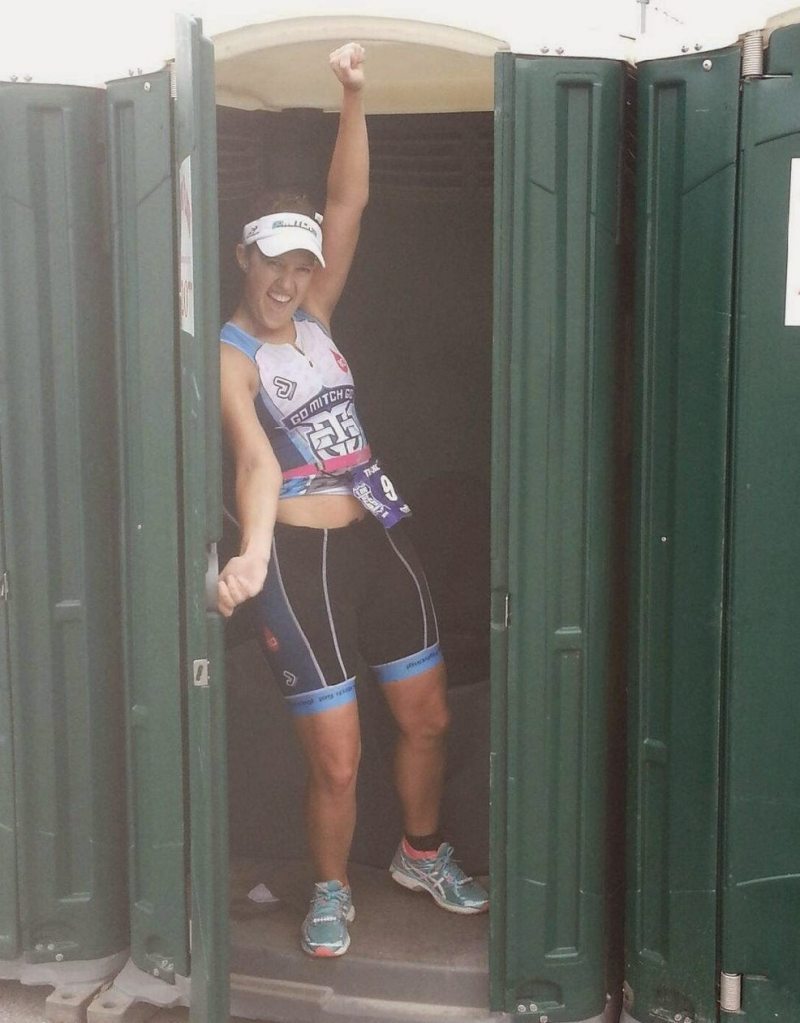 Yeah, we may be screwed.
Anyway, I have a flight to catch so I have to wrap this up. Tune in next week for another edition of As The Doppler Turns.
Stay in touch
Sign up for our free newsletter