Before we get to this edition of News You May Have Missed, here are my picks for Ogle Madness IX:
East Region: Oklahoma City Energy
Not only am I a fan and season ticket holder, I also am a member of the notorious Grid, the fans parked behind the net that cause opponents to regret their choice of sport and local soccer moms to cover their children's ears. I back them in all competitions, including snarky popularity contests. Patrick has Emily Sutton, Marisa has Fried Pies, and I have the Energy. COYG!
South Region: 10 Commandments Monument
The once and future Garden Gnome of the Capitol has been through it in the past year, and has remained a key topic of conversation even during primary elections, Sheriff's office shenanigans and budget shortfalls. Sure, it's been smashed to bits, but to be fair, that is what happened to the original copy.
Midwest Region: Teachers
I'm a teacher, too. I don't think we have a chance to win the whole thing, but I will be damned if I let us lose that first-round match with the Oklahoman Editorial Board.
West Region: Gwen Stefani
The vision of her and Blake cruising Kemp Avenue in matching camo ball caps is too much to resist. That, and I'm excited to hear a duet with his country twang and her West-Coast warble.
Those were my Ogle Madness selections. This is the News You May Have Missed
-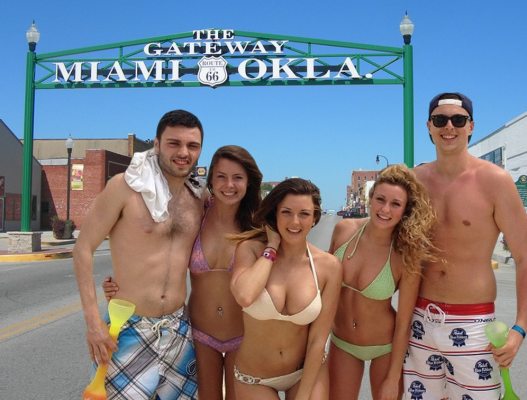 Confused Spring Breakers Arrive at Miami, OK
Hundreds of students from across the nation are converging in Miami, OK this week for Spring Break, mistaking the Ottawa County seat for the tourist haven of Miami Beach, Florida.
"Woo! We're here!" said University of Wisconsin Sophomore Ashley McInnes as she and three classmates spilled out of a mint-colored VW Beetle and entered the iconic Waylan's Ku-Ku Burger on North Main Sunday evening. "Let's get wasted!"
Locals have steadfastly refused to redirect the lost students, as area businesses have come to rely on the economic boost in the decades since the departure of the BF Goodrich plant in the 1980's. The new spring breakers have sunbathed on the banks of the Neosho River and gathered at Taylor Park for MTV-produced live events.
"I'm gonna hit this awesome dive on Steve Owens Boulevard with my brochachos and probably hook up with some chick at the LFMAO show at the Coleman Theater! Miami rules!" said Creighton University senior Doug Andersen, before correcting himself by pronouncing the city "My-am-UH."
-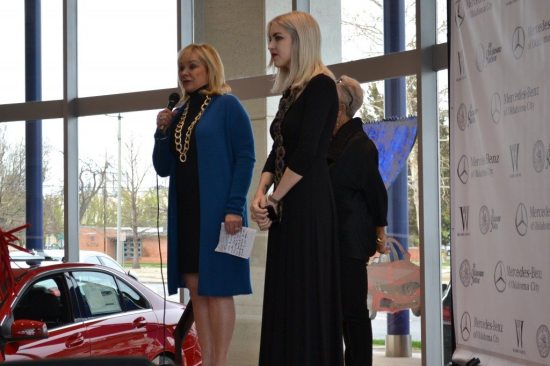 State of Emergency Declared After Gov. Fallin Participates in "Take Your Daughter to Work Day"
The State of Oklahoma is still recovering from a long day of chaos resulting from Christina Fallin's brief presence in the Governor's Office during "Take Your Daughter to Work Day" at the State Capitol Thursday.
While several legislators and state officials allowed their children to answer phones and deliver messages without incident, the mere sight of Oklahoma's First Daughter at the Governor's Desk was enough to create widespread panic.
"We can't explain what is happening at the Capitol right now, but there are several fires raging in both chambers," said News 9's Steve Shaw during coverage. "State Treasurer Ken Miller has just announced that the state's credit has fallen to a 'D' Rating, and at least seven counties in Northeast Oklahoma are threatening to secede to Kansas."
Oklahoma's Congressional delegation apologized on behalf of the state, and promised that future TYDTW Days would be restricted to only Edmonson and Boren children.
-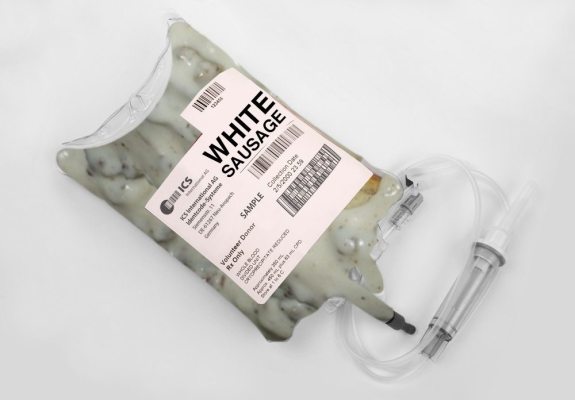 Oklahoma Gravy Bank In Desperate Need Of Donations
Local residents are reminded that the early weeks of spring constitute the period of greatest need for gravy. To that end, the Oklahoma Gravy Bank urges all Oklahomans available to contribute time and gravy to address the shortfall.
"Too many people associate Gravy with Thanksgiving and Christmas, but that's only part of the need," said OGB Executive Director Jimmy Douglass. "Lots of new construction and repair contracts start as the weather gets better, and those workers need gravy. Spring is a period of great need, and right now our reserves are very low. And you never know when someone will move here from Canada and suddenly want poutine."
Douglass added that while stores of chicken and red-eye gravy are currently in peak demand, mushroom gravy is always sought after.
-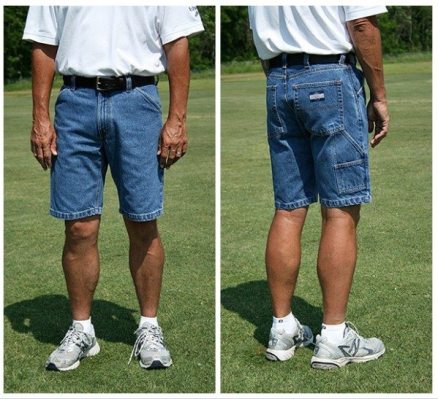 Unfashionable Oklahoma Legislators To Debate Jort Reform
Legislators are scheduled to meet this week to discuss the issue of jean shorts and their place in the Oklahoma fashion economy.
"We admit it's not a key issue for most Oklahomans, but when has that stopped us before? Jorts need to be properly addressed!" said Oklahoma lawmaker Mike Shelton during a press conference at Kohl's in Moore. "Are they capris for guys? Should we market them ironically? Do we blame Gen Xers or Millennials for them?"
The meeting will include a presentation with representatives from JNCO and will feature an address by film director Kevin Smith.
State Senator David Holt criticized the talks as another example of government overreach. "As a longtime wearer of jean shorts, these talks are ridiculous, and quite frankly, frightening. First they take your jorts. Then they go after your cargo shorts. Even fanny packs may not be safe."
-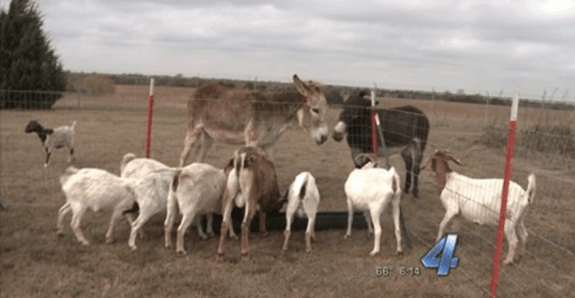 Lake Hefner goats form union, demand better working conditions
The Lake Hefner Goats announced this weekend they have formed a union to improve working conditions. The move is backed by powerful animal rights groups like PETA and The Humane Society, and Oklahoma City Councilman Ed Shadid.
"The working conditions here are deplorable," said Roger Baaaaaker, President of the newly formed Oklahoma Goat Mowers Association."First of all, the city totally moved us Lake Draper for the winter without consulting or asking anyone, so now when we get back to Lake Hefner there's going to be extra work to do. Also, does any other city employee have to report to a guard donkey? You should see him when he's in a bad mood."
Stay in touch
Sign up for our free newsletter