Every now and then, we like to take a look at some of the local news stories you may have missed. Here they are: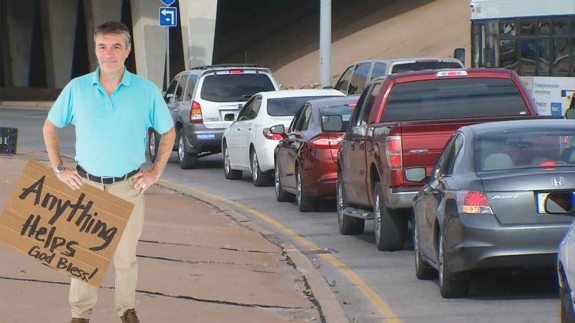 1. City Council enacts "business casual" dress code ordinance for panhandlers...
Pleat or no pleat?
That's what some Metro residents are asking after the Oklahoma City City Council approved a new ordinance requiring panhandlers to dress in business casual attire.
The ordinance goes into effect next Friday.
"This not only enhances the image of our panhandlers, but also the image of our city," said Councilwoman Meg Salyer. "If we can't make panhandlers and the poverty and mental health issues they represent disappear, we might as well make them blend in the best way possible."
A proposal by Councilman Ed Shadid that would allow panhandlers to wear jeans on "Casual Friday" was defeated by a 5 - 2 margin.
The Council defined "Business Casual" as "nice, but not too nice... basically, something you'd wear to work or church on a Sunday." Approved articles of clothing range from "sacks or khakis" to "blouses and polo shirts."
-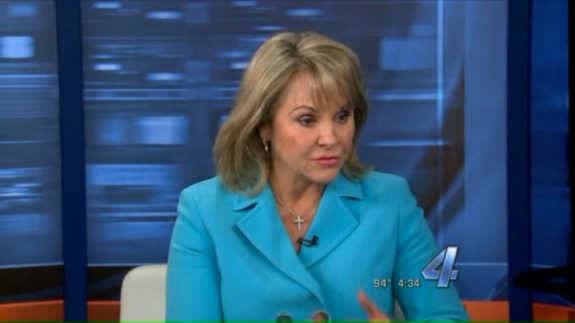 2. Governor Renames Earthquakes "Freedom Shakes"
In an executive order released Thursday, Governor Mary Fallin directed all state agencies to refer to all seismic activity in Oklahoma as "Freedom Shakes" in response to pressure from the state's energy lobby prominent concerned citizens.
"We are aware that recent unexplained phenomena have resulted in property damage and concern over the fate of our natural resources and their extractors," Fallin said. "To those worried, I give them this assurance: Those Freedom Shakes will remind you of how proud we Oklahomans should feel of our fossil fuel companies!"
Fallin added that the rebranding does not extend to earthquakes in evil socialist places like California, Mexico or Japan.
-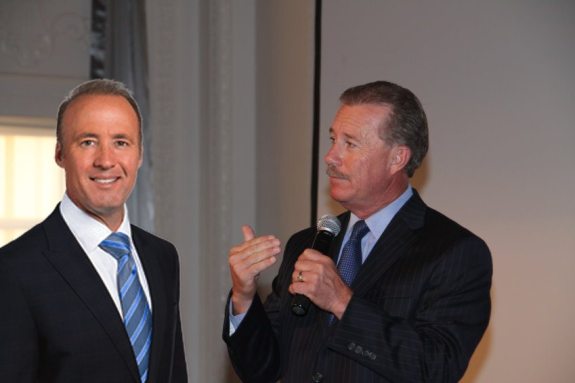 3. News 9, News on 6 Weather Staffs Fighting Again
The relationship between the staff meteorologists of KWTV and KOTV, which has been along the most stable marriages in Oklahoma, has grown very tense over the winter months, said a source close to the couple.
"They're always arguing. They only talk to each other when they have to, and most people know that they're secretly working with other weathermen in Amarillo and Joplin," the source said.
Dr. Baxter Timmons, a professor at the University of Oklahoma School of Meteorolgy, disagreed, saying that the two stations have a long history together and that any tensions are normal in weather forecast synergy.
"They're still dealing with the loss of Gary England and there hasn't been much action between them this winter. But they're a strong couple. By tornado season, they're going to see that fire rekindle again," Dr. Timmons said.
-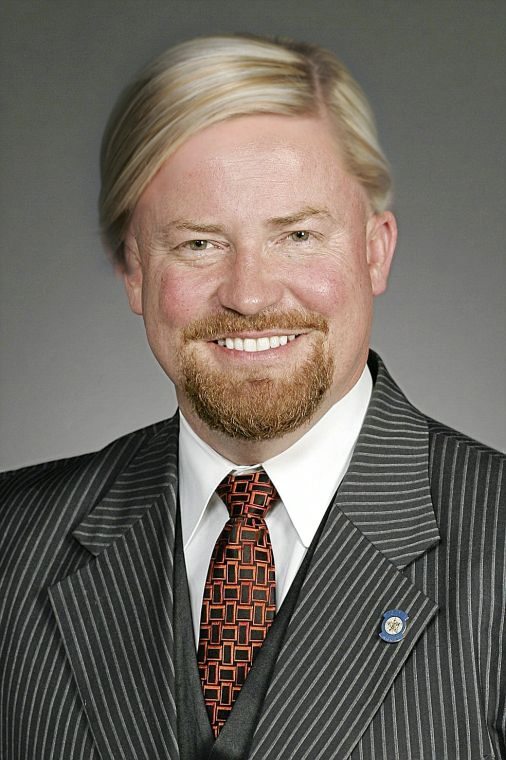 4. Joe Dorman adopts Emily Virgin's Pixie haircut
Claiming that he's "always adored the look," 2014 Oklahoma gubernatorial candidate Joe Dorman recently unveiled the new Emily Virgin Pixie haircut he had surgically implanted on his head.
"It feels great to have hair again!" a happy and confident Dorman told a jubilant crowd at the Grady County RattleSnake Chili Cookoff. "People take me more seriously and I take me more seriously. Now lets eat some chili!"
According to a new Sooner Poll, the new look has lead to a 57% increase in Tinder matches for the former State Rep.
-
5. Loud City to feature replica restrooms from Love's Travel Stops 
Thunder fans better not forget to wash their hands.
In effort to make the Love's Loud City experience as authentic as possible, the team announced on Friday they will feature replica Love's travel stops bathrooms in Loud City.
"We're always looking for special, unique ways to better serve our fans and partners. This was a natural fit," said Nicole Pettijohn, OKC Thunder Director of Sponsorships.
The bathrooms will feature many staples from Love's Travel Stops, including broken soap dispensers, dirty toilet seats and strange, sticky substances on the floor.
"In all honesty, it doesn't sounds all that different from the regular Thunder bathrooms," said Thunder season ticket holder Chance Andrews.
Stay in touch
Sign up for our free newsletter