Everything Else
OKC Man Develops Unique Way To Prevent Package Theft
5:44 AM EST on December 7, 2015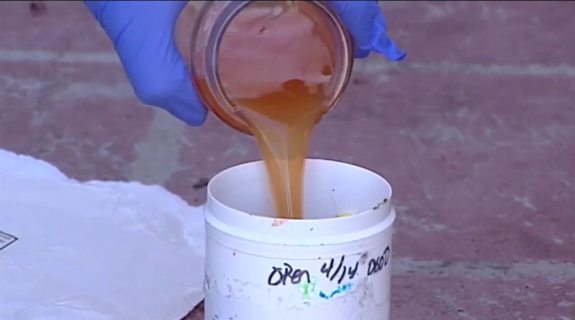 Last week, Marisa told you about the pathetic soul who grinches his way through local neighborhoods stealing packages from people's porches. KFOR dubbed this low-life thief the "Porch Pirate," because you know, the media has to give criminals cute names to get people to watch the news.
Apparently the looting and plundering of the Porch Pirate and its hearties has caused one Oklahoma City resident to develop his own form of vigilante justice. His name is John Karlin. For some reason, KTRT out of Houston has his story:
One man in Oklahoma has a nasty surprise for thieves trying to steal packages from his porch.

John Karlin knows firsthand what it's like to have packages stolen. Earlier this year, thieves stole medication and a costume off his porch.

So now he is scaring off thieves by creating crazy concoctions -- even using dog waste.

Karlin said, 'I have different surprises in each one. You may have a broken Xbox, a dead squirrel and duck sauce here. Some dog poop, so you never know what you're going to get when you steal stuff off my porch."

Karlin hopes the idea catches on, and says that he thinks everyone should protect themselves especially this time of year.
That's hysterical. Although I do have to ask, is this really the smartest thing to do? These are not common thieves. They're Porch Pirates! Arg! They're vicious, nomadic marauders roaming from neighborhood to neighborhood in search of romance, adventure and booty. They are not to be messed with!
Okay, not really, but if you stole a package from someone's front porch, took it home, opened it, and discovered it was filled with dog shit, sweet n' sour sauce and squirrel legs, you'd probably remember which house the package came from and then FedEx something equally disgusting in return. Pirates always seek revenge!
Anyway, I was kind of curious why this story about an Oklahoma City man going all Captain Phillips on picaroons and scallywags was being covered by a Houston TV station, so I searched John Karlin's name. Apparently, he has one hobby in life and it's getting even with Porch Pirates.
According to this KOCO story from last March, Karlin – an Army vet – sets booby traps on his front porch that would make One Eyed Willy proud. And in April, KFOR filed this report about how John plants GPS devices in dummy packages and leaves them on his porch, because I guess he wants to find the porch pirate's hideout.
John Karlin's home is a fortress.

He's installed cameras everywhere, hoping to catch the next 'porch pirate.'

"They got my medication, my son's Halloween costume. It's a loss of trust. You feel like you've been violated," Karlin said.

Over and over again, John has captured several different people stealing his packages and his elderly neighbors'.

Future crooks need to watch out because Karlin says he is stepping up his game.

This local homeowner is now planting GPS tracking devices inside boxes and leaving them on his porch.

"Wrap it up and wait. And whoever steals it will get caught this time. I can track them anywhere," he said.

The criminal activity is being shared through the Nextdoor App.

It is the neighborhood watch program of the next generation.

"As soon as I see a package dropped off, I notify my neighbor. If I don't have their number, I use this neighborhood app to say 'Hey, UPS just dropped a package at your door. You coming home soon? Want me to grab it?" Karlin said.
On a positive note, I guess if John is your neighbor, you don't have to sign-up for email alerts to see if your package is delivered! I'm sure it feels great to have someone monitoring your home all day with a telescope like a pirate looking for land.
Also, I admire John's vigilante spirit and dogged determination, but wouldn't it just be easier to tell UPS, FedEx and the post office to not leave the package at the door. You know, require a signature or something. It may be an inconvenience, but it would stop the theft. Then again, I doubt local TV channels (and even ones in Houston) would return John's phone calls if that was his plan. Carry on, bucko!
Stay in touch
Sign up for our free newsletter