Everything Else
College Football Musings from the Train: Week 11
10:56 AM EST on November 23, 2015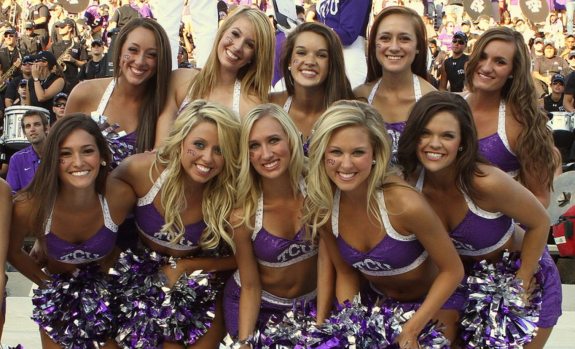 10) Oklahoma survives
Jeeeminy ...
Holding a solid 23-7 lead at halftime, Oklahoma damn near pissed away a shot at the College Football Playoff, narrowly escaping TCU at home 30-29. It is at this point when I generally rattle off Google searched statistics. But does it matter how many yards Baker Mayfield passed/rushed for or how many scores Perine racked up? Or that this win is tempered because TCU didn't have its two best players in the lineup?
Nope.
All you really need to know is that Mayfield didn't play in the second half due to a headache. Not that Mayfield was especially sharp in the first half, but he did throw for 127 yards and two scores. And ran for another 42. He also captained an offense that rushed for over 330 yards, led by Samaje Perine's 188.
The defense was pretty good the first three-quarters, but when you are battling three and outs like the Sooners did in the fourth quarter, you are bound to give up some plays. And they did, allowing TCU to score 16 unanswered points in the final stanza and giving life to a quarterback position that was pathetic one week earlier against Kansas
But who gives a damn. Because the Sooners won and are still in the national title hunt. That being said...
-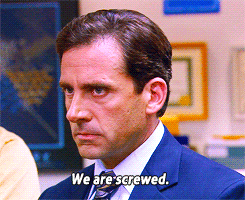 9) Trevor Knight
If it's humanly possible for a quarterback to be worse than Trevor Knight was in 2014, Trevor Knight circa 2015 version may be that guy. He ranged from predictably average to shockingly bad in his return to Owen Field. I came away with three general observations:
1) Trevor Knight is the most inaccurate passer in Oklahoma football history.
2) How bad is Cody Thomas to be behind this guy on the depth chart.
3) We are SCREWED if Mayfield ever gets hurt again.
Oklahoma was outscored 22-7 by a hobbled Horned Frog squad with Knight at the helm. He threw pass after pass (another issue that I will take up if Knight plays again) into coverage with horrific results. The dude might be one of the best people on campus, but he is a terrible, terrible, terrible college quarterback.
And the guy still beat Alabama. I want to see Sports Science examine that one.
-
8) Thank God most of the country sucked too
Lost in the near epic collapse Saturday night in Norman was the crumbling of several contenders this weekend. OSU I and II - gone. Notre Dame squeaked by moribund Boston College. The SEC looks like shit, which doesn't help Alabama's cause. UNC barely beat Virginia Tech. LSU and Utah keep losing.
The bottom line - Oklahoma beat a top 20 TCU team that, though decimated by injuries, is talented and well-coached (minus one huge exception). The Sooners lost Mayfield, forcing them to play a half with *ahem* less than good Trevor Knight. This was survival week. This coming weekend is championship week. Beat Oklahoma State, win the conference and they'll likely get a spot in the college football playoff.
Plenty of teams are out of the chase now. A win is a win no matter how ugly. Tell me Ohio State or Oklahoma State wouldn't have taken a one point win at home Saturday right now?
-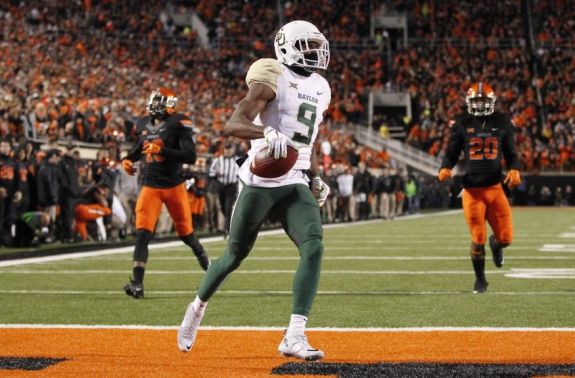 7) Oklahoma State fails to snatch victory from the jaws of defeat
I've said it, preached it. Many times this year. This can't continue. Oklahoma State cannot continue to give huge leads to opponents and expect to come back and win every time. At some point against a good team, it is going to bite them in the ass.
Consider the ass bitten.
Baylor rushed out to a quick 14-0 lead, then a 38-14 lead in the 3rd, cruising to a 45-35 win in Stillwater. The Bears amassed 700 total yards, led by a 2nd and 3rd string quarterbacks. Baylor gained 32 first downs. They had the ball 11 minutes longer than OSU. They turned the ball over three times, and if not for those turnovers, Oklahoma State is blown out.
As bad as the defense was (see below), the offense ... my God, the offense. The Cowboys ran 74 plays - 51 through the air. I get you have to pass when behind, but let's be honest - the Pokes had no choice. They rushed for 8 (yes, 8!) yards. Even erasing the 38 yards lost by Rudolph, they managed a meager 46 yards on 23 rushes. That is awful. They were completely dominated up front by an athletic but average front seven. If OSU cannot right that wrong next year, screw any conference title talk.
OSU was living on borrowed time... and a favorable schedule.  They had messed around with too many inferior opponents. They allowed too many teams to stay with them. They caught a good Baylor team with its back against the wall. And it cost OSU a chance to play for the big prize.
-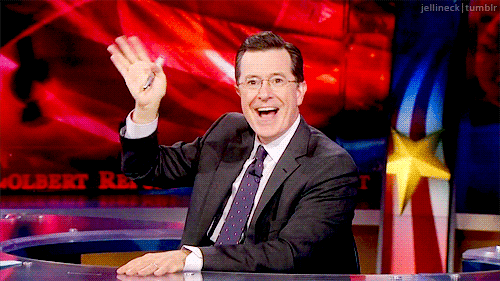 6) Where in the hell did the defense go?
What started so well and with such promise ended so badly.
Oklahoma State came into the season with the best defense in the conference. They had all-conference type talent. Ogbah. Peterson. Beal. Today? Mediocre at the absolute best. Texas Tech blitzed the Poke defense. Kansas State and Iowa State ran all over the Cowboys. And now Baylor. Oklahoma State can still pressure the quarterback, but they can't stop the run or the forward pass. That's a problem in this conference and it cost OSU a shot at the college football playoff.
-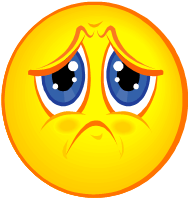 5) Bedlam ... was going to be epic
Thanks for that, Art Briles and Glenn Spencer.
What was likely the hottest ticket in Bedlam history got cheap. Fast. OSU still has something to play for. And Oklahoma has this chance to win the National Championship. But it isn't historic. And the weather is going to suck. Like wintry mix bad. Like ice quake bad.
Amazing what El Nino and no defense does for a football game.
-
4) Ohio State? Dun
Overrated is apparently spelled O-H-I-O S-T-A-T-E.
The Buckeyes played their first ranked opponent in 2015, and were beaten down by a good but not great Michigan State team 17-14 in Columbus Saturday afternoon. Sparty was led by a backup quarterback who threw ONE pass in the second half. MSU muscled tOSU in the second half setting up the game winning field goal as time expired.
As much as the committee loves traditional, smash mouth football, any fan with a functioning brain found that game hard on the eyes. Sparty held the Buckeyes to 132 yards and five first downs. Five effing first downs. That's some Texas level suck ass.
Urban Meyer has owned the Big 10 since taking  the job at Ohio state. It was bound to end at some point. But I doubt anyone expected it to end in such horrific offensive fashion.
-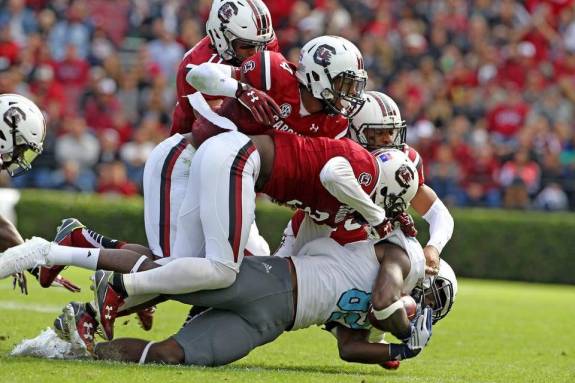 3) SEC is not any damn good
Never underestimate the fighting Hazers of Citadel. Or those scrappy Schnellenbergers of Florida Atlantic. Or those Georgia Southern Bulldogs(?). Because you can't just lay down your helmets against those historic college football powers. Especially if your rooting interests lie with the Sun Belt.
Wait ... Wait ... not the Sun Belt. The SEC. The by God, end all be all, SEC football conference. They lost to an FCS team and should have lost to FAU and a directional school from the south. Georgia completed its fall from grace by struggling to beat a program in its 3rd year as an FBS school. At home. South Carolina finalized its nosedive by losing to a bad FCS team.
But the coup de gras? Florida going to overtime against 2-8 Sun Belt also-ran Florida Atlantic. No, Oklahoma was not impressive at home against a short-handed TCU, but FAU is a biscuit beyond Broken Arrow High School. And Florida was a dropped pass away from pissing the game away in Gainesville. Florida celebrating like they won the national championship was equal parts pathetic and hilarious.
Before I hear from it in the comments - yes, every one of these terrible games was put forth by an SEC East program. But it's still the great SEC. And Florida and Georgia damn near shit away games against instate doormats. The top team in the SEC is good. The middle of the SEC is awful. East. West. Doesn't matter.
-
2) Final Four
Alabama: Did I mention the SEC East is God awful? Alabama rolls into the playoffs as the top seed.
Clemson: North Carolina is going to give Clemson all they want next week. Just not enough.
Oklahoma: Superstition aside ... Oklahoma gets the final playoff spot assuming they are healthy this weekend against Oklahoma state.
Notre Dame: Still not convinced they beat Stanford, but also not convinced the B1G deserves any playoff consideration
1) Prediction
*I reserve the right to alter this prediction based on Mayfield's availability*
Oklahoma got its wake up call this week. This is a bad matchup for OSU. Oklahoma can rush the passer without blitzing and can run the ball really well. This Oklahoma State defense has regressed. Badly. Oklahoma should roll. But probably won't.
Oklahoma: 38
Oklahoma State: 24
Stay in touch
Sign up for our free newsletter