Everything Else
College Football Musing from the Train: Week 7
10:08 AM EDT on October 19, 2015
10) Oklahoma hammers Kansas State
There was Texas in 2000. And Texas Tech in 2008. Maybe another one of the Texas routs? But that's about it.
Saturday's win was one of the top five performances put forth by a Bob Stoops squad against good competition in his 16 years.
Oklahoma was crisp, efficient, and dominant. They raced out to a 35-0 halftime lead, finishing off a 55-0 shellacking of a Wildcat team that was a few plays away from being undefeated. Baker Mayfield was crazy good. He was 18 of 21 in the first half with five touchdowns. The Sooners finished with over 200 yards rushing and 300 yards passing. Lincoln Riley, reviled for play calling last week against Texas, called an equally ridiculously good game, mixing quick passes and plays designed to pit Oklahoma's play makers in the open field. Joe Mixon and Samaje Perine were able to move the ball effectively on the ground. The offense was so good even Cody Thomas got some playing time.
And it still wasn't anywhere near as good as the defense.
Kansas State was shutout for the first time in 19 years. It was the first home shutout for the Cats since 1991. Stoops' defense held Kansas State to 110 total yards and 7 first downs. They forced three interceptions.
Everything the defense did wrong against Texas they did right against Kansas State. Credit Mike Stoops for making changes in personnel after that bullshit in Dallas. Hatari Byrd is finally on the bench and Steven Parker is rightfully starting at safety. The defensive line addition of freshman Marquise Overton was unexpected and reaped dividends. They stopped the run. They obliterated the pass. Literally nothing worked for the Wildcats on offense.
It's hard to understand the dichotomy between the games in Dallas and Manhattan. As bad as OU was against Texas they were that good against Kansas State. I would never have believed this OU team would do that to a Kansas State team that had plenty of chances to beat OSU and TCU. Just a stunning result. But in a good way.
-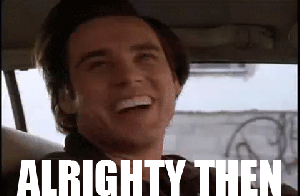 9) The Unexpected
Raise your hand if you saw that coming
*looks...looks...nope*
Exactly.
No chance. No chance OU loses to a bad Texas team in complete disarray. And certainly no chance they crush Kansas State in Manhattan the following week after that shitshow in Dallas and an eight-hour plane delay.
The 2014 version of Oklahoma gave up at the end of the year. They did not react well to adversity. They were embarrassed by Baylor and Clemson. That team folds after the 2015 Texas debacle. After years of playing well when adversity struck, last year's team took a lot out of me as a fan. I have become pessimistic. So to expect this team to rebound so soundly wasn't in the cards. Couldn't happen. Wouldn't happen.
I mentioned on another website that I was still on the Stoops bandwagon after Texas. But that the next four weeks would dictate the future of Stoops tenure in Norman. Would they fold against Kansas state and TCU? Would that spell another 5+ loss season? Or would they show us something - heart, if you will.
I can't expect this type of performance every game. But I sure as hell hope this is the team we see the rest of the year. Well, except when we play Baylor because lol.
-
8) Does this mean anything?
It means this team isn't ready to fold. Yet.
It also means this coaching staff is willing to make adjustments necessary for success moving forward. Keep the quick routes quick. Keep the running game away from the guards and center. Because this offense still has major problems up front. Darlington and Alvarez were awful yet again. OU simply cannot run the ball up the middle. Nor can they run deep routes or routes that require more than a second or of development.
Keep Hatari Byrd on the bench. Keep the defensive line rotation constant. Oklahoma must pressure the quarterback with the front seven. And for God's sake tackle the guy with the football.
-
7) No Visor = No problemo
Is it just me or did Bob look old as hell without the visor?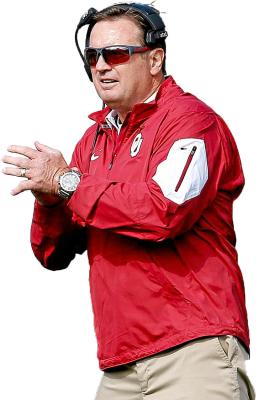 Don't care. No Visor Stoops is undefeated. He is unscored upon. He commits no turnovers or penalties.
Ride her til she bucks ya, Bob.
-
6) Well, hello again Alabama
The Crimson Tide have worked their way back into contention, culminated with a turnover filled 41-23 win at Kyle Field in College Station, Texas. The bulk of the work was done by the Alabama defense, a defense that turned three Aggie interceptions into touchdowns. Yes, Texas A&M pissed the game away. But credit - 'bama held the Aggies to 316 total yards and dominated the time of possession, primarily via the legs of the largest forehead this side of Emma Stone.
Who is Alabama going to lose to the rest of the year? LSU? Hell no. They had trouble putting away a Florida team short of a quarterback and their offense is brutal. Mississippi State? Auburn? That's it down the stretch. And then some bad SEC East team in the conference championship. Alabama is all but guaranteed to make the playoff.
-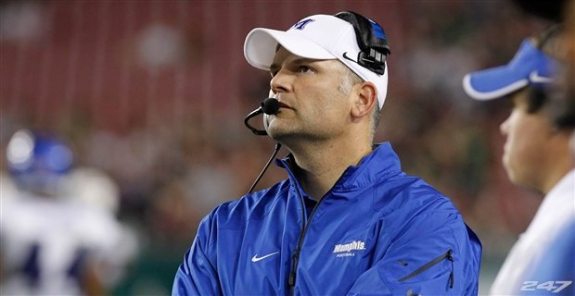 5) Walking in Memphis ...
When Justin Fuente took the Memphis job, I remember hearing people talking about what a terrible job it was and how he should have waited for a better opening. I disagreed. There are around 125 FBS head coaches in college football. You get offered one of the jobs you need to take it, even if it was awful like Memphis.
Now, by God, Justin Fuente has the Tigers 6-0 and absolutely for real. Memphis beat an Ole Miss team that defeated likely playoff participant Alabama 37-24 at home, announcing to the world that they are the best non-Power 5 team in the country. The Tigers racked up nearly 500 yards of offense and 32 first downs while holding the ball for 38 minutes in beating the Rebels. Memphis isn't completely devoid of talent, but this was a clinic put on by a former Conference USA doormat.
Once again, an SEC defense is shredded by a spread offense with inferior talent. And once again I get to post this:
-
4) Michigan
There are bad ways to lose a game. See Texas twice this year. There are shocking ways to lose a game. See Nebraska/BYU in September.
Then there is Michigan/Michigan State 10/17/15.
You've seen the play. Down by two with 10 seconds left, Sparty had Michigan punting around midfield. Michigan State set up a punt block - they had no one returning the kick. In all practicality, the game was over once the ball left the punter's foot.
Which it never did.
If this was some ass random MEAC game in September it would still be unbelievable. But this was a defacto playoff game - the loser was eliminated from contention. This was an instate rivalry game. This was two top 12 teams - blue bloods of college football. And it likely came down to the most improbable finish to any college football game since the band was on the field.
-
3) Speaking of losing ...
The Cubs blew their chance Game 1 and cemented the series in Game 2. Matt Harvey has been a shell of himself since returning from arm survey. Jon Lester was brought in to win games in October. Then Jake Arrieta forgets all he learned in the second half.
All for naught I suppose. Now we have to beat Jake deGromm, likely twice, and Harvey and Subdergaard again in order to make the Series. Which is very much unlikely. Which very much sucks. Which will very very much suck if the Royals make the Series as my brother is a season ticket holder and yes, does get World Series tickets.
Alas, life as a Cub fan. The light at the end of the tunnel is a freight train of broken dreams and tasty tears.
-
2) Final Four
Alabama - shaking off the Ole Miss loss with a big win in Aggie land.
Michigan State - the only way that win makes sense is if Sparty makes the playoff.
Clemson - best team in a pretty terrible conference.
Baylor - at some point they will play someone with a pulse and away from Texas. The second best team in the conference gave up 21 points in a quarter to Iowa State.
-
1) Predictions
Oklahoma/Texas Tech
Texas Tech's defense is just bloody awful. Kansas was still in the game late. This OU team? Who in the monkey piss knows what will show up week to week.
Oklahoma: 45
Texas Tech: 28
Oklahoma State/Kansas
If you think this game looks like shit on paper, at least you don't have to come up with three  stories about this "game." OSU will absolutely roll.
OSU: 56
Kansas: 7
Stay in touch
Sign up for our free newsletter