Everything Else
The Oklahoman really wants to sell some digital advertising…
1:52 PM EDT on August 19, 2015
Last night, I stumbled across a native advertising article on NewsOK.com promoting the third annual Confluence Conference. It's a Digital Media Summit (yeah, they're  calling it a summit) organized by The Oklahoman's internal ad agency "Big Wing." At least I think that's what Big Wing is. It kind of reminds me of Wimgo in that is has a weird name and no one really knows what it is or does. The only difference is that it's run by some quirky little English bloke so no one really gives a damn.
Anyway, the Confluence Conference article conveniently focused on how 51% of Oklahoma companies have increased their digital advertising budget this past year, because you know, digital advertising is fucking awesome! Who doesn't want to advertise on the internet? It really is an amazing deal, especially when you deal directly with local independent blogs. For example, just the other day Ryan Cunningham, Marcus Mears and I were driving around in Volkswagen asking if we should stop by Patricia's or The Hustler Store before we...
Wait. I'm not going to go down that path and turn this into an advertorial for digital advertising. Unlike The Oklahoma, I have higher standards than that.
Anyway, I decided to check out the article because, well, I sell digital advertising. At the very least, maybe I could find a company or two that invest in digital media and want to advertise on TLO. As is typically the case with NewsOK.com articles, I was immediately disappointed.
Via NewsOK.com:
For many of Oklahoma's biggest brands, marketing budgets have moved toward digital channels. They are in line with national trends that suggest that more than 50 percent of companies will increase online marketing spending this year.

Longtime companies like OG&E shift towards digital, newcomers nearly dedicate 100 percent of marketing spend to digital.

Power-giant OG&E, for example, has deployed significant digital marketing efforts compared to five years ago as more and more customers engage with the brand online, company officials said.

"Our share of spend on digital advertising has, and will, continue to grow," said Angela Nichols, OG&E director of marketing. "Increasing our digital marketing efforts is an important trend that keeps the brand effective at reaching customers in ways that are meaningful to them and that resonate with their lifestyles.
WTF?! OG&E? Yeah, something tells me their marketing department isn't going to buy an ad on TLO anytime too soon...
"Hey, this is Patrick with The Lost Ogle. Would you all be interested in buying an ad?"
"Are you the same guy who compared us to high school dropouts and PT Cruisers and called our spokeswoman a dirty, filthy liar?"
"Yes, that would be me."
"Sorry, but we'd rather spend our 2015 digital advertising on companies that sucks our dick and mention us in articles about digital media summits. Goodbye."
Okay, so OG&E will never advertise on this site, but maybe some other company mentioned in the article will...
Meanwhile newcomers such as Orange Leaf, the OKC-based frozen yogurt company, make a splash in the market thanks to a strong digital marketing focus.

"We spend close to 100 percent of our media spend budget on digital efforts," said Karley Harper, Director of Brand Development. "Our spend has increased over time as the platforms have changed and require you to spend more money to reach followers. Organic reach is becoming harder and harder to obtain."

Online is where Orange Leaf's audience is.

"Many of our core customers, like teens and busy moms, are increasingly interested in interacting with our brand on digital," Harper added. "This audience expects a more personal connection that they find on digital and social where they can form a relationship with those brands that represent their wants, needs and desires."
Well, that blows. I know someone who works in the communications department for Orange Leaf. Every time I pitch her an Orange Leaf ad on TLO she just makes uncomfortable laugh and stuffs frozen yogurt in my face to distract me. Sadly, it works. That stuff is good! Although, I do think it's a little demeaning that they make you stand on scales before determining the price. Fat shaming isn't cool, Orange Leaf!
By the way, that person I know is currently in Ireland on vacation. If you work for Orange Leaf and you're reading this (and I know you are), will you text this person and let her know that Patrick wrote something bad about Orange Leaf on TLO? She travels all the time and could use a minor panic attack before returning home.
So, obviously OG&E and Orange Leaf are out of the running. There has to be some company in this advertorial we can go after, right?
Increasingly, offline and online marketing worlds are blurring, and some of Oklahoma City's largest traditional agencies have built strong online offerings for their clients.

"While it's different for each industry, online marketing influences the purchase process for all of our clients' prospects," said Tim Berney, president of Brand Strategy at VI Marketing and Branding. "Depending on their prospect's purchase behavior, our clients' digital spend ranges from nearly 100 percent of their budget down to around 25 percent."

Berney said the reason is simple.

"It's where the consumer is, so it's where they need to be," he said. "The fact that we can track the effectiveness of our digital marketing makes it that much more attractive. You know what works and move dollars there. For some businesses, it means they need online sales people to answer questions and nurture a lead along. For others, it means they need less, or no physical locations. For firms with deep digital expertise like ours, it has meant a significant increase in business."
Damnit. Tim Berney with VI Marketing and Branding? I'm pretty sure we made fun of his company when they did this...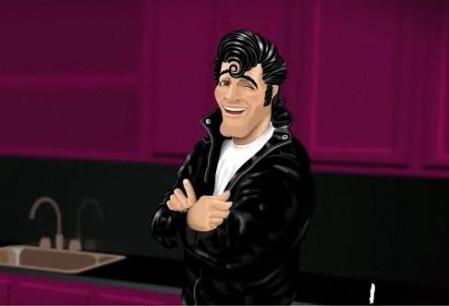 "Ayyyyye! Fogzie here! Don't be a square! By yourself some TLO ads! The Fogz does it. So should you. Aye, and don't pour that grease down the drain! Ya dig?!"
This blows. Is there any company in this thing we haven't pissed off?
It is an effective way to get your customer's message out, said Chip Carter, vice president of Corporate Communications & Business Development at Jones Public Relations in Oklahoma City.

"Digital efforts allow you to connect with your target audience, provide rapid response during timely events, respond quickly during a crisis and ultimately, digital efforts allow brands to get feedback from their audience when seeking opinions," Carter explained.

Jordan Cram, media director at STAPLEGUN in Oklahoma City, added that the flexibility of digital marketing has made it so successful.

"We use multiple techniques in this arena, including search targeting, behavioral targeting and direct placement across popular websites," Cram said. "Because each client has a unique goal and every person has a unique interest, the biggest advantage of digital and social is that we can speak with messages tailored to a person's individual interest."

Digital marketing allows brands to reach their audiences on a level playing field, said Lindsay Laird, vice president of Saxum Marketing.

"In many ways, digital marketing has become the great equalizer of our age," Laird said. "Knowledge and influence have been democratized and a brand's ability to reach a particular audience has never been easier and more difficult at the same time."

"The key for digital marketers is to find a healthy balance between user goals and corporate goals," Laird added.
Jones PR? Staplegun?? Saxum??? Uhm, where's the quote by Tracey Zeeck? Did she forget to answer the phone when the reporter called? Was she being drawn by an illustrator?
I doubt any of agencies mentioned above will send us any new business either. Jones PR is the official PR firm of the State GOP. STAPLEGUN, well, they used to be cool, but they cut off all ties with us after I got drunk at their open house and took a trip down the 18-story fire escape slide inside their building. That leaves us with Saxum. Unless I take Tim Heskett and Victor Avila hostage and demand a ransom, I don't expect Renzi Stone to send us any business.
I guess we're just screwed. Is there anyone mentioned in this horrible Confluence Conference Article who will advertise with us?!?!?!
David Christopher, founder of Confluence Conference and director of inbound marketing at BigWing, said to spend your marketing dollars wisely you have to understand the game.

"As a digital marketing consultant, I speak to people every day who need to strategize about digital marketing, think about it, understand it. This is why we put on Confluence for the OKC community," he said. "Online marketing is that important for our local economy."

Don't miss Confluence Conference Sept. 10 and 11 at the Lyric Theater in Oklahoma City. Register today at www. confluenceconference.org.
I'm no digital marketing consultant, but something tells me Confluence Conference and Big Wing isn't going to advertise their "summit" with us either. Although with all the free publicity I've just given them, they probably should.
Anyway, even though none of the business above want to advertise with us, I guess it's cool that we finally agree with them on something. Digital advertising is awesome! Screw The Oklahoman! Contact us today for our low rates, especially if you're Edgar Cruz. You still owe us.
Stay in touch
Sign up for our free newsletter