OKC Media
The Journal Record is laying off a few employees…
3:28 PM EST on February 2, 2015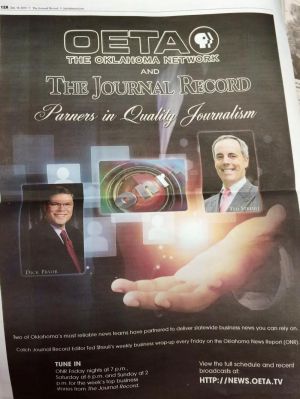 It looks like The Oklahoman isn't the only local newspaper making staff cuts.
We have learned through the Ogle Mole Network that The Journal Record, the 81-year-old newspaper that covers the Oklahoma business scene for the local public relations community, is laying off some staff.
The cuts will not affect the paper's newsroom. They are being made to the local design and public notices departments under a cost cutting and centralization measure by the paper's ownership, Dolan Media. At the end of the month, the duties and responsibilities will be outsourced to Dolan employees located in St. Louis or Kansas City.
When asked for comment on the situation, Tate Publishing President and Fox News pundit Ryan Tate lauded the move: "Any time you can cut costs by moving local jobs out-of-state, or even to another country like the Philippines, I'm all for it. Amen."
Yeah, I'm joking. Ryan still won't talk to us.
Here's an internal email the paper's publisher, Joni Brooks, sent to staff on Friday relaying the bad news:
The Dolan Company has begun consolidating creative design and public notice services in centralized locations in St. Louis and Kansas City in an effort to reduce costs and increase profitability.

What this means for us is that most of our creative services and public notice teams will lose their jobs effective February 27. On March 2nd, we will fully transfer those services to a team in St. Louis...

For the next month our local teams will work with the St. Louis teams via email and conference calls to transfer all processes, templates, files, special customer needs, etc. We have a very significant volume of work and it will be difficult to trade all the knowledge in the next few weeks.

Please start thinking of questions for "how will we do this". You may think of something we haven't thought of yet, and we need those. Please give your questions to me or to Terri and we will find the answers and figure out how to make things work. Please do not add any extra pressure to those who are affected by this layoff.

We all know that this is not a performance issue; we have the best people doing excellent work every single day. They have been dedicated, loyal and have done a terrific job. It's very hard to lose them.

Most newspaper groups around the country have made these decisions already. Many of The Dolan Company's newspapers have already made the transition to St. Louis or Kansas City and they have told me that it has gone smoothly and they are happy with the quality of work they are getting. We will hope for the same result. There are sure to be glitches and bumps in the road, so it will be more important than ever to MEET DEADLINES and provide them with all the information they need in order to do the job well.

Our deadlines will remain the same. If for some reason that cannot be maintained, we'll make that decision down the road, but the teams in Missouri will work staggered hours so they will be available at any time we need them.

I know you're all thinking "what's next" and I don't blame you. There has been a lot of change in the last six months. I honestly do not know of any other plan or movement for more consolidation. We are focusing on core competencies of reporting, advertising, producing our publication/events, circulation and billing.

You are all valuable and you do great work. I hope you'll lend your support to those who are leaving us at the end of February. I appreciate all they have done and especially the effort they are making to continue on for the next few weeks.

Please let me know if you have questions and I'll do my best to answer them.
That's brutal. When I was laid off from my corporate gig, I had to work, or at least pretend to work, for two additional weeks after hearing that I was losing my job. That wasn't awkward or anything. Nothing is more fun than having coworkers give you sad faces and treat you like you have a terminal disease. When you roam the halls, there might as well be an old portly southern man following you around barking "Dead Man Walkin!"
Anyway, this isn't nearly as big of a deal as The Oklahoman's RIF. It doesn't affect the newsroom, and according to sources at the paper, The Journal Record is still going very strong. Hell, if anything they should just do away with public notices all together. We're in the 21st-century, right? That stuff is free and available online. All it does now is get in the way of PR pros who are busy cutting out press clippings for their clients.
Stay in touch
Sign up for our free newsletter