Everything Else
The Horse Pigs finally did something cool…
12:43 PM EST on January 20, 2015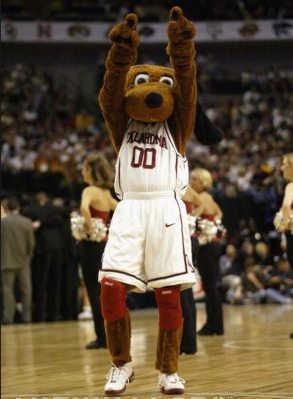 The University of Oklahoma men's basketball program has made quite a few mistakes over the last 15 years.
In the early 2000s, they renovated the Lloyd-Noble Center, which made as much sense as remodeling a Sears Catalog Home. Basically, they took an ancient, dated relic from the 1970s and turned it into a more modern ancient, dated relic from the 1970s.
Then in the mid-2000s, someone decided to tell Kelvin Sampson that he had a bunch of rollover minutes available through Cingular Wireless. That didn't work out too well, and when Kelvin Sampson bolted for Indiana in 2006 to try an unlimited minutes plan through T-Mobile, they replaced him with a Duke assistant named Jeff Capel, a man who single-handedly tried to destroy the basketball program by recruiting players who couldn't read, write or play basketball.
Out of all the mistakes the Sooner brass has made with the basketball program, though, the worst was tossing aside the beloved hoops mascot, Top Daug, for the monstrosity known as the Horse Pigs (Boomer and Sooner) in 2004.
Top Daug made his debut during the run and gun days of the Billy Tubbs era. Billy didn't want to the team to be known as under dogs, so he came up with the idea for a Top Daug mascot. Cheesy? Yes... but Top Daug was awesome. He had a bold, obnoxious personality, could spin his head around in circles, and whenever you had to suffer through a patented "OU Field Goal Drought" during the "heart, hustle, hardwood" days of the Kelvin Sampson era, he'd serve as reminder for how fun things used to be.
Anyway, I bring this up because one of the Horse Pigs actually did something cool during an OU basketball game and got in trouble for it.
Via KFOR:
 A University of Oklahoma mascot is dismissed for their conduct.

The mascot was fired following Saturday's 'Bedlam' game VS Oklahoma State, leaving some to question whether the mascot went too far, or if it was all in good fun...

Several who watched the game say the mascot began taunting OSU supporters, at one point allegedly spilling popcorn on spectators.

"I mean I don't like to say that our mascot should be in trouble, but I don't think you should display that kind of behavior," said Corynn Berka, freshman at the university. "It definitely makes OU look bad when you do that."

The University of Oklahoma sent the following statement to KFOR:

"The individual involved  has been dismissed from the mascot program for unsportsmanlike behavior. The University of Oklahoma apologizes for this occurrence, which in no way reflects the standards of hospitality and sportsmanship of the University of Oklahoma."
Wow, what a joke. One of The Horse Pigs finally does something cool and this happens. What's Tim Heskett going to do for a job now? Maybe Renzi can hook him up with an internship at Saxum.
Seriously, that's just ridiculous. The mascot sees hungry OSU fans who are so depressed with Travis Ford's coaching abilities that they haven't eaten for days, tosses them some popcorn in the name of good sportsmanship, and then gets fired for it. Eat some food, OSU fans! It's not our fault your Athletic Director, Boone Pickens, gave Travis Ford a life-long contract.
Anyway, this whole thing makes me miss Top Daug and Billy Tubbs even more. If this would have happened while Billy was the coach, he would have stopped the game, congratulated Top Daug on the mic, and then complained about the officiating...
Stay in touch
Sign up for our free newsletter