ICYMI
10 burning questions facing the Thunder this season…
2:45 PM EDT on October 29, 2014
It's kind of hard to believe, but the Oklahoma City Thunder tips of their 7th (!) basketball season tonight at the Rose Garden in Portland.
Before we take a look a 10 totally serious questions facing the team to open the season, here are some totally random bold predictions that will probably be wrong:
- The team will face more injuries, Kevin Durant will only play 20 - 30 games, and they barely miss out on the playoffs.
Yikes, that's insanely sad and negative. Screw that, how about this:
- The backups gain valuable eperience during the injury outbreak, Durant comes back healthy, the team flourishes, and then at the trade deadline Reggie Jackson and Kendrick Perkins are moved in a blockbuster deal for a veteran All Star that helps the team reach and win the the NBA Finals
Whew, that's better. Unfortunately, it would lead to...
- The team will re-sign Scott Brooks to a four year extension...
Sometimes you have to take the good with the bad.
Anyway, those are just random, somewhat pessimistic predictions. I'm sharing them with you so I can "Give It Up To Myself" later. Here are the questions...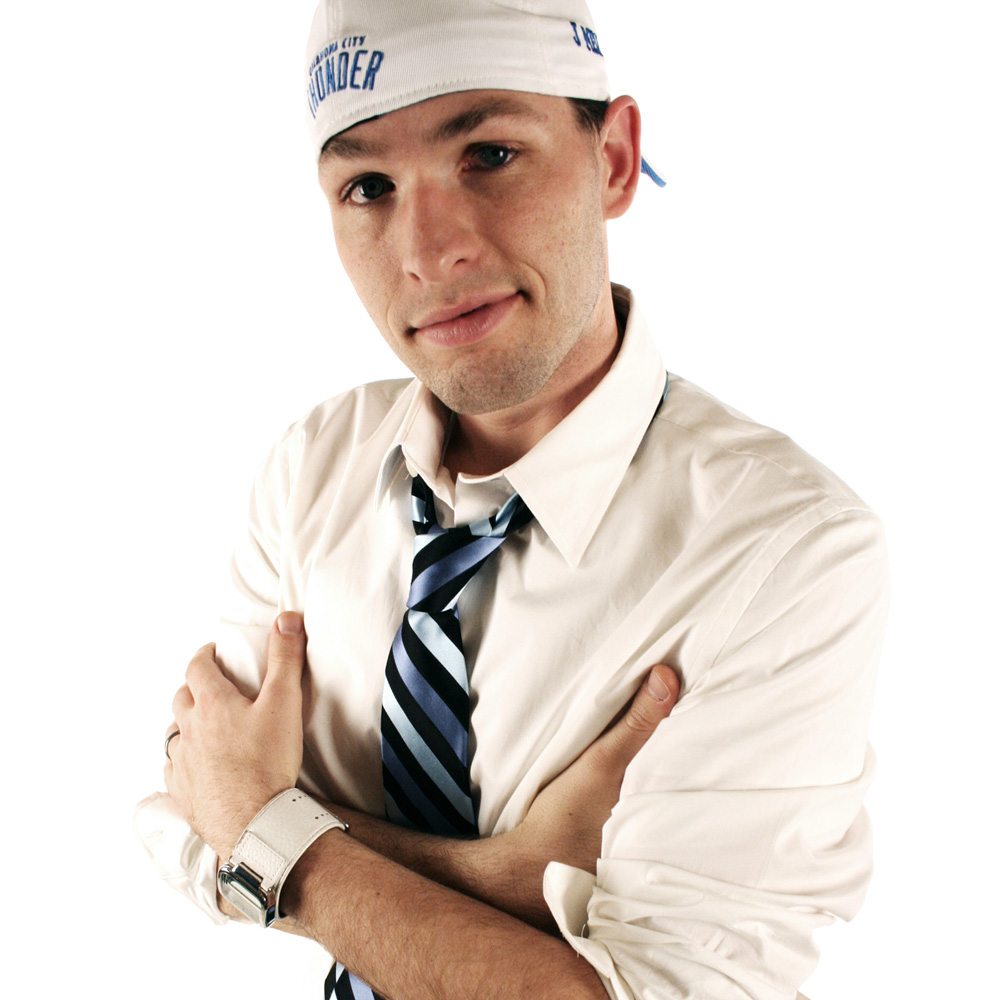 1. Who will be the the next Thunder arena emcee?
Jonathan Meisner. Joel Decker. Matt Vaughn. Those are the last three people to hold the job as Thunder arena emcee, and not coincidentally, a who's-who list of people who either want to borrow money, deejay your next wedding, or, well, borrow more money. They are also not pedophiles.
Yes, according to a source, Matt Vaughn is not returning as Thunder emcee. That means we're going to have a new person wear a backwards hat, stick to the script, and remind fans that if they hit the backboard or rim, Midfirst Bank will still give them $100.
Who is this new person and how will he do? Is his name Chad or Colby? Will he have fun with the job, and when someone makes the corner three in the Cox Communications three-point contest say something like "Everyone in section 305 wins a free on demand movie from Cox! I hope you use it for porn because "Cox" sucks!"
Or will he just stick to the script, show no personality, and be another lemming for the Thunder Ministry of Propaganda?
As I said, these are all burning questions.
-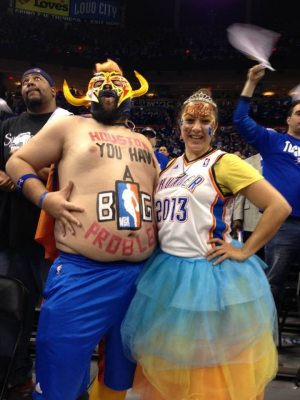 2. Did Thundor and Thunder Princess raise enough money for season tickets?
Back in March, these two eyeroll-inducing Thunder fans created a Go Fund Me to raise money to buy season tickets. Did their shameless, ridiculous idea work? If so, we should start a Go Fund Me to buy the tickets next to them and sell them exclusively to fans of opposing teams. We might as well get some enjoyment out of it.
-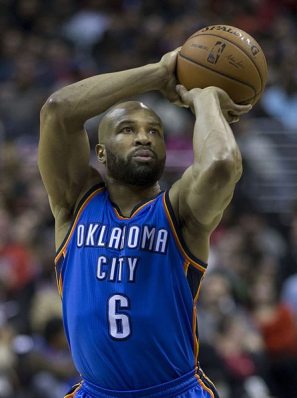 3. Who will step up as the official butt of the Thunder?
Now that D-Fish is gone, all the ladies want to know who they are going to objectify on Twitter while they watch the game. Derek Fisher left some pretty big, round, luscious shoes to fill. I just don't know if anyone on the team has that sort of squat game going on to pick up the slack.
(Editor's note: This is literally the only thing Marisa cares about this season.)
-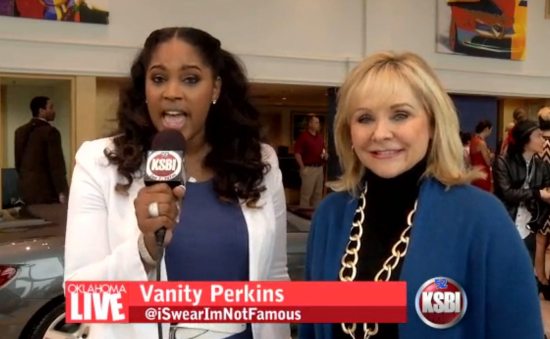 4. Who will Vanity Perkins get in a fight with?
Last year, Kendrick's wife got into an altercation with the owner of an Oklahoma City nail salon and a Twitter fight with Regular Jim Traber. Who will be this year's victim? I'm going to go outside of box and suggest OETA Movie Club Host BJ Wexler. Vanity strikes me as someone who doesn't like old movies, popcorn or the Gremlins theme. BJ should watch his back.
-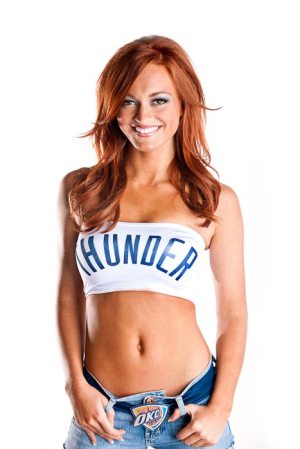 5. Who will be the Flagship Thunder Girl?
For about 500 years, it seemed like the red-haired Rianne received the most attention from the Thunder TV broadcast crew. It was kind of absurd how much air time she got. If she hasn't yet filed a restraining order against some of the Thunder cameramen, she probably should.
Anyway, I think it's been a few years since Rianne has been on the dance squad, and we still don't have a Flagship Thunder girl. That's not good. They need to pick someone. I'd suggest giving it to the girl with the most experience or biggest boobs. One of these three should work: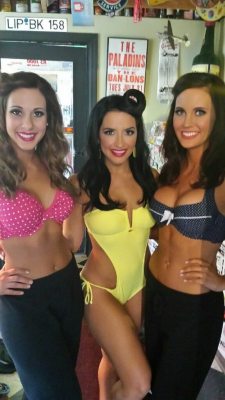 (Editor's note: This is literally the only thing Marisa's boyfriend cares about this season.)
-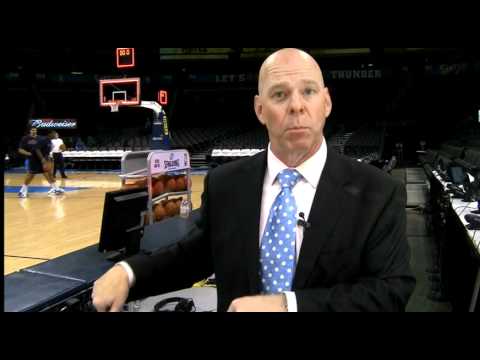 6. Will Brian Davis go so far as to actually suck Scott Brooks' cock during a game?
I doubt he will. He'll probably just stick with the pregame thing.
In all seriousness, am I the only one interested in seeing how Brian Davis and the Thunder Ministry of Propaganda cover the team during its very likely early season troubles? For example, when the Thunder is down 110 - 78 on the road to Sacramento in the fourth quarter, Westbrook has fouled out and flipped off Scott Brooks, and Jeremy Lamb is shooting 2 - 19 from the field, will the broadcast ignore reality and stick to the fictional script they create for each game, or will they actually show some guts and offer an accurate narrative.
Haha. Just kidding. We know what they'll do:
"Perry Jones for thrreeeeeeeeeee. HE NAILED IT!!!! The big triple from the big guy from big Baylor and the Thunder only trail by 29. WHAT AN EFFORT FROM THIS GUY!! Meanwhile, Sacramento just scored again because the Thunder didn't get back on defense. BUT WHAT A PLAY BY JONES. With all the effort he gives in the gym, he's really going to turn into something special.
"I agree Brian, Perry Jones has come so far as a player due to all the hard work and trust he has for his teammates.
"Yeah, he really does trust his teammates. PERRY SHOOTS AGAIN! And barely just misses the rim. I know that was an airball, but a great open look."
"Yes, The Thunder really worked hard to get Perry open..."
Sorry, I could do that all day.
-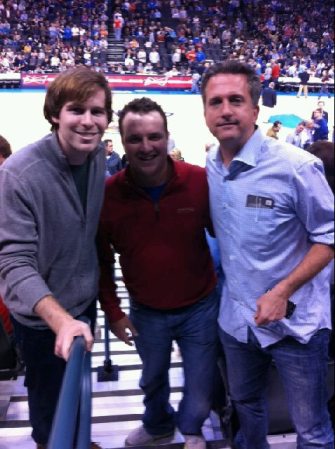 7. How many times will Bill Simmons bring up the James Harden trade on Grantland, and how many times will Royce Young defend the James Harden trade after Bill Simmons brings it up on Grantland?
This is tough one. I'd say about 40 or 50 times each.
-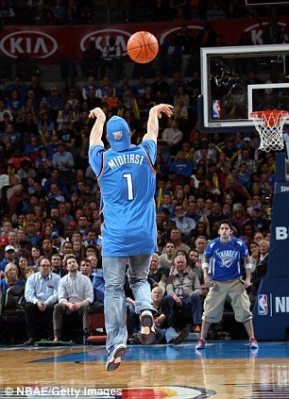 8. How many fans will win the half court shot contest?
What percentage of Thunder fans make this thing? 25%? Do the balls have special magnets in them that seek out the rim?
Actually, they don't. The reason we make so many half court shots in OKC is that the Thunder actively seeks out younger, athletic guys to participate in the half court shot contest. It's not a random draw. That's why you never see anyone old or fat or too weak to hold a ball taking the shot. The Thunder does this because they actually want someone to win the contest. They know fans like it, and more importantly, the team likes all the viral, positive, goodwill publicity a made shot receives.
With all the being said, I think we'll only have one fan win this year's contest. On a positive note, that will save Midfirst Bank some money. Maybe they can use the extra cash to find new boring acoustic music for their commercials.
-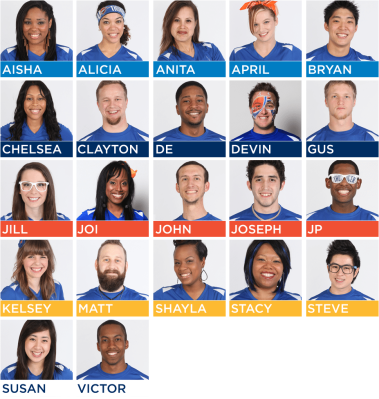 9. Which Stormchaser will annoy Patrick the most in "Loud City?"
Fun fact: TLO owns a pair of season tickets that we use 100% for legitimate business purposes. They are at center court... in Loud City.
About two or three times a game, some Stormchaser - usually JP or Steve - dances around at the bottom of the landing in my section, waves his arms, and in the process, totally blocks my view. I'm paying $65 to watch basketball, not some weirdo disco dance and lead a fake cheer. It's so annoying.
On that note, I get the Stormchasers. You need an events crew to throw t-shirts in the stands, pass out freebies, and all that other fun stuff, but if someone with the Thunder is reading this, and I know you are, please please please tone down the cheesy "Rah Rah" cheerleading BS. It's not genuine, feels forced and distracts people from the game.
Also, I don't think I've ever seen a Stormchaser standing at the bottom of the staircase in section 101 dancing around, leading cheers and blocking the view. I wonder why that is? I would say it's a double standard, and the Thunder treats fans in "Loud City" as a different, lower class group of people than the fortunate few in the in the corporate seats, but that's too logical.
-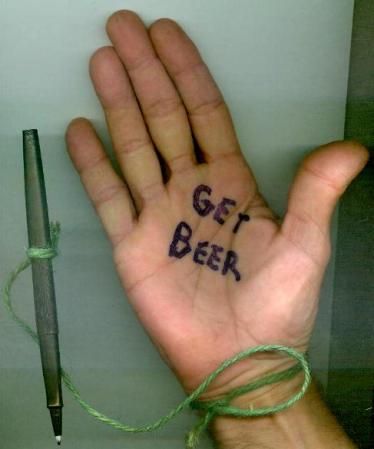 10. Have beer prices stayed the same?
This is probably the most important question. How else will I drink away the sorrows if my negative bold prediction comes true?
-
Anyway, those are my 10 burning questions. Share yours in the comments.
Stay in touch
Sign up for our free newsletter