ICYMI
Janet Barresi is not giving up…
9:00 AM EDT on September 25, 2014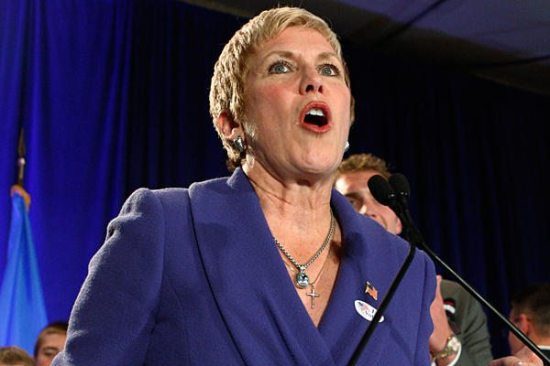 The wicked witch of public education still has a few tricks up her sleeve.
To help secure her status as one of the worst and most disliked politicians in Oklahoma's modern history, Janet Barresi recently set up her General Counsel's husband with a cushy $90,000 a year parting gift as Assistant State Superintendent of Education and Compliance.
Via The Tulsa World:
Outgoing State Superintendent Janet Barresi has created a new assistant state superintendent position and hired the husband of a top Education Department official to fill it, raising questions about cronyism.

State Rep. Jason Smalley, R-Stroud, called it "a good ol' boy hire" and is calling for the immediate resignation of Barresi, her general counsel Kim Richey and Larry Birney, Richey's husband and the new assistant state superintendent...

Barresi last week hired Birney, a career law enforcement official, to be assistant state superintendent of accreditation and compliance at the Oklahoma State Department of Education.
Yep, Janet Barresi hired a guy who doesn't have any public education experience to be the new assistant state superintendent of accreditation and compliance. And to add insult to injury, he's a "Larry." What a Janet Barresi thing to do, huh? It makes about as much rational sense as the voting public electing a deranged dentist to be the superintendent of their public education system.
If Larry has no public education experience, what is his background? Does he give good lesbian pixie haircuts? Does he have experience leading an army of winged flying monkeys? Is he good at marrying women half his age in Santa Fe?
Here's the answer:
Barresi's management style has left her open to criticism, but this shouldn't be a personality contest. Playing nice and getting along well with others aren't the only measures on the report card for state school superintendents. Barresi's overarching goals are ones Oklahomans should support, regardless of party affiliation. She wants to improve education for all students. She wants to increase rigor so those students are well prepared to succeed in high school and college or in their careers.
Oops, my bad. That's the last paragraph to the infamous Oklahoman editorial that "enthusiastically" endorsed Janet Barresi for re-election. Remember that one? We'll never forget it.
Here's the blurb on Larry's background:
Qualifications questioned

Birney was an officer with the San Antonio Police Department for 35 years.

He made headlines when he resigned as executive director for the Council of Law Enforcement Education and Training in Ada in 2011 after three years there. The resignation came after a formal panel was formed to investigate his conduct.

Richey, who now serves as general counsel for the state Education Department, served as associate director and general counsel at CLEET under Birney. They married in 2012.
Okay, so the guy has no public education experience and he resigned from his last job after a panel was formed to investigate his conduct? That may sound crazy, but let's be honest – there are not too many people knocking down the door to work for Janet Barresi. That's career suicide. You'd have a better future taking a job as a CD-ROM salesman.
This bizarre situation leads to the question "How did this happen and why are we just not hearing about it?" The state has pretty strict rules and regulations when it comes to posting and hiring for new positions. Why is this just now news?
Here's the answer:
Position wasn't advertised

The department never advertised the position to consider other applicants because "the superintendent believes he is highly qualified to do the work that is in the job description."...

The state Legislature stripped the state Board of Education of its powers to approve hiring and firing at the Education Department four years ago. That law also eliminated the requirement to post state education jobs and gave the state superintendent of public instruction sole hiring power.

The Legislature crafted the law after Barresi's first state board meeting became contentious over her proposed hiring of three key staff members, including her former campaign manager, Jennifer Carter. Two state board members, who have since been replaced by appointees of Gov. Mary Fallin, questioned Barresi about the fact that those three recommended hires had already been directing state employees even though they were being paid by a private nonprofit group, Communities Foundation of Oklahoma.
You know what, I kind of forgot about that time Mary Fallin pushed hard to make Janet Barresi the dictator of public education. Giving her more authority and hiring power was another one of Fallin's great accomplishments as Governor. It's about as smart as hiring a guy named Larry to a high level education position because he's fucking one of your staffers.
All that being said and on an extremely positive note, at least we only have a few more months of Janet Barresi left. Pretty soon, she's going to be dancing around the world trying to zap two gnarly aliens who are in search of random presents and pieces to their spaceship. Larry will probably be there too walking around in a carrot suit.
Stay in touch
Sign up for our free newsletter