ICYMI
Grant Long needs some credit counseling…
2:05 PM EDT on July 9, 2014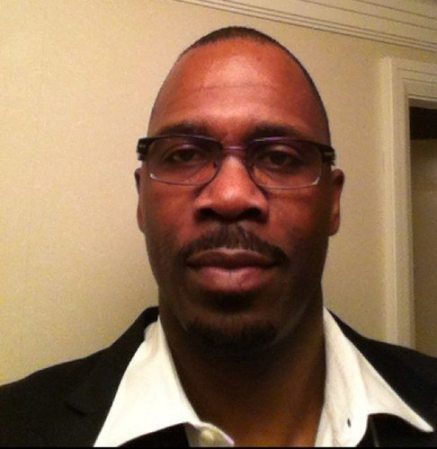 Grant Long may want to start a Go Fund Me.
Last night, KOKH Channel 25 ran a sad investigative report into the finances of the Oklahoma City Thunder TV color analyst/ propagandist / creepy selfie taker. It centered around a high interest $5,000 loan that Grant never paid back to a local loan shark.
From KOKH Channel 25:
A local business owner says one of the television commentators for the Oklahoma City Thunder owes him thousands of dollars.

Larry Rowell is one of the owners of R&R Estate Jewelers in Northwest Oklahoma City. He deals in high-end jewelry and on occasion will provide small short-term loans.

"I do loans to help folks that need help," Rowell said. He doesn't usually ask why people need quick cash, but Rowell says he's never had problems doing occasional loans. He said he usually only loans out a few hundred dollars at a time.

Rowell told Fox 25 that was his expectation when the Oklahoma City Thunder's Grant Long walked into his store. Long is the color television analyst for Thunder games who Rowell says asked for a $5,000 loan.

"The premise was that he just needed some emergency money and he was going to take care of it next month," Rowell said, "It felt logical and I went along with it."
Yeah, I'm sure it seemed really logical that Grant Long, a guy who earned over $21,000,000 during his NBA playing career and likely brings in low six-figures stuttering his way through Thunder TV broadcasts, was in a jam and needed $5,000 in emergency money at 20% interest. It's not like he has any wealthy friends or connections from the basketball world that could loan him the money.
Rowell said Long also promised to introduce his store to some of the Thunder players who might be interested in purchasing some of his higher-priced jewelry.

"I swallowed it hook, line and sinker," Rowell told Fox 25.

The handwritten agreement called for Long to repay Rowell $6,000 in 45 days. Rowell said it was a much larger loan than he is used to providing and that it was Long's idea to repay $6,000 for a $5,000 loan. Long left the title for his 2009 Cadillac Escalade as collateral for the loan.

Those 45 days were up last October.

"There is an agreement between Larry and I," Grant Long told Fox 25 during a phone interview, "Without going into much detail, which I won't do, I just say that his loan will be satisfied. It's not like I'm running out of town on a deal that I left on the table."

Long said he never promised Rowell he could bring in any Thunder business. "I don't have any control over that so I couldn't promise that because I couldn't deliver that," Long sad, "I've never made the promise that I would bring in any players or coaches or anybody."
When I heard last night that Channel 25 was running this story, my initial thought was "Who cares? It's not like he's Jesse James or anything." But then I searched Grant Long's name on OSCN, and well, it looks like the Credit Jewelry Cowboy wouldn't even give him loan.
Check out this screen shot from OSCN.net:

Well, I guess we finally found something worse than the James Harden trade. Who would have known it would be Grant Long's credit rating? Zing!
Seriously, that's a lot of lawsuits from creditors, and it may explain why Grant Long is filing bankruptcy:
According to online court records, Rowell is not the only one or the only local business looking to collect a debt from Long. Oklahoma County court records show since the loan Long got from Rowell, nine different businesses, including two local quick-cash companies, filed lawsuits against Long in district court.

Earlier this year, Long filed for bankruptcy in federal court. His initial paperwork filed for the bankruptcy only lists four creditors, including two out-of-state casinos which Long said he owed a combined total of more than $300,000. That creditor list does not include the loan he took out from Rowell which was supposed to be paid in October. It also does not include many of the companies that have sued Long over unpaid debts.

"That's my personal business and I won't go into that," Long told Fox 25.
Anyway, this is a sad story. I actually feel sorry for Grant. Not only has he burned through most of his NBA money and appear to have a big league city gambling problem, but he has to sit next to Brian Davis during every Thunder Game. That on its own would be enough to drive me crazy and gamble away my non-existent fortune.
Obviously, the question here is when's the Thunder going to terminate Long's contract. Oddly enough, I don't see the always image conscious organization doing much about it. Sure, they may require that Grant go to gamblers anonymous meetings with Kevin Durant's mom, but other than that, I bet they keep the big fella around in some capacity.
For one, the team has been aware of Long's financial problems for a couple of years now. Several of the creditors mentioned above, like Ballys for example, have filed motions with the team to garnish Long's wages. The Thunder turning their back on Long when everything becomes public knowledge seems kind of weak. Hell, if anything the organization should have all the players pitch in to cover his gambling debts to make up for all the ass kissing and excuse making Grant does for them during broadcasts.
That's the other reason they should keep Grant. He's been a loyal, devoted and abiding member of the team's Ministry of Propaganda since they moved to OKC seven years ago. He never says anything negative about the franchise, and always sticks with the "hard work, great effort, go teammates" messaging whenever he talks. Seriously, Kendrick Perkins can dribble the ball of his foot and Grant will talk about the "tenacity" of his effort. Jeremy Lamb can fall asleep at the free throw line and Grant will compliment how hard he works on his breathing. Scott Brooks can have Derek Fisher guard Tim Duncan during the Western Conference Finals and Grant will call it a gutsy move. The guy eats, breathes and lives the Thunder Ministry of Propaganda handbook. Unless he uses it as collateral on his next loan, I bet he's calling games next season.
Stay in touch
Sign up for our free newsletter