Everything Else
About the fake Oklahoma City Seahawks shirt that was NOT created by Mustang Brewery…
2:33 PM EST on February 5, 2014
On Sunday night, while the Seahawks were destroying the Broncos and you were considering whether or not to eat the "Why Not?" slice of pizza, Mustang Brewing Company, home of Oklahoma's best beer that's occasionally brewed in Wisconsin, sent out the following tweet:
First of all, I don't get the infatuation some people have with Mustang. It's kind of like the Charleston's of local beers. It's not bad, and I'd never turn one down, but it's not my first choice. If anything, it's a safe, middle-of-the road alternative. Just like how you can go on a first date or lunch meeting to Charleston's and not have to worry about anything, you can always buy a round of Mustangs at trivia night or bring a six-pack to a cookout and not hear any complaints. Hell, you may even get some compliments. Make sense?
Anyway, back to the tweet. Do you get it? Oklahoma City stole the Super Sonics from Seattle, so we might as well steal their badass football team, too. It's kind of a backhanded trolling compliment like the Charleston's analogy above, and one that I wish would someday come true.
The tweet got the attention of Anthony Wuestenfeld with Pro Line Designs. He @-replied Mustang with a silly little photoshopped Oklahoma City Seahawks graphic: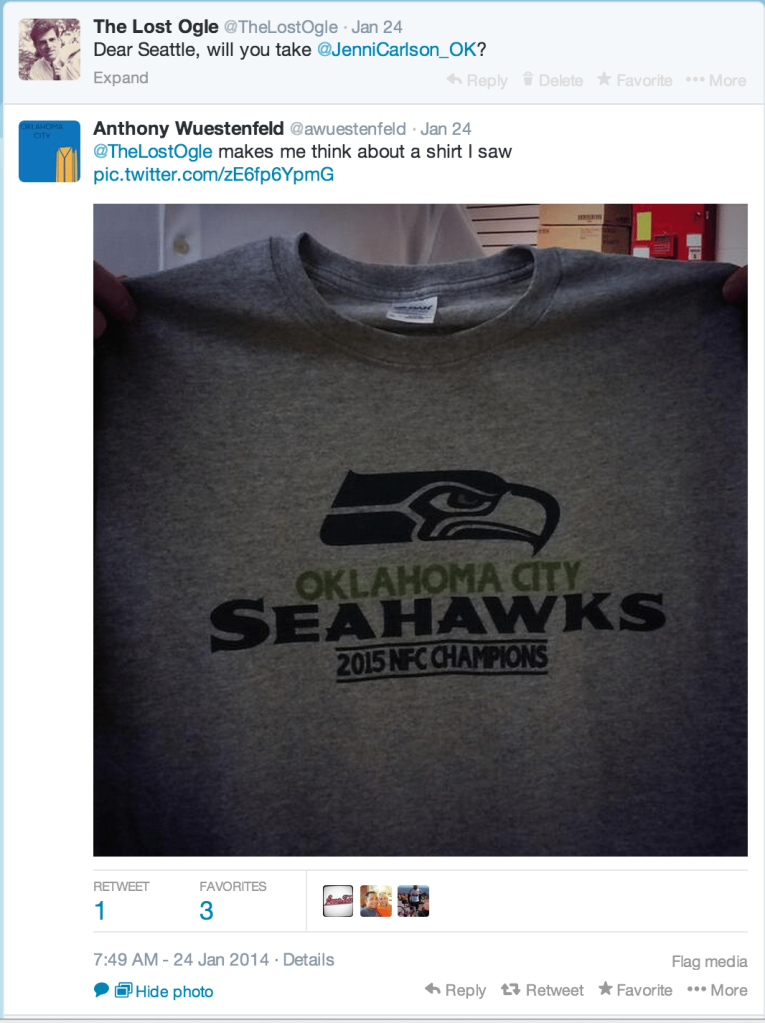 Oops. Wrong tweet! That's one Anthony sent us on January 24th following Jenni's open letter. The image made me chuckle, but I didn't re-tweet it or write about it. This is because I genuinely feel sorry for Sonics fans and don't like trolling them all that much. It's not their fault Seattle voters wouldn't build a new arena, or the owner sold the franchise to Clay Bennett. Trolling them is just mean. It's a Richard Sherman thing to do. It would be like stealing a guy's girlfriend and then putting a picture of her on a billboard by his work. Unless that guy is Dave Morris, it's a classless thing to do.
Anyway, Mustang apparently doesn't share my sentiments. The Oklahoma City Seahawks graphic made its way into their hands on Super Bowl Sunday and they issued the following tweet:
And then all hell broke less.
Thirsty for manufactured controversy and the resulting pageviews, the tweet went viral and entered the dark world of the sports blogosphere. Here are some examples:
Why can't Seattle have nice things, Oklahoma City? (USA Today)

Oklahoma City Brewery Trolls Seattle with "Oklahoma City Seahawks" Shirt (Extra Mustard)

Oklahoma City trolls Seattle Seahawks fans with t-shirt (Fansided)

OKC Brewery Trolls Seattle Fans With "Oklahoma City Seahawks" Shirt (Yardbarker)

Oklahoma City Brewery Created An Amazing T-Shirt Trolling Seahawks Fans (Business Insider)

OKC Brewery Trolls Seattle Fans With "Oklahoma City Seahawks" Shirt (College Spun)
The Oklahoman's Digital Desk got in on the action. That's the local equivalent of having a meme make the Today Show.
Super Bowl talk: Oklahoma City Seahawks coming in 2015? (NewsOK.com)
The KFOR Social Media Bandit noticed it, too:
Oklahoma brewery stirring up controversy over Seahawks' Super Bowl shirt (KFOR)
Even the World Wide Leader asked for permission to use the image:
You may notice one constant theme throughout all the coverage: an Oklahoma City brewery designed and printed the shirt. Friendly reminder, neither is true! The shirt was never printed (it was photoshopped) and was not designed by Mustang! They just simply tweeted something that was sent to them and are now taking all the credit. Isn't that kind of a douche move? Well, kind of.
They did issue a statement that clarified things on their site, but instead of sending that out to people or trying to correct the news sites who are publishing incorrect info, they're just flaming the trolls. I guess it's fine if it expands the brand, and let's people know about Mustang:
To make matters worse, they are even yakking it up with Jenni Carlson, the person who restarted this whole Seattle - OKC battle:
If Jenni Carlson is your muse, you might as well jump in the beer vat like that dude in Beerfest and literally drown away your sorrows.
Anyway, I think it's either put up or shut up time for Mustang Brewery. Instead of taking all the credit and publicity for someone's work, they should do something original. For example, create an OKC Seahawk I.P.A. They could contract out to one of their breweries in Wisconsin. Or better yet, screw the Seattle trolling and make an Ogle Mole brew. I'm a fan of trappists, brown ales and Oktoberfest style beers. Maybe it could be a seasonal fall / winter beer or something. I bet we could even get Charleston's to carry it. Good idea, huh?
Stay in touch
Sign up for our free newsletter