ICYMI
I Adore Mi A Cheezburger! Bryan Abrams arrived in court using a walker…
8:30 AM EST on November 21, 2013
If you haven't noticed, I like to criticize The Oklahoman from time to time. Right now, my favorite thing is how they are turning NewsOK.com into a bad local parody of the Huffington Post and Buzz Feed. You can tell they're desperate for pageviews and sent their copy editors to a Website Headline Writing Symposium. It seems like every headline on the site is misleading, asks a question, or secretly links to a Jenni Carlson column. Basically, they try to force clickable headlines on stories that are not very clickable.
Here are some random examples:

That "stars" name? Thabo Sefolosha.

This headline appeared today when OU suspended RB Damien Williams. The column has nothing to do with a "mystery tailback." It simply chronicles the mismanaged and disappointing careers of Roy Finch and Brennan Clay.
Anyway, none of that really matters, because today I'm giving credit where credit is due. Yesterday, The Oklahoman published a great story about former Color Me Badd singer and Chaz Bobo impersonator Bryan Abrams. He arrived in court yesterday pushing a walker and dreaming of chicken friend cheesecake. The story was funny and the accompanying photo even funnier.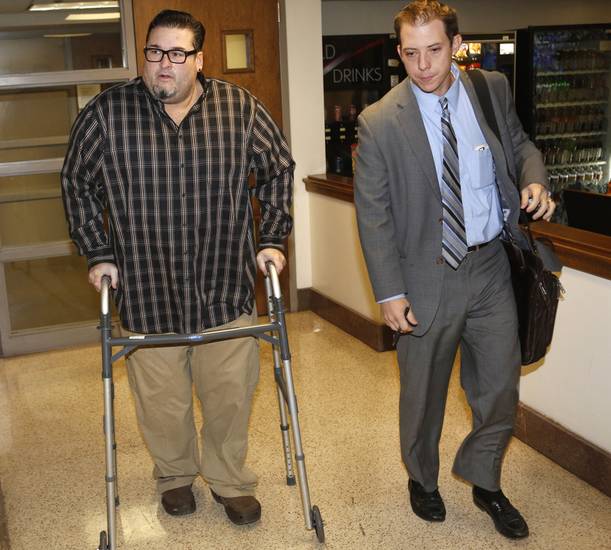 Uhm, when did Bryan Abrams go from pop star to Regular Jim Traber's twin sister? Also, why is he using a walker? Did he slip on a pile of spaghetti and meatballs while getting out of bed? Get him in a rascal scooter immediately.
Former Color Me Badd singer shows up in court pushing walker

Former Color Me Badd front man Bryan Abrams — pushing a walker and looking far different from his glory days in the early 1990s — had his domestic violence case continued Wednesday morning in Cleveland County.

NORMAN — Former Color Me Badd front man Bryan Abrams — pushing a walker and looking far different from his glory days in the early 1990s — had his domestic violence case continued Wednesday morning in Cleveland County District Court...
Matt Swain, a Norman attorney representing Abrams in court, said his client has not fulfilled the terms of his probation because Abrams has been plagued by health problems over the past few years.

Swain said his client has been trying to lose weight and recently had hip surgery, which requires him to use a walker.

"But he wanted everyone to know that he's sober, he's trying to get his life back together right now," Swain said. "The health problems he's had ... have kind of derailed his life."
Here's where it gets good:
Abrams used the walker in court — in front of the judge — but he ran up the stairs after leaving the courtroom, picking the walker up and carrying it up the stairs. He picked the walker up a second time after he spotted a news photographer waiting for him to exit the courthouse.

Abrams also posted a comment about his health on Twitter last week. The comment was posted five days before his court appearance.

"Just wanna let you know as of today, I am walking with no cane, no limp & NO PAIN!! Oh it's on now!" he wrote.

Swain said Abrams is due back in court in January, at which point a judge will decide what's next for the former star.

"He's going to continue his counseling, he's got court costs to pay and community service still to do," Swain said. "We're hopeful he can make progress between now and January."
I do question one aspect of the reporting. Are we really supposed to believe that Bryan Abrams was able to run up the stairs? I could maybe see him floating to the top like a balloon at the Macy's Thanksgiving Day Parade, but that's about it. The guy can barely even breath. When the judge asked him "How do you plead," his answer was "Steak Sandwich Supreme."
If you think we're being mean to Bryan, don't worry, we are. The guy deserves it. He's a wife beater:
Court history

Since June 2006, Abrams has been charged with domestic abuse four times. Twice, the case against Abrams was dismissed. He pleaded guilty to beating his wife in 2007 and was placed on probation for two years.

Abrams also was arrested for drunken driving in December 2005, pleading guilty in Oklahoma County.

In the most recent case, filed in January 2012, Abrams was accused of punching his wife in the face during an argument at their south Oklahoma City home.

The woman, identified as Kimberly Frazier in court records, said she was "also hit in several places that caused injuries to her neck and thigh."

The affidavit claims Abrams was involved in "12 prior domestic cases dating back to 2005."

"OCPD (Oklahoma City Police Department) has pictures of Kimberly's injuries upon arrival of the police," the affidavit states. "OCPD also has the 911 call of Kimberly's frantic voice saying she was assaulted by her husband."
With this being his second offense, hopefully Bryan either gets sent to jail or an exercise boot camp. Based on how he looks, I'm not sure which would be worse.
Stay in touch
Sign up for our free newsletter