Everything Else
Tulsa and the Olympic pipe dream is back in the news…
8:30 AM EDT on July 2, 2013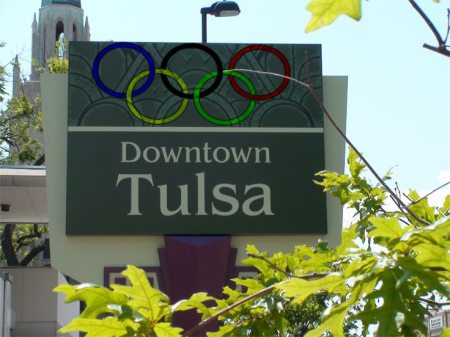 One man's nutty dream of bringing the Olympic games to Tulsa is making the rounds...again.
Back in 2009, some goofball named Neil Mavis came up with the ridiculous thought that Tulsa should bid for the 2020 Olympic Games. That bad idea died a quick death, but Mavis is back at it. In an effort to put his town in the spotlight (and prove that stupidity and ignorance are difficult traits to overcome), Mavis is leading the charge to have Tulsa bid for the 2024 games.
This got the attention of the New York Times:
When Neil Mavis roams the wide, quiet streets here, he sees an 80,000-seat Olympic stadium blooming where a fleet of trucks sit in a parking lot. He imagines kayaks and canoes gliding along the Arkansas River and marathoners striding down Route 66, past an oil refinery that looms over the highway.

"We don't have an answer yet for water polo," he said. "But one thing we do have is plenty of land out here in Oklahoma."

Mr. Mavis is the dreamer in chief for Tulsa 2024, this unassuming city's bid to host the Olympic Summer Games.
Since when did having wild fantasies of delusion and grandeur make you a "dreamer in chief?" If a homeless man came up with this idea he'd likely be committed. Actually, based on the quality of our state's mental health system that probably wouldn't be the case, but you get my point.
More from NYT:
The Games require an estimated work force of as many as 200,000, which would mean enlisting one of every two men, women and children within the city limits.
In all fairness, that stat doesn't take into account the population of Tulsa's suburbs or the fish in the Jenks aquarium. That would make it more like one out of every three or four men, women and children.
International Olympic officials require a host city to have a minimum of 45,000 hotel rooms. Tulsa has about 15,000. And the estimated price tag, which will almost certainly top $5 billion, is equivalent to more than half the state budget.

But Tulsa, its boosters argue, offers something that big-ticket American rivals like Los Angeles, Boston and Dallas can only dream of — the vast frontier of America.
You hear that "big-ticket" cities? Tulsa is part of the "vast frontier of America," which I guess means it is only accessible by one of our state's many turnpikes. Hope you have a Pike Pass, Olympic delegates.
Let's be honest, bringing the Olympics to Tulsa is a far-fetched idea. The odds of it happening are about as high as the Real Housewives franchise filming a season in Oologah or the Tulsa Shock having a winning record. At least Mavis and his team of dreamers/lunatics hasn't done anything to really embarrass Oklahoma's second city:
In a nod to the state's American Indian history, the Olympic torch would be led along the solemn Trail of Tears, not far from where field hockey would be played in Tahlequah.
Aaaaaaand... face palm. They really want to lead the torch down the Trail of Tears? That's about as awesome as playing field hockey in Tahlequah.
Since the Tulsa Olympic story was published in the New York Times, the city has received its fair share of mockery and ridicule in the press. I would assume this negative reaction is what led the Tulsa Sports Commission to issue a statement on the matter. They're treating Mavis' idea like you would a family member that's involved in multi-level marketing.
Via The Tulsa World:
As the city's long-shot bid for the 2024 Olympics attracted national attention Monday, the Tulsa Sports Commission distanced itself from the effort, saying more realistic goals should have priority.

The New York Times quoted a commission spokeswoman in a Sunday article that drew plenty of attention on Facebook and Twitter, with Tulsa2024 getting its own hashtag.

But the Tulsa Sports Commission has nothing to do with the Olympics bid, which is a purely private effort, officials emphasized Monday.

The commission, instead, will continue focusing on Big XII events, NCAA championships, the PGA and other national sporting events.

"These viable events spur interest in visitors and sports enthusiasts from around the region," the commission said, adding that they "provide significant economic impact to Tulsa."
Well, at least someone in Tulsa has a clue.
Anyway, if I were a Tulsan I'd be pretty pissed at this Mavis dude (and anyone associated with him). He's probably one of those "any publicity is good publicity" types. I don't buy that cliché. Sometimes publicity is good, but this is like being caught walking around with your zipper down. No matter how you try to play it off or what you say, it's still embarrassing and people are laughing at you. Sorry Tulsa.
Stay in touch
Sign up for our free newsletter