Everything Else
Clark Matthews: Don't worry Thunder fans, James Harden isn't going anywhere
4:30 AM EDT on September 12, 2012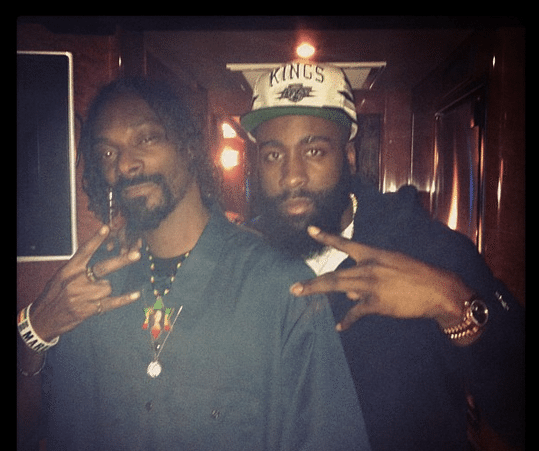 The sky is falling! The sky is falling! The sky is falling!
According to Jenni Carlson, who as we know wants James Harden to remain with the Thunder for his own good, James Harden is as good as gone. Via her column in yesterday's paper:
"By the same token, we've been very upfront and transparent with everybody that we have some inherent challenges that we face as an organization as a result of the new collective bargaining agreement," the Thunder general manager continued. "I know we'd love to have him here. I think James would like to be here as well. But at the end of the day ... you have to find a way to make it work for everybody."

Notice those qualifiers in there? By the same token? But?

You don't have to read far between the lines to realize the reality — striking a deal with Harden is going to be like walking uphill on an icy sidewalk.

Darn near impossible.
I'm not sure how she jumps from describing Sam Presti discussing ongoing negotiations without using absolute terms (perhaps, you know, since they are ongoing) to the conclusion that the team is just going to part ways with the Sixth Man of the Year (a mother's intuition?), but she is wrong.
Most consistent readers are probably already saying, "duh, it's a Jenni Carlson article, of course it's wrong" or "You'd save yourself some time if you just made a macro for typing 'Jenni is an ill-informed paper waster,'" but the truth is there are a lot of people who are worried that she might be right. There are a bunch of people of who fear the beard's reign in OKC is history.
Don't be one of those people.
While Jenni  sounds the alarum bell, the Thunder brass is already taking care of the situation. While there are certainly legitimate concerns about financial ramifications of a big contract and how it would affect long-term competitiveness of the team, the real reason that a deal hasn't been reached is that it is not time for a deal to be reached.
The clock won't strike midnight for James Harden to sign an extension until October 31st. Until that date arrives, there is still plenty of time for both Thunder management and Harden's representatives to determine what contract amount is both fair to the team and player. Prior to that time, an agreement would mean one side had probably caved to an offer that was unfair to them.
"But, Kevin Durant agreed to an extension after two minutes of negotiations," you might counter. His situation was different. As one of the two best players in the league, the Collective Bargaining Agreement set his value. Anything less than an offer of a maximum value contract would have been an insult to him, and the team was getting a bargain by offering it (he's worth far more). Durant couldn't get anymore, the team couldn't offer anymore--what was there to discuss?
With Harden there is wiggle room. He can probably command as much as Durant is earning, and he can make that on the open market. The team, however, cannot afford to pay him that much long-term (I'd go into the details of luxury tax, but let's just say, for every dollar that Harden pockets after $9MM, the team pays a crap-ton more to the league as a penalty for spending too much on players). In hopes of getting him to play for less than he can demand, the Thunder offer an opportunity to win and be a part of something bigger.
Basically, James Harden is in a similar situation to Joe Johnson, who was with the Phoenix Suns in 2005 when Steve Nash came to the team and turned them into a contender. The Atlanta Hawks backed a Brinks truck up to his house, and Johnson took the money to be the star of his own--crappy--team. Harden can easily make Joe Johnson money, but to do so he has to accept that he will have a career like Joe Johnson.
Maybe that's what he wants, and even if it is...the sky still ISN'T falling. Here's why: For Harden to leave, the Thunder have to let him. Supposing that Harden and his beard don't sign a contract extension by Halloween (hopefully while wearing a pirate costume), he's still under contract for the 2012/13 season. And in 2013 he is a RESTRICTED FREE AGENT. He can sign with another team, but if the contract is amenable to the Thunder, they can just give him identical parameters, and he has to stay in OKC.
Mark my words...if he signs a contract with a different team, the Thunder. Will. Match. It.
I wrote an article on the eve of the draft suggesting that Presti should make a deal on the table from the Washington Wizards. It was the best offer they could hope for in an effort to get anything resembling equal value for trading "The Beard." It would have reduced payroll and given them the opportunity to draft a replacement. They passed.
At that moment, they reached the point of no return. Harden was a part of their extended plans. Regardless of what it takes to keep him, the team now has to roll with the consequences. Harden's agent knows this as well as anyone. He doesn't want his player to have to give a hometown discount, and the hometown will (even if grudgingly) do whatever it takes to keep him. Of course, this worst case scenario is hardly a horrible scenario.
When Harden gets his big payday, the team's swollen payroll will be unmanageable in the deep-rooted future, but that is only if the scenario exists in a vacuum. Sam Presti will be forced to do some other things to alleviate the financial strain. No one is more capable, and he'll have options.
The easiest would be using the amnesty clause offered by the collective bargaining agreement to release Kendrick Perkins' contract from the luxury tax equation. While that would mean the team had to lose its most proven center, it isn't like Kendrick is earning his contract right now. Presti has already started auditioning replacements. Cole Aldrich is being promoted from the end of the bench to second string this season in hopes that throwing him into the fire will make him develop faster. Meanwhile, he signed 7'3" Hasheem Thabeet in hopes that coach Mark Bryant can get him to care about basketball. And if both of those guys fail, he locked up another project in former Bishop McGuinness star Daniel Orton for the Tulsa 66ers and has stashed a 7'1" German (Tibor Pleiss) overseas until such time as he develops into a serviceable big man.
Then, let's say that the team can't replace Perkins and still has a shot at a title...well, then they pay the luxury tax, or figure out a different way to shave some money off the cap.
What I'm saying is: James Harden is going to remain in Oklahoma City, and probably for a long time. Also: Jenni Carlson is an idiot.
-
Clark Matthews is a co-founder and Editor Emeritus of The Lost Ogle. You can follow him on Twitter here.
Clark Matthews is a world-class checkers champion, co-founder, and basketball editor-emeritus of The Lost Ogle
Read More:
Stay in touch
Sign up for our free newsletter