Everything Else
Expert Panel: 2012 OU Football Season Preview
10:31 AM EDT on August 28, 2012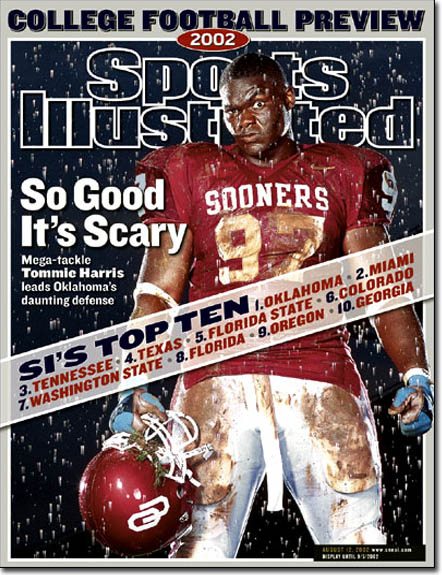 I was originally going to start this introduction with a story about how I always looked forward to the Oklahoman's annual college football preview when I was a kid, but how the thing is now so cheesy and over-done that I can barely even read it. This year they went with an obnoxious, in your face "Presidential Campaign" theme. I made it through a couple columns of cheesy political puns and innuendos and then had to stop. I just couldn't do it.
Anyway, I'm not going to start our OU football preview with that nosatlgic, things from my childhood now suck, damn-I'm-old story because I think I've written about it in every OU football preview we've published on the site. And lookie, we now have our own cool OU football previews with our own "experts" and stuff.
In case you're new to the show. Here's how the Expert Panel gimmick works. We take several experts in a particular field, ask them the same questions, and then publish their responses. Pretty simple. We've only published one other "Expert Panel," and it turned out well. If the Moles like this one, we'll try to do more of them.
Now meet our OU football experts:
Guerin Emig, OU Beat Writer, The Tulsa World
Before covering the Sooners for The Tulsa World, Guerin worked as the OU beat writer for the Norman Transcript. Therefore, he knows his Sooner football. He was also the victim of a Twitter fake RT hoax where someone made it look like Guerin had "reported" that Byron Scott was a finalist for the Sooner basketball job. We may have been behind that. Oops.
Travis Haney, National College Football Writer, ESPN Insider 
Ahhhh, Dreamboat. Before he bolted to ESPN, Travis spent six-months covering the Sooners for the Oklahoman, playing bar trivia at The Speakeasy, and drinking lunch boxes at Edna's. He also landed an OSU homecoming queen. I could find worse ways to spend half a year in Oklahoma.
Carey Murdock, SoonerScoop.com / WWLS the Sports Animal
Carey Murdock is an Oklahoma Internet Legend. He started SoonerScoop in his parents basement and has grown it all the way to his brother's spare bedroom. Actually, I don't know if any of that is true. And isn't it hypocritical for me to make fun of another man who has made a good living and career out of writing stuff online? I don't think so. At last check, I don't charge people to read our site, and I also don't call 17-year-old boys on the phone to see where they are going to college. On that note, I better go call Emily, Joleen and Linda to see what they want to do on Saturday. Why would Linda be there you ask? No comment.
Mark Rodgers, WWLS the Sports Animal
To use a political analogy, if we are the executive branch and Jim Traber is the legislative branch, Mark Rodgers would definitely by the judicial branch. He's often caught in the middle, but treats everyone fairly. Or maybe we're Jon Stewart, Traber is Sean Hannity and Mark is Alan Colmes. You know what, I like that analogy better.
Tony Sellars, Director of Communications, Feed the Children
"Hey Patrick, why do you have some guy who works for Feed the Children participating in an 'expert' OU football panel?" signed Everyone. Okay, for those who were born in the 1980s, Tony Sellars is former sports anchor, sports talk host and a current OU superfan. I also think he writes for OU Insider. Anyway, we like Tony because he got in a comment war on our site with Bill Simonson. Once again, if you were born in the 1980s you probably have no clue what that means. And if you were born in the 1990s or 2000s, just go ahead and leave.
Fake James Hale, Parade Five-Star SuperPrep Midlands All-American OU Homer
You can't have an OU football preview without an OU super homer! Kudos to Tony Hanadarko for brilliantly pulling this off.
-
Anyway, to the questions and answers. It's kind of long, and I also ask some general questions about the state of the program, so grab some coffee or a beer or go to the bathroom before reading. And thanks in advance to the panelists for participating. Buy them a beer if you see them out and about.
Question 1: Before we get to some OU stuff, what are your general thoughts on the new Big 12? What do West Virgina and TCU bring (or take away from) to the league?
Guerin Emig:
I'm still a little heartsick that OU missed the Pac-12 boat. I was more than ready to trade Lubbock, Waco, Ames and Manhattan for Palo Alto (plus the Stanford band), Seattle (plus Voula's Offshore Café), Eugene (plus the Oregon Poms) and Tempe (plus the Happy Healthy High Horny Herb Shop).
Strictly from a football standpoint, I actually think the Big 12 traded up in replacing Texas A&M and Missouri with the Mountaineers and Horned Frogs. And while I'm not wild about traveling to Morgantown every other year, at least I'll never have to set foot in Columbia again.
Travis Haney:
I feel like Berry Tramel saying this, but I'll miss the old rivalries. I'll miss A&M-Texas in football, Kansas-Mizzou in hoops (certainly not football). The moves – generally, not just in the Big 12 – have created for a more diluted sense of tradition in college football. Boise State and San Diego State are about to be in the Big East? Really?
With that in mind, I don't like West Virginia's inclusion on the premise of overall fit. I do, however, like it in terms of a football fit. And not just because of Dana Holgorsen. It's a solid, if not weird, fan base and it brings something to the table. TCU's addition is a slam dunk in every way – unless you're Texas, which didn't want another Texas school. Great geographical match, many of its teams are on the rise, the new stadium is spectacular. If there were two TCUs, so to speak, this would have been a perfect substitution.
The league is better in football than it was last year – and maybe that year before, when it still has 12. Football drives the ship. To go from nearly extinct to the current setup was pretty remarkable for the league's leadership.
Carey Murdock:
I still think after all the smoke has cleared, OU, Texas, and the Big 12, still look bad in conference realignment. While people in the Pac12 care very little about football and will never match the passion of fans in Oklahoma and Texas, they are already gaining TV sets and viewers with the new Pac12 Network.
Oklahoma and Texas were complicit in killing a conference network for the Big 12 in favor of their own TV networks/channels. The addition of TCU and West Virginia have staved off the negative perception which existed after the losses of Nebraska, Colorado, Texas A&M and Missouri, but I can't get over the fact the Big 12, and particularly, OU and Texas, have taken one of the most TV friendly/basketball on grass football leagues and made it less relevant from a television brand perspective than the boring ass Big Ten and the passionless Pac12.
Mark Rodgers:
The Princeton Review recently ranked West Virginia the number one party school in the United States. That's quite an addition to any league. I think it's going to take some time for the Moutaineers to feel part of the Big 12. Morgantown is a long way from every Big 12 school. While they are competitive in football, I'm not sure how long this relationship will last. TCU started to be relevant again once it left the Southwest Conference. They've got a badass coach and seem to be ready for a second chance against the big time competition. Chances are they will return to also-ran status fairly soon.
Tony Sellars:
Other than a coonskin cap and a new source for drugs, I'm not sure those two bring much to the league in terms of tradition. I think the Mountaineers take away more of that Midwest/Southwest feel of the Big Less Than 12, but they are a team of the moment with a high powered offence. The trip to Morgantown will be treacherous for the Sooners and for anyone's couch parked on the front lawn there. I don't think TCU will be a long term factor in the league. They will find it difficult to recruit against the Sooners, Texas and OSU.
Fake James Hale:
The new Big 12 is great, and we must really thank the tireless leadership of David Boren and Joe Castiglione for taking the reins in getting it formed and stabalized. If not for their foresight, genius and leadership, who knows what would have happened to schools like Iowa State, OSU, and Texas. They would probably be stuck in the WAC or something.
West Virginia and TCU both bring solid strength-of-schedule rankings that should help OU reach the national championship game, once they beat them.
-
Question 2: What are the two most dangerous games on OU's schedule? And why do I get the weird feeling that everyone is overlooking the Texas game?
Guerin Emig: Well, West Virginia is clearly OU's most dangerous game.  That's for reasons beyond football, though I think it's going to be hell for the Sooners to win there. I also consider the Oct. 6 game at Texas Tech to be very losable. If the Red Raiders can beat a 30-point favorite in Norman, they can definitely win in Lubbock. Think about it – the last time OU won there (2003), Kejuan and Brandon Jones combined for six touchdowns. I'm not 100 percent sure those dudes are still alive.
Everyone's overlooking Texas because the Longhorns have the worst quarterback situation since Texas State started Scott Bakula. Not that OU should expect to waltz into the Cotton Bowl and win by 38 again.
Travis Haney:
Is the game in Morgantown too obvious? That's might be dangerous in a variety of ways, really. Trips to Lubbock should always set off alarms for the Sooners, but I think last year's loss will have a way of negating that. The way the schedule sets up, OU had better be ready for Bedlam. I know, I know. OSU never wins in Norman. But the Sooners go to West Virginia the previous week. I suspect they eke out a win there, but they're coming off that high for a Thanksgiving-week game against the Pokes. OU is the better team, but it had better be on high alert. For the second choice, I think you're absolutely right. Texas was embarrassed last season by OU, but it got a lot better after that – despite a freshman QB and a number of injuries. I'm probably getting ahead of myself to another question, but I actually think OU and Texas will wind up with matching 7-2 records and the winner in Dallas will win the league.
Carey Murdock:
Don't forget the historical makeup of an OU loss. Any big game at home will likely result in an OU blowout win. So the only people talking up a Notre Dame win in Norman are people from Chicago and people who haven't paid much attention to some of the big game beat downs on Owen Field. Also really old people who think Bud Wilkinson still rubs off on kids who laugh at the thought Josh Heupel almost won a Heisman.
Florida State in 2010, Miami in 2007, Oregon in 2004. Every Sooner fan remembers Texas Tech in 2008 as well.
It's the conference teams coming into Norman under the radar that should concern you. To me, Baylor kind of fits that mold in 2012 as most dangerous home game. It's right before a road trip to West Virginia that everyone is predicting as OU's one sure-fire loss this season. Art Briles is a guy you should fear. He's kind of like Mike Leach if he came from Empire or Comanche. Instead of being fascinated by pirates, I bet he played a lot of mailbox baseball hanging out the back of someone's truck in his teenage years. Sometimes his offense reminds me of someone who did unspeakable things with frogs and firecrackers as a kid.
Outside of that, West Virginia on the road is an obvious choice.
Mark Rodgers:
The Texas game isn't dangerous because the players don't overlook that one. Best answer I can give is that the two most dangerous games will be revealed after shocking losses that no one saw coming.
Tony Sellars:
West Virginia stands out, especially if it winds up being a night game, which is a pretty good bet.  I would pick OSU as the other one even though it is played in Norman and OU wants to make up for the butt kicking they suffered last year.  I don't think the TCU game will turn out to be a great challenge by that point in the season.  And I don't think anyone ever overlooks the Texas game.  They just don't expect it to be that close.
Fake James Hale: The most dangerous game on the schedule is any scrimmage in OU's practice. We just do not want any of these studs injured.
No one is overlooking the Texas game, at least not on the Sooners team. They know Texas will be better than mos tpeope think and the team will have to focus to win by more than four touchdowns.
-
Question 3: Who are the most overhyped (and underrated) players on the current roster?
Guerin Emig:
I'm gonna pass on overhyped. Brody Eldridge, good as he was, retired that label a few years ago. As for underrated, it has to be Gabe Ikard. Guy comes to OU as the 14th-rated high school tight end in the nation, and the Sooners move him to guard. So he becomes a preseason All-American at guard, and now he has to move to center to replace Ben Habern.
It's not that Ikard is an underrated player. He's an underrated person for not hauling off and shanking somebody for being put on his career path.
Travis Haney:
I hate saying this, because I think he's an outstanding athlete, but I think Trey Millard is the most overhyped guy on the team. And that's the coaches' faults, to me. They talk about him like he's the next Bo Jackson, and yet they use him so sparingly with the ball in his hands. Maybe that will change in 2012, but I suspect it won't.
Underrated. I might have said Tyler Evans until he went down; that guy's name never gets called, but he's so steady. How about Roy Finch? When Dom Whaley went down, everyone freaked out, but Finch just about as well, if not better, than Whaley did. Maybe he isn't durable enough to do that for a whole season, but he doesn't have to now that Whaley is back. I thought he was underused the first half of last season, and then he was extremely valuable (5.5 ypc) when OU had to play him.
Carey Murdock:
Overhyped? Probably Kenny Stills. For a guy that has been the No. 2 receiver and full of playmaking ability, we've yet to see a guy we could compare to Ryan Broyles, Mark Clayton or even Malcolm Kelly at this point of his career.
I'm not sure what Kenny Stills really is. He's made a lot of really big plays down the field, has good body control and can adjust to the football well on deep passes. I don't really get him as a slot receiver though.
Underrated? David King. It's a shame if he has to take one for the team and play defensive tackle full time. I thought he was really ready to become a nationally known name at the defensive end position this year.
Mark Rodgers:
Most overhyped might be Jamarcus McFarland. He made first team All Big 12 in the preseason but has yet to separate himself from the rest of the defensive tackles on the roster. Two underrated names that I think will have great years are Demontre Hurst and Damien Williams. Trey Millard would be underrated but the coaching staff continues to mention how great he is then forgets he can carry the football on Saturday.
Tony Sellars:
Landry Jones is too easy for the overhyped pick, so let's go with Kenny Stills. I know he hasn't gotten a lot of hype this summer, due to the emergence of Trey Metoyer and the arrival of Justin Brown from Penn St., but his Twitter posts to field production numbers were way out of balance last year and his California cool has worn thin on a number of occasions. And I think Blake Griffin wore the female outfits better.
I've got two picks for underrated. Adam Shead is one. The Sooners offense was much better when he was in the starting lineup at guard last year and I think it will be better with him there and Gabe Ikard at center this year. Also, Trey Millard is the all-time underrated player.  He will be a fixture on Sundays in a couple of years. Please, just give him the ball!
Fake James Hale:
It sounds easy to say right now, but easily the most overrated players over the Spring and Summer were Ben Habern, Tyler Evans, and Kameel Jackson. The coaching staff is far too classy to say it, but they weren't even sure any of those guys were even going to start this year.
The most underrated Sooner is Mr. Bob Stoops. People who do not get to see and talk to him all day do not understand just how magnificent a coach and a man he is.
-
Question 4: It's safe to say that the last "elite" OU team was the 2008 squad that lost to Florida in the BCS championship game. Outside of the Michael Hunnicutt, could any player on the current roster start for that team?
Guerin Emig: That's a very good question, and much tougher to answer than people might think. I believe Habern is sort of equal to Jon Cooper, but now he's finished. Right guard Tyler Evans isn't too different from Brandon Walker, but he's done too. I have a hunch Trey Metoyer could have started in '08, but we haven't seen him in a real game to know for sure. Kenny Stills? Maybe.
I'd put one member of the current OU defense in the '08 lineup – Tony Jefferson for Lendy Holmes at free safety. That's it.
Oh, there's also Tress Way. I'd give Way the nod over the '08 punter, mostly because I honestly don't remember the '08 team punting.
Travis Haney:
Don't forget about Tress Way, TLO. Seriously, though, I wasn't in town in 2008, so I'll defer to some of the other guys on this one. I will say that I suspect Gabe Ikard and Tony Jefferson could start for any team ever. Not sure where they'd play, but they're good enough to find a spot. While the talent might be down from that 2008 team, this team is still competitive with other 2012 teams in terms of talent. LSU, Alabama and USC are ahead, but not by a whole lot. The Sooners are near the top of that second tier, and that's why they're ranked where they are entering the season.
Carey Murdock:
The receivers on that team weren't exceptional. Juaquin Iglesias, Manny Johnson and a really young Ryan Broyles who was still just a role player. I think Trey Metoyer could start on that team.
I think Corey Nelson will be a better linebacker than Travis Lewis when it's all said and done. Tony Jefferson would start on that team as well.
Also, if you put Brennan Clay on that team, Cale Gundy would probably play him along with Chris Brown and Demarco Murray would get even fewer reps. Seriously, Cale Gundy plays his running backs like an Oklahoma television news director wastes talented sports anchors. He's the kind of talent evaluator who allows people like Dari Nowkhah and Liam McHugh to play second and third fiddle behind John Holcomb and Myron Patton. Liam McHugh is now to Bob Costas what Carson Daily once was to Dick Clark. Dari Nowkhah is the face of ESPNU!
Mark Rodgers:
Tony Jefferson
Tony Sellars:
A few. Dom Whaley could certainly have taken Chris Brown's place at running back in alternating with DeMarco Murray and the aforementioned Millard would start as well.  And I would think Justin Brown would have a chance.  Up front, I think Ikard is better than the carcass of Duke Robinson by a long shot.  On defense, Tony Jefferson might also find a spot on the field somewhere.  Definitely Tress Way.
Fake James Hale:
Who's to say who could have started then or now? It was a different era, a much different time. You can't just plug Derek Jeter into the 1927 Yankees and expect him to perform just like it was 2012, you know? What I do know is the Sooners' coaching staff feels very good about the players on this roster, and I do appreciate you bringing up Michael Hunnicut. He is just a fine young man, and I don't think most fans realize how hard he works and the benefit he brings to the kicking game.
-
Question 5: The big off-season news was the return of Mike Stoops to lead the Sooner defense. What type of impact will he make? Is he that big of an upgrade over Venables?
Guerin Emig:
Mike has been an interview room home run. He's pissed that OU's defense got torched last year. He's pissed that he got fired at Arizona. Basically, if his players have half the chip on their shoulder that he does, and play with it, the Sooners defense should resemble some of Mike's old ones. I think OU fans will take that.
Travis Haney:
Again, I wasn't there in 2004 to really see it, but from everything I gather he is a boost. I don't know that he's an upgrade, because I think Brent Venables is for the most part an excellent X's and O's coach, but I think after a few years it's good to shake some things up, make some changes. Unless everything's perfect, and it definitely wasn't in the case of the OU D. I like the personnel changes he immediately made. I had a hard time understanding why Brent was playing certain guys where they were playing, especially when they continued to struggle. Tony Jefferson all but begged to play free – and he was really good once he was there. Why didn't that happen sooner? The coaches have to know where their players are best suited. That might have been one of the biggest failures in 2011.
Carey Murdock:
If you listen to Mike Stoops, he's leaving some room open for when receivers eventually start running behind his secondary. I think he knows it's going to happen when you play in the Big 12. I'm not trying to defend Venables as much as I'm speaking to the people who think Mike Stoops is going to be the savior of OU's defense.
The secondary will be better than it has since he left. If you gave Venables an offense to defend that was built around the running game to setup play action passes, boots and rollouts, he was a good defensive coordinator. But he was never able to marry a secondary with his front seven. He always favored having a linebacker over a defensive back, even when OU played pass heavy teams.
He never fully committed to making speed a priority over size. Mike Stoops will commit to getting more speed on the field and that will be the biggest difference. It doesn't mean they won't get beat on long passes, but he'll commit everything he can to making that happen less.
Mark Rodgers: Stoops intensity is just what the team needs. He isn't a miracle worker but his attitude and confidence will be reflected by the players.
Tony Sellars:
The establishments and wait staff in Norman are certainly happy to see Mike back and there will be a lot more yelling and grabbing on the sideline. I wouldn't say he is an upgrade, but he will bring back an attack style rather than the read and react philosophy that Venables employed. If he has the athletes to play that way, fans will be excited to see the results.
Fake James Hale:
Great question. I would never say anything bad about a fine young man like Brent Venables, but Mike Stoops is a legend. It just doesn't get any better than him. I see the practices and the team is really responding to him. There has been a lot of talk about Mike Stoops simplifying the defense but what I call it when writing in my journal at night is "awesome-fying" the defense. That is what he's doing. This defense is ready for a run at the title.
-
Question 6: The defense took the heat for some of the losses last year, but the offense was average at best as the season concluded. Why should anyone believe they're going to be any better?
Guerin Emig:
Yeah, that's the thing. Texas Tech was a disaster, but Venables' defense played really well early at both OSU and Baylor. If the offense comes out and scores some points, maybe those games turn out differently (OU beats Baylor, and loses Beldam more respectably).
The optimistic fan thinks: Landry Jones will have learned some things from QB guru George Whitfield Jr, Metoyer really is as good as he looked last spring, Dom Whaley will keep from shattering his ankle again, and the offensive line won't sustain another injury. Plus, Josh Heupel will have better luck in his second season as playcaller (see: first quarter at OSU).
The realistic fan can bank on just one of those things happening: Metoyer's ascension.
Travis Haney:
I think that's fair. Landry Jones, as you like to point out, seems to have a ceiling – especially on the road. (I still think you're better off with him than a first-time starter, in Allen or Bell.) The RBs will be fine. The O-line is depleted, but still solid. I want to see these receivers everyone's been raving about throughout camp. I want to see if they really are that good. I believe Trey Metoyer will be, but who else? Will Metoyer's presence be enough to allow Kenny Stills to play a more comfortable second WR role? Are the freshmen really ready to help? What about Justin Brown?
It could be a better offense, I guess, but it sure looked better on paper a year ago. Because of Ryan Broyles. Everyone knows that's when the offense tailspun, without him. Well, it still doesn't have him so the others, especially at receiver, have something to prove.
Carey Murdock:
I actually am one of these people that buy into the OU coaching staff's explanation that the offense and defense have to play together. The problem is when your offense is terrible you have to stop running no-huddle.
OU needed a talent upgrade after last season. I never thought fans should have been up in arms about the suspension of Jaz Reynolds. The guy did make some plays, but this was a team full of knuckleheads last year.
Trey Metoyer is a massive upgrade over Reynolds in the maturity department. Sterling Shepard is also a really good kid along with being talented. Neither of those guys are knuckleheads.
It's going to be a massive struggle if OU loses a couple of offensive linemen though. They are razor thin there.
Mark Rodgers:
Experience. And the superstars they have recruited at wide receiver. After being told 23241233.2 times how good the new receivers are, I'm on board.
Tony Sellars:
The return of Whaley, a year of experience for some of the linemen, more than just one big play receiver and a full season of the Belldozer.  They will definitely be better than what we saw the last half of the season.
Fake James Hale:
Two words: Justin Brown. This stud wide receiver has come in and just wowed the coaches. Between him and Kenny Stills, the Sooners possess a wide receiver core that that makes other coaches drool with envy. Also, you are just a blogger, so I'm not sure if you've heard, but Geneo Grissom is a tight end now. Just let that sink in for a minute before you question this offense.
-
Question 7: Rant Alert!!! I'm one of those "fans" who was kind of disappointed that Landry Jones returned for his fifth season. It's not that I think he's a bad player or that the other QBs on campus are better, it's just that I'm just tired of him. We already know what we're getting — an above average system QB who can put up big stats against lesser opponents, but struggles to make plays when faced with adversity. I would just rather see a new guy come in and give it a shot. Anyway, on a scale of 1-10 — 1 being nuts, 10 being a genius — how crazy am I?
Guerin Emig:
9 on your general assessment of Jones. 2 on the idea that Blake Bell or Drew Allen could do better right now.
Travis Haney:
4. I understand your point. But my response to these types of things is … Who are you going to get, for 2012, that is better? My gut says you'd see Drew Allen and/or Blake Bell out there and go, 'Oh, man. I wish we had Landry.' It's one of those grass-is-greener things. Landry isn't particularly interesting, doesn't have a lot of flash – but he's a pretty good college QB. On top of that, how many losses last year would you pin on Landry's poor decision-making and plays? He won the game at FSU. He led the offense to a mess of second-half points at Baylor that nearly got OU out of that one. I recognize Bob Stoops felt compelled to go to the Belldozer, but I didn't see Landry playing poorly being the reason so much as the system has its failures once the field is squished together by the back line of the end zone. He might be an above-average system QB, but I think he's still your best option for now.
Carey Murdock:
I've said Landry Jones is Oklahoma's college equivalent to Russell Westbrook. No matter what he does, he's going to do a lot of good and a lot of bad. He's the guy with the ball in his hand on every play.
I kind of feel the same way about Jones as I do Westbrook. He does a lot of good things. He does a lot of bad things. You can comment on both of them without going all Skip Bayless and Stephen A. Smith about it.
Landry is what he is. He's not Sam Bradford or Jason White or Josh Heupel. How good would those guys be if they started for four years? Better than Landry.
You aren't going to put Blake Bell or Drew Allen in there and get better play right now. Landry's stats are better than anyone else's. He has more bowl wins than any other OU QB.
But White and Bradford lost three national championship games combined. Landry beat Stanford without Andrew Luck in 2009, an awful UCONN in 2010 and Iowa in the Insight Bowl in 2011. And Landry was passed over for the offensive MVP in the Insight by his backup QB.
He's been a good quarterback at OU. He's not one of the great ones yet. I don't care what the stats say.
Mark Rodgers:
4.5 - The Landry Jones productivity curve took a hit during his junior season. And he will not be making the rounds as a motivational speaker when his eligibility is finished. He does have a strong arm and a good offensive line to block for him. Chances are his senior season will look more like his sophomore year than last year.
Tony Sellars:
10.  It really pains me to say that. You must have been reading my weekly report cards on OUInsider.com (shameless plug), because that is word for word what I said at the end of last year.  And I caught a lot of heat for expressing that sentiment during the season.  Look, Landry Jones is a great person, he has a strong arm and size, but he just hasn't shown that leadership quality or that "look in the eye" that you see from the great ones.  I have been in the camp of "We know what Landry can do and we haven't liked the overall results, so let him move on and let's see what these other guys have".  Can the Sooners win ten games with Drew Allen or Blake Bell playing quarterback?  Absolutely.  But Landry is here, he'll play 95% of the snaps, and let's hope he doesn't Jekyll and Hyde his way through his final season.
Fake James Hale:
Son, you are flat out nuts. It is a great shame that someone with your attitude has this platform. Landry Jones is a fine young man, and for you to impugn his character is truly sad. I look forward to the day when Landry raises that national championship trophy and then smashes it upside your head and laughs.
-
Question 8: On the topic of QB's, what are your thoughts on Blake Bell and the Belldozer? Is he the QB of the future? (Note: This question was asked before Blake Bell was named the back-up QB)
Guerin Emig:
I'm among those who feel OU implemented the Belldozer not just because they needed a short-yardage gimmick, but they wanted to let Bell feel a part of things, knowing that he in fact is their future QB.
Travis Haney:
After the spring game, I suspect that, yeah, he'll be the starter Week 1 in 2013. It's been my feeling since last season ended that the Belldozer will have a reduced impact in 2012. I thought this before Habern and Evans went down, but my hunch was that OU wanted to renew its commitment to running between the tackles and trying to be more powerful when it needed to be, behind that veteran line and solid, experienced backs. Now, it might be a case in which the coaches start the season with that philosophy and revert back to using Bell more and more as things progress. That's what happened in 2011, after all. I think Stoops would prefer to keep it shelved whenever possible. That's just an intuition on my part, might not be widely shared.
Carey Murdock:
Bell is so much the QB of the future that the Belldozer is no longer the offense of the future. Bell will eventually become the starting quarterback for this team and I can't see a scenario where Bob Stoops allows the Belldozer to continue once that happens.
Maybe Kendal Thompson can resurrect some type of goal line offense at quarterback, but Bell will officially stop being the Belldozer and officially become the next in line to throw the ball 40 times a game in 2013.
Mark Rodgers: Blake Bell is freaking huge. I think his mobility in the pocket could be an issue but if you need a quarterback to run over someone or score in a goal line situation, he's your guy.
Tony Sellars: No one has shown they can stop it, but I think it is a hindrance to Jones' and the offense's rhythm during the games.  I think the Sooners should be able to win without it, so they should only use it in special situations.   Now that Bell has overtaken Drew Allen for the backup quarterback spot, I think that they will be more selective with it and Stoops indicated as much when he announced Bell as the backup.  As far as next year, I'm not ready to anoint Bell as the successor until I see him run the real offense.  Heck (someone in Prague may read this) Kendall Thompson could be the quarterback of the future,  but who knows?  Stoops  never lets anybody but the starter play.
Fake James Hale:
Blake Bell is a fine young man, and he offers a great change-up to the offense with the Belldozer. Hey I just noticed Belldozer sounds kinda like Bulldozer. Do you think that's why they call it that? Pretty smart. Anyway, Blake Bell can be as good as he wants to be. If he just dedicates himself to listening to the wisdom of Landry Jones and his coaches, he can be as good as any quarterback that's played at OU.
-
Question 9: What are your thoughts on Josh Huepel as a coordinator? How much longer will he be immune to the (often un warranted) criticism of Mark Mangino, Chuck Long or Kevin Wilson?
Guerin Emig:
Outside of the pass-crazy gameplan at Bedlam, I give Heupel a mulligan for last year. The man lost Whaley and then Ryan Broyles, and guys who were supposed to step up and fill the void failed do so. I figured Stoops might promote Jay Norvell instead after Kevin Wilson left for Indiana, but I'm not ready to say it was a mistake that he didn't.
As to criticism, Heupel isn't immune. I have already heard plenty of howling. It's a little nuts, but then Wilson was hammered immediately after the last game of the '08 season, the one in which OU scored a bazillion points.
Travis Haney:
I like Josh, but I felt like he was kind of finding his way a year ago in terms of what sorts of play-caller he wanted to be. I think the run-game/Belldozer stuff goes along with that. He's learning on the job, to be perfectly honest. That's what he was doing when Wilson was there, and that's still what he is doing now. So it might be a little early to judge him, but, then again, when you're in charge of that sort of talent on offense it's only going to be natural to pick him apart. I'm still stunned how bad the Sooners were on offense without Broyles. I can't believe how intensely he was missed. It's not as if OU was bereft of playmakers without him, and yet it got virtually nothing from anyone. Maybe Metoyer and Brown are answers. They sure hope so.
Carey Murdock:
Josh Heupel has had growing pains as a coordinator. Oklahoma State last season, not overcoming the loss of Broyles a year ago, not getting Trey Millard more involved in the offense after Dominique Whaley went down.
He should get credit for helping to implement the Belldozer last season against Kansas State.
I still think Heupel is a step up from Chuck Long and his offense that relied heavily on quarterback Jason White. Just look at 2005 and what a disaster that season was offensively. But he's not in Mike Leach or Kevin Wilson's category either.
Heupel has been criticized by the more passionate segment of the fan base already. But it could become more widespread this season. I think the key for Heupel is to manage OU's dependence on the no-huddle moving forward. If things get away from this team defensively once again in 2012, I think he and Norvell have to take a serious look at slowing things back down, and realizing it is no longer 2008, and Sam Bradford is no longer the QB.
Mark Rodgers:
It's too early to tell on Huepel and yes as an offensive coordinator, you will be subject to the wrath of the 300,000 play calling experts in this state. The criticism is inevitable.
Tony Sellars:
Josh will be as good as Bob Stoops allows him to be – and as good as Landry Jones allows him to be.  I think he's already passed the threshold from beloved formed star player to I know more than he does offensive coordinator in the eyes of some fans.  The criticism was somewhat muted last year, but he will have full dummy coach status by the end of this season.
Fake James Hale:
Let me tell you, Josh Heupel has grown into just an outstanding playcaller. Oklahoma sure is lucky to have him. The sad truth is that he will probably not be immune to criticism much longer. Some fans just like to tear people down, you know? They don't see Josh Heupel every day like I do. He's a person just like anyone else. He loves to go to Burger King and eat a Whopper just like an ordinary human being. Fans should really think about that before saying the stuff they do.
-
Question 10: Does Bob Stoops hate the media as much as it seems? And why do you guys always let Al Eschbach ask the first questions at a press conference?
Guerin Emig:
Stoops doesn't hate the media, but we're clearly an inconvenience to him. I honestly don't care how he feels, until he restricts access when things aren't going so hot. When that happens, all he's doing is undercutting the "no excuses" mantra he brought with him to the job. That hurts himself as much as the media.
Believe me, we've tried for years to beat Al to the first question. But his mind is so powerful, it's like he wills our mouths closed until he can blurt something out. He's a lot like Spock that way.
Travis Haney:
I don't think it's hate so much as it's impatience. My take is that Bob is doing what he feels like is his due diligence in media obligations, but it has all the joy of a dental cleaning. It's part of the job, he thinks, but it's not a part he'll ever particularly enjoy. I think he's up there thinking about whatever else he could do that would be a more practical use of his time. In a way, a big way, I don't blame him. But it does make our jobs more difficult, in trying to relay information from him/others to the fans. He understands we are trying to do our jobs, but he's not interested in going out of his way to make it easier for us. That's fine; you learn how to adapt to that, if you're on that beat.
Carey Murdock:
Bob hates certain things. It's always amazed me some guys in the media can't figure out to stop asking him 'How'd practice go today.' He absolutely hates that question. Bob's never going to be that guy to do the Bobby Bowden/Mack Brown thing where when someone asks a really dumb question, they begin their answer with, 'Well, that's a really good question.' I've actually always liked that about him.
Bob might hate the Internet, Twitter and OU caravans more than he hates the media nowadays. He's actually been pretty good this fall dealing with a lot of turnover on the beat. He's gotten some really bad questions during fall camp this year in comparison to years past and he's handled it pretty well.
The biggest secret in OU football/media coverage is this: The "weekly" press conference has become something of a dog and pony show. This year it has been moved to Monday's, but in year's past, the main beat writers have already asked most of those questions after Monday evening's practice.
The beat guys are there for three reasons.
1) We want to see what happens when John Hoover attacks Bob Stoops with all kinds of charts and graphs that breakdown OU's terrible road record. I've actually tried to get a beat writer pool going over the years to buy Hoover one of those Pico projectors and a laser pointer so he can make a presentation in the middle of one of Stoops' press conferences.
2) We want to see how many times Clay Horning from the Norman Transcript can forget the question he was trying to ask after three minutes of meandering through one of those long winded bad boys he throws out there.
3) We like watching Eschbach and Blevins in the wild. Blevins is constantly whispering to Al in the middle of the press conference. I assume Dean is providing commentary on how bad all of our questions are. At some point, I really think Bob is going to stop his press conference and ask Dean if he has something to share with the class.
Mark Rodgers:
Al is fast on the draw, no one is on a mission to outdo him. Bob doesn't hate the media, he just hates answering questions. Some more than others.
Tony Sellars: Bob Stoops does not hate the media. They just do not have a place in his neatly compartmented world.  In that regard, he's a little like the Hoodie, Bill Belichick. But he's gotten better after having a chat a couple of years ago with Don Castiglione. Also, Bob Stoops does not suffer fools easily, so he has a lot of reason to be upset with the media that covers OU.
As far as Al, well, it's a tradition.  Not necessarily a good one, mind you, but a tradition nonetheless.  Also, what's the alternative?  Letting Dean Blevins ask the first question?  Have you seen his Twitter feed lately?
Fake James Hale:
Bob gets a bad rap with the media. I have always had a great relationship with him.
The reason we let Al go first is simple: Al Eschbach is a legend in this market. We all strive to have the sports knowledge and work ethic that he possesses.
-
Question 11: If you were setting an over/under on how many years Stoops will be at OU, what number would you go with?
Guerin Emig:
18
Travis Haney:
I read something about him considering the NFL if he ever won another title? Wow. I mean, I guess I could see him in the NFL. He might like the corporate element of it all, as opposed to a lot of college coaches that get up there and really dislike the business side. Maybe he takes a leap and goes for it, even without another title. I guess I could see it, the more I think about it. If not, I can't imagine him leaving OU for another school. He seems to really like it there, the life he has with his family, etc.
Carey Murdock:
I believe Bob is headed down the backstretch of his career at OU.
Recruiting is not where it once was in this program. People notice his staff no longer seems to have that combination of talent and ambition they had in the earlier era. Brent Venables was probably the last of the old guard that fit that mold. Josh Heupel is one of those guys, but he is still so young and unproven at this point.
The program is more closed off than it's ever been to the fans and the media as well. Bob has a lot of power and he's used it to create a bit of a bunker mentality inside the program. There seem to be a lot more discipline issues and key suspensions that are "university policy".
I'm not saying Bob has lost control. In fact, he's pretty much done the opposite. He's taken more control. The loss of special in his special teams has been discussed a lot over the years and might be the best example of where these changes started.
It's hard to put your finger on just one aspect of the changes, but things aren't like they used to be around the Switzer Center. We may not always be able to articulate how the fire, passion and ingenuity have dissipated from the OU program and Bob Stoops, but a lot of fans believe Mike Stoops is someone who can bring all of that back.
If Mike doesn't do that, Bob's seat might actually start getting warm in Norman.
Mark Rodgers:
I'd say six more seasons.
Tony Sellars:
Until his kids graduate high school. So what's that, five years? He doesn't want a pro job, there aren't really any college jobs that would be better, he isn't interested in being a TV commentator and I don't think he and the missus have figured out a Mary Kay Ponzi scheme yet, so there really isn't any place for him to go.  He'll retire as OU's winningest coach, certainly.
Fake James Hale:
Well, you know, I'm not a gambling man, but Bob is already 53 years old. I'd imagine he stays here for another decade, which still gives him time to serve two terms as US President before enjoying a full retirement with his beautiful wife Carol.
-
Question 12: I think out of all the major college football powers, OU may have one of the lamest and most boring student sections in the country. The students arrive late, leave early, and I'm not 100% sure they even watch the game. You've been to plenty of other venues around the country. How do they compare?
Guerin Emig:
Well, I also cover OU basketball, and sitting across from the student section at the Lloyd  Noble Center literally sucks the life right out of you. Owen Field might resemble a library, but at least it's not a morgue. OU students at football games are a quiet bunch, but keep in mind three things
1, They're Cameron Crazies compared to the hoops crowd.
2, OU is 77-3 at Owen Field under Stoops. Six of those wins have been by single digits. That's a pretty decent reason to take home games for granted.
3, Catering to National Merit Scholars has a price.
Travis Haney:
This might have been the single-most surprising part of my one season covering the Sooners. I expected what I'd been accustomed to in the SEC, where you come early and stay late, but it was really pretty awful. I learned that a sense of entitlement had infiltrated students' psyches about OU football. It sucks, really. I remember going to Tennessee games when I was a student and it was some of the best times of my college experience. I get the feeling these kids go out of obligation and then bail because they'd rather be at a bar or fraternity party. I recognize that there are few big-name home games each year, with Texas always in Dallas, but there are only six home games a year. Is it really that bad, to spend six Saturdays at the stadium? I don't know how or if that's fixed, but I'd love to see some energetic student or student group sweep through OU and invigorate the section? Because it isn't that different with some of the worst in the SEC right now, and that's just absurd for a program with the history and tradition OU has.
Carey Murdock:
I always tell people that I'm a terrible person to answer this type of question. Florida State doesn't even sell out all their games, but last year in Tallahassee, those people were crazy and amazing. Kyle Field was always an amazing experience, but they don't always sell out when OU isn't playing there.
It just seems like every time OU goes somewhere, that's one of their biggest and best crowds. It does make sense. I know some former OSU players who say Norman is a crazy place to play. You won't find a lot of Baylor players who say the same thing.
OU's student section has become very lame though. They only care about big games and a little bit of rain will cut their numbers in half. I would have loved to have been in Joe Castiglione's suite for the Iowa State game last year. The students always get mad when you criticize them, and I can get some of their frustrations. But I still know plenty of people who are sneaking flasks into games.
More than anything, I think it's just natural. Students today know nothing but winning. They don't have the perspective that all this could be gone. I know a lot of people who feel the game day atmosphere at OU has become bland. It doesn't change much. The stadium is very clean and pretty and organized. They've done the same contests on the big screen for years. They've used breaks in the action to honor old people with money or sports you don't care about since I was in college. They start every game with Bob Stoops and David Boren telling you how to be a fan.
Mark Rodgers:
Not sure that I've ever seen many exciting student sections at other places. The students seem to mirror the general crowd and the team to a certain extent. If it's a big game, they are loud and impactful. Examples would be '83 and '87 Nebraska or 2008 Texas Tech. Most of the time they are bored and expect to win.
Tony Sellars:
College football student sections are highly overrated everywhere.  Other than the crazy Aggies at A&M, I don't know of really any student body anywhere that is really a factor.  But OU's effort is pretty lame, as lame college student sections go.
Fake James Hale:
This may surprise you, but I agree 100%. It is a flat-out joke that these kids are not devoting their entire college experience to the studs they get to watch on Owen Field. They obviously do not understand the privaledge they have, being able to be around a world-class coaching staff and a football team full of thoroughbreds like Oklahoma has. It's just another sign of the decline of America, you know?
Question 14: In the spirit of providing equal coverage, how bad will OSU be this season?
Guerin Emig:
I don't know. Does a 9-3 record qualify as "bad?" If it makes you feel any better, they'll lose in Norman.
Travis Haney:
At one point, I thought the dropoff would be profound. But they've still got some players there. If they lean on their strengths, running the ball more, they'll be all right. It's an eight- or nine-win team, probably. Pokes should be competitive most Saturdays, though. Having a freshman QB has to hurt them at some point. It wouldn't surprise me if they were back in the conference discussion in the next year or two. Mike Gundy's doing a great job there.
Carey Murdock:
I think OSU is really interesting. They have better talent in some areas than Oklahoma. But to be fair, OSU has better talent in some areas than most teams in the Big 12. I don't like their receiving corps. I do like their running backs. OSU can run the football.
If their defense gives up as many yards as they did a year ago, it could get really ugly. But everything coming out of Stillwater suggests this defense will be better. They are relying on a lot of things to come together – a freshmen QB who has never played, receivers who have all been good in supporting roles but few who have proven they can be stars on their own, a defense that relied on one of the best offenses in college football to outscore opponents.
OSU did what they did a year ago because of Weeden, Blackmon and an opportunistic defense. This is a huge year for them because their recruiting from last season is starting to pay off right now.
They still have more overall talent than Tech, Baylor, Kansas, KState and Iowa State though. They should be able to piece together a decent season until Lunt can mature.
Texas becomes the huge swing game to prove if they are "A team on the rise" or not.
Mark Rodgers:
Better than expected once again. Quarterback play is the key but the Cowboys are legit and will be around for awhile.
Tony Sellars:
My main concern is that Gundy's lettuce is no longer fresh.  What happened to the porcupine spikes and Dippity Do?  Does success mean you have to have a generic haircut?
No team wins big with a true freshman quarterback.  Andrew Luck could only get Stanford to the Sun Bowl his first year.   What works in their favor is that they have every tough game at home – except OU.  I'll give them 8-4 and that might be a little generous.
Fake James Hale:
Hey now, I don't think OSU is going to be that bad. Cale Gundy's brother does a good job coaching, and with an offense featureing solid players like Brandon Weedon and the Woods brothers, you just can't ever count them out.
-
Question 15: Get out the crystal ball. What's OU's final record going to be, and when it's all said and done, what will people remember from the 2012 season?
Guerin Emig:
The Sooners will go 10-2, finish runner-up to West Virginia in the Big 12 and still make a BCS bowl game. The fans won't be thrilled, but at least it beats finishing 9-3 with the preseason No. 1 team in the nation.
As for a lasting memory, how about a maroon-faced Mike Stoops yanking off his headset and dropping OSU wide receiver Tracy Moore with a textbook form tackle during Bedlam.
Travis Haney:
10-2 regular season, losses to Texas and Oklahoma State. (Don't hurt me, Sooners.) Play in the Cotton Bowl vs. Arkansas. (At least you're not back in Phoenix, Sooners?) I think they'll remember a team that played well, for the most part. I think the defensive backfield will be much improved, with Mike Stoops back, but they're still missing some toughness from the front seven that defined his previous D's. I'm not certain it will be an incredibly memorable season, but I'll predict that the Red River game will be one of the best all season in college football.
Carey Murdock:
Get out the crystal ball. What's OU's final record going to be, and when it's all said and done, what will people remember from the 2012 season?
10-2: I have to say OU loses two games this season based on the road trip to West Virginia and the problems they face on the offensive and defensive lines heading into the season.
By the time you publish this, there could be some other bombshell revealed the way this preseason has gone.
But much like Alabama and LSU last season, maybe this team comes out and looks completely together defensively. I actually think this will be Landry's best year at Oklahoma and I think the receivers will be his best unit ever. They were terrible in 2009, his best overall in 2010, then last year was good until Broyles went down.
Maybe they become a legitimate national title contender, but to make that claim, I'd have to be guilty of unbridled optimism. I'm just happy my high school classmate and the new first son-in-law, Eric Smith, will be able to tell me if Mary Fallin is going to be on OU's podium at whatever bowl game I'll be covering next year.
Mark Rodgers:
10-2. Another season without a national championship and probably a little overrated in the preseason.
Tony Sellars:
Sooners will go 11-1 (lose at West Virginia), play in a top-tier but not national championship bowl game and this will be remembered for the year that two guys who weren't on campus last year are the leading receivers.
Fake James Hale:
This might surprise you, but I actually see the Sooners running the table and becoming National Champs. If only my Red Sox could play like that!
Please don't drink and drive!
Stay in touch
Sign up for our free newsletter