Oklahoma Business
Is it time to hit the red panic button at Chesapeake Energy?
1:33 PM EDT on April 18, 2012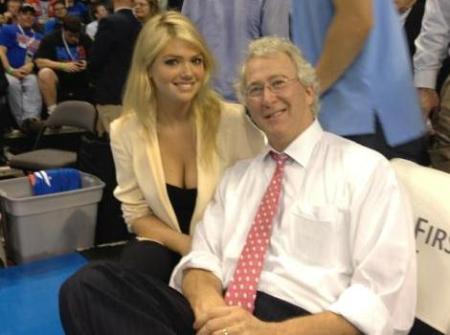 This is starting to sound like a broken record, but we've been more than critical of our local media's coverage of the happenings at Chesapeake Energy. While Forbes compares the natural gas giant to Enron, and Rolling Stone and the US government warns of the environmental and safety concerns of hydraulic fracking, The Oklahoman and other local outlets make you think the only thing coming out of the Chesapeake campus is sunshine, soda pop and free blow jobs.
Well, another damaging article about the company, and specifically CEO Aubrey McClendon, has been released. This time it comes from the respected news agency Reuters. In a special investigative report, they have learned that:
McClendon has borrowed as much as $1.1 billion in the last three years by pledging his stake in the company's oil and natural gas wells as collateral, documents reviewed by Reuters show.
The loans were made through three companies controlled by McClendon that list Chesapeake's headquarters as their address. The money is being used to help finance what could be a lucrative perk of his job - the opportunity to buy into the very same well stakes that he is using as collateral for the borrowings.
"If Mr. McClendon has $1 billion in debt through his own companies — companies operating in the same industry as Chesapeake — he has or could have a high degree of risk for conflicts of interest. As in, whose interest will he look out for, his own or Chesapeake's?" said Joshua Fershee, an associate professor of energy and corporate law at the University of North Dakota.
The revelation of McClendon's bout of borrowing comes as he is scrambling to help Chesapeake avert a multi-billion-dollar cash shortfall amid a plunge in natural gas prices.
It also exposes a potentially serious gap in how U.S. regulators scrutinize corporate executives, a decade after those rules were tightened in the wake of major accounting scandals.
The loans portend a number of possible problems, the analysts said. McClendon's biggest lender is simultaneously a major investor in two units of Chesapeake. That connection raises questions about whether Chesapeake's own financing terms could be influenced by its CEO's personal borrowing.
The size and nature of the loans raise concerns about whether McClendon's personal financial deals could compromise his fiduciary duty to Chesapeake investors, according to more than a dozen academics, analysts and attorneys who reviewed the loan agreements for Reuters.
Hey, I barely passed Accounting I at Oklahoma City Community College, but even I can tell that this looks shady. But oh well, everything should be fine. Aubrey McClendon is a respected businessman and will get it figured out. He wouldn't gamble on the future of the company, its shareholders and employees  — and risk crippling the Oklahoma City economy — for his own personal gain. That would be stupid, right?
Just kidding, I was pretending for a second that I work in the Oklahoman business department. Aubrey McClendon is a celebrity CEO with a huge ego and as past history shows, he does seem like the type of guy who would risk the future and well-being of thousands of people for his own personal gain.
In fact, things are started to get scary in Chesapeakeland. The price of natural gas is cheap, the company is short on cash, and their stock price is at a 52-week low. It even tumbled again today after the Reuters article published. Maybe this could be due to Reuters making some WorldCom comparisons:
Legal experts say the size and terms of McClendon's borrowing are unusual - and highlight a gap in regulatory scrutiny of American corporate executives.
In the past, major Wall Street banks formed separate companies - or special purpose vehicles, just as McClendon has - to allow select employees to borrow from the employer and make investments. The WorldCom accounting scandal was, in part, fueled by more than $1 billion in loans taken out by former chief executive Bernard Ebbers that were secured by his shares of company stock. And energy giant Enron used off-balance-sheet entities to hide debt from investors. New accounting and corporate governance laws and regulations banned such transactions or required their disclosure.
In September 2006, the SEC revised its related-party transaction rules to require companies to disclose when executives pledged corporate stock as collateral for loans. "These circumstances have the potential to influence management's performance and decisions," the SEC wrote.
McClendon's loans - backed not by stock but by stakes in company wells - aren't covered by the SEC rule. "Because they have decided to compensate him with a business interest, it kind of falls through the cracks," says Francine McKenna, an accounting expert and author of the accounting-related blog re: The Auditors.
Listen, I love this town as much as anyone. I understand Chesapeake's importance to our city and state, and recognize how crucial and vital they've been to our city's growth over the past 10 -15 years. The last thing I want is for the company to fail or go bankrupt.
That being said, it's time for everyone - especially our local media, civic leaders and lawmakers — to wake up and realize that the cheap, clean and abundant Chesapeake Kool-Aid they are drinking may be tainted. They need to be aware that McClendon's reckless "wildcatter" behavior may be good for him and have worked in the past, but that it's now bad for the company and state he calls home. We don't want another oil bust in this town. We don't need another Penn Square Bank-esque fiasco. We want to prevent those things from happening, and the more informed we are about the on-goings at 63rd and Western, the better prepared we'll be to address it.
Stay in touch
Sign up for our free newsletter