Everything Else
It's good the Thunder didn't get Tyson Chandler…
6:30 AM EDT on May 18, 2011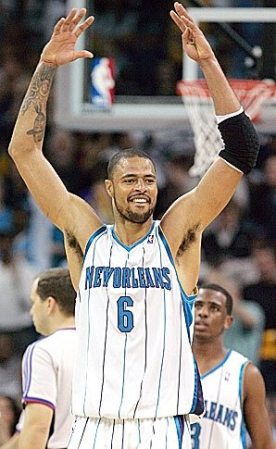 For a guy who technically only spent one season of his ten-year career playing in Oklahoma City, Tyson Chandler has a strong link to this town. Acquired by trade from the Chicago Bulls before the 2006/2007 by the New Orleans/Oklahoma City Hornets, Chandler played arguably the best season of his career while in the 405, then left with the team to return to New Orleans full-time the next year. Two years later, with the Hornets attempting to cut costs, Chandler was traded to the newly arrived Thunder. That trade lasted two days before team management rescinded the trade due to concern about Chandler's surgically repaired toe (operated on by the same doctor who did the physical).
This voided trade has been the subject of rampant speculation for more than two years now. While the team improved dramatically, many people pondered just how much better team would have been if they had not chosen a take-backsy instead of rolling the dice on the rebounding savant. With the hometown guys facing Chandler's Mavericks in the Western Conference Finals, there will be lots of discussion about this event for however long the series lasts.
That hypothesis (that the team would have been better) is inherently wrong. 
For one, a trade of that magnitude is not voided casually. The guy who operated on Chandler's toe examined it and said that he could not give it a warranty. He suspected that the team would eat a lot of the player's salary while he sat around in a nice tailored suit instead of a jersey and shorts.
As a team that was not just one piece away from contending for a championship (the Thunder were challenging the standard for worst record in league history at the time) it would have been a silly chance to take by assigning their largest salary to an often injured player. Remember, the Hornets did that while they were in Oklahoma City and instead of Peja Stojakovic vaulting them into the playoffs, he cashed $14 million worth of worker's comp claims.
Time has proved the doctor right. Chandler ended up playing only 45 games that season. The next year, for Charlotte, he played only 51 and was only healthy enough to start 27. Because he has remained on the floor and helped the Mavericks this year, many have forgotten the ailments, but that does not change that he would have likely been MIA while the Thunder was trying to find their groove. That could have set the team back rather than propel them forward.
That last paragraph may have many questioning why Chandler has bounced around the league so much. It is a valid question. Considering he is a legitimate seven feet tall, a solid defender, and one of the best rebounders in the league why has he been traded a mind-boggling five times over a ten-year career?
It is because he has flaws. In addition to his frailty, he has no offensive game. He makes Kendrick Perkins, who at least has a baby hook in the post, look like an offensive genius. His points come exclusively at the rim either from alley oop passes (not Russell Westbrook's strong point) or put backs from offensive rebounds. Also, while Chandler is a good defender and a shot blocking threat, he is not physically intimidating a la Perkins, so his presence does not change the mindset of the team. (Also, Perkins' salary is about half of what Chandler makes.)
Another consideration to be made if Chandler had remained with the Thunder is how it would have influenced the roster down the road. It would have had a significant impact.
After the trade was rescinded, General Manager Sam Presti instead used the team's available cap space to acquire Thabo Sefolosha without sending out any salary. There are serious questions about what Sefolosha's role should be now, but it is undeniable that his defensive tenacity has had a positive influence on the team during his tenure.
Next, it is also likely that Chandler's presence would have made the team just a skosch better. That would not have propelled them into playoff contention, but it would have affected their draft status. Instead of drafting James Harden and questioning whether it would have been better to take Tyreke Evans or Stephen Curry, they would have been deciding between Jordan Hill, Johnny Flynn, or DeMar DeRozan. That is a significant swing.
And you can forget about the trade that acquired Eric Maynor. That deal was predicated on the Thunder being able to absorb Matt Harpring's salary to save luxury tax dollars for the Jazz. With Chandler's salary on the books, the Thunder would have a huge hole at the back up point guard position.
Would the team have been able to make the leap with a battered center taking up the largest chunk of their salary cap, Kevin Durant still playing shooting guard (remember he took off after Scott Brooks shifted him to small forward), no true point guard on the roster, no impact rookie like Harden, and very likely no Serge Ibaka (who would still be playing in Spain since the Thunder had committed to a front court rotation of Chandler-Krstic-Collison)? I doubt it. They might still be good, but they would not be Western Conference finalist good.
Clark Matthews is a world-class checkers champion, co-founder, and basketball editor-emeritus of The Lost Ogle
Read More:
Stay in touch
Sign up for our free newsletter