Everything Else
Point / Counterpoint: Who should be the final Thunder Girl?
9:15 AM EDT on July 23, 2009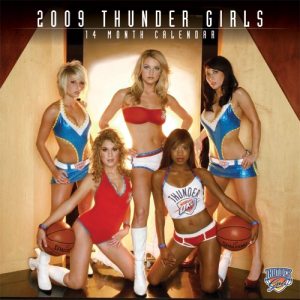 On Tuesday, the Thunder issued the following release to the local media. It announced that Thunder fans were going to pick the final Thunder Girl through online voting.  For some bizarre reason, we were not on the press release distribution list:
The Oklahoma City Thunder hosted final auditions for the 2009-10 Thunder Girls Tuesday night at Toby Keith's "I Love This Bar and Grill" in Bricktown. With a process that started with more than 100 women last Saturday, 40 ladies competed for a place on the team, and judges narrowed the selection down to 18 talented dancers. The final member will be chosen by Thunder fans in an online vote at thunder.nba.com.
Two Thunder Girl hopefuls, Stacy from Edmond, Okla. and Erica, from Midwest City, Okla., were chosen to participate in the first ever "People's Choice" vote. Beginning on Wednesday, July 22, fans can visit thunder.nba.com, view photos and videos of the two finalists and cast their vote for either Name or Name. Voting ends Monday, July 27 at noon and the "People's Choice" Thunder Girl will be announced shortly after on the Thunder site.
Being the Thunder fans we are, we decided to check out the two final Thunder Girl candidates and cast our vote. We were also going to publicly endorse one of them, but unfortunately Clark Matthews and I could not come to an agreement on who should win. So instead of an official site endorsement, we are each giving our personal pitch on which girl should receive your vote.  We our going to do this in a standard and conventional point/ counterpoint format.
Check it out after the jump: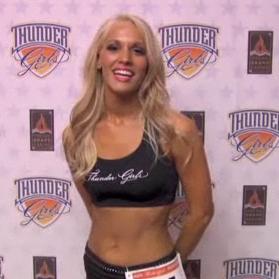 Point: Vote for Stacy from Edmond

by Patrick
I follow a bunch of different rules in life. These rules help guide me in making the best and most appropriate life decisions. One of those rules applies in this situation. It's a simple rule:
When in doubt, go for the girl with three kidneys. In this case, that girl is Stacy.
Yes, according to her online bio, Stacy has three of those little organs that usually come in pairs. That's awesome. And do you know what they say about girls with three kidneys? The same thing they say about girls who have toe rings, eat Sonic ice and drive Toyota Camry's"¦everything.
In addition to that, by having Stacy join the dance team, the Thunder automatically has a built in "Kidney Night" promotion. Think of how cool that would be. The Thunder could select two fans in dire need of kidney transplants "" preferably children "" and have them compete in a three point shooting contest with the winner receiving one of Stacy's kidneys. That would be some quality halftime entertainment, and a much better alternative to public drowning.
And even without her extra organ, Stacy is the clear choice. The other candidate, Erica, is a former captain and barely made the cut. What's the say about her leadership capabilities? It's like Erica is the grizzled veteran barely hanging on to the roster, while Stacy is the young prospect filled with hope, promise, upside, and of course, three kidneys.
Vote Stacy today!
-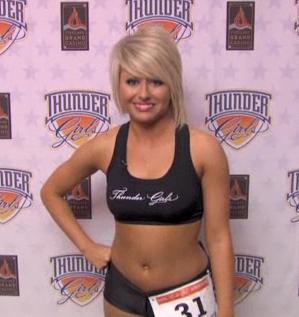 Counterpoint: Vote for Erica from Midwest City
by Clark Matthews
First things first: If my wife is reading this, I have never had any interest in ever looking at the Thunderwhores, so this was obviously ghost written by Patrick.
You have to vote for Erica. It is a sad statement about society that we can write off the value of experience while embracing an unknown quantity. All because, what, Stacy has three kidneys? If she really wanted to be a Thunder Girl, she would donate the two extras to orphans.
Erica has already proven her worth to the team. She was the captain last season. The captain! I'm not sure what a captain does for a dance team, but I imagine it has something to do with her driving the Bricktown Water Taxi while the rest of the team has a tickle fight in the back. Who is going to take over that role, Stacy? The girl who said of being a Thunder Girl: "It has been a dream of mine since I was a little girl." Considering the team is only a year old, this quote makes me think she might not even be eligible to drive yet.
Of course, there are other reasons to choose Erica. Personally, I like her hair. It makes her look sophisticated. And let's be honest, we're (mostly) men, and Erica has a great set...of eyes.
Stay in touch
Sign up for our free newsletter