Everything Else
Peace, Love and Thunderstanding: #25
12:24 AM EDT on June 4, 2009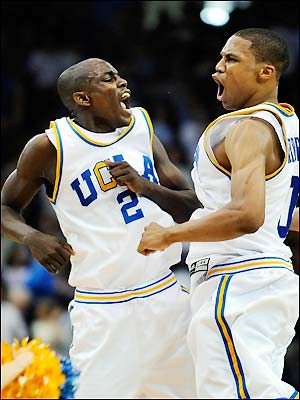 Barring any trades, the Thunder have two picks in the June 25th draft.  The first, slotted at #3, has already been discussed on this website, and since then, depending on who you believe the options have been narrowed to:
Ricky Rubio (6'4" PG, DKV Joventut-Spain)
James Harden (6'5" SG, Arizona State)
Hasheem Thabeet (7'3" C, Connecticut)
Stephen Curry (6'3" SG/PG, Davidson)
Jordan Hill (6'10" PF, Arizona)
Jrue Holliday (6'4" PG, UCLA)
Holliday is the new name in the bunch, and probably the longest shot of actually being considered by the Thunder.  However, because he is the fast riser after the NBA combine, and his similarities to Russell Westbrook, some websites who think Sam Presti has a type think he might land in Oklahoma City.  Other rumors among this group:
Thunder scouts were basically members of the Davidson travel entourage since they supposedly scouted Stephen Curry so extensively during the season. Since this would mean they are obviously enamored with the mid-major sharp shooter, the team may be open to trading down a few spots to take him. Or, failing that, they may do the same thing they did with Westbrook and take Curry much earlier than anyone had him projected at #3.
Ricky Rubio would be perfectly happy playing for the Thunder. Memphis? Not-so-much. That means Memphis is more likely to deal their #2 pick, but are either asking too much or having trouble getting teams to make good offers. That could change as the draft gets closer.
Harden has cancelled workouts with teams outside of the top-5 suggesting he has a promise from someone at the top of the draft. OKC is the first team most analysts believe want him and therefore some think Sam Presti made him a promise. Washington at #5 is a better bet, but both the Wizards and Oklahoma City are also heavily rumored to be heavily in the trade market.
Hasheem Thabeet may not even be on the Thunder's radar.
The second pick that the Thunder possess is the 25th selection of the draft, and in honor of my 25th Peace, Love and Thunderstanding entry, I thought I'd focus on what the team may do with that pick.  After the jump, of course.
Option 1:  Trade the pick
I have already made this suggestion once.  My idea was to ship this pick to Memphis to compel them to swap positions.  (I'd even support taking on the final year of Darko Milicic's contract if the Grizzlies really want to get him off the books.)
Truth be told, the #25 pick is pretty worthless to the Thunder.  They could possibly find a hidden gem late, but more likely they draft a guy who just eats a roster spot for a minimum of the next two seasons as all first round picks are guaranteed a contract.  And roster spots are a valuable commodity, especially for a team like the Thunder who probably want to play the free agent market to improve.
Also, the Thunder have two first round picks in next year's draft (theirs and Phoenix's) which should be stronger.  It would be advantageous to get rid of this one even if it means just selling it for cash.
The rub, of course, is that the pick is of very little value and the team that generally buys draft picks (Portland) has stocked up on so many over the past few years that they are out of the market.
Option 2:  Stash a Player
Sam Presti has already shown he will do this.  Last year, he took Serge Ibaka with a late first round pick and left him playing in France.  The problem with this option is that late first rounders probably never show up in the NBA if they are worth a damn (they can make more overseas than the limit the rookie scale puts on them) and if they suck, they are guaranteed close to a million a year in the NBA.
This year's crop of international players, that could be used in such a ploy, is the worst in years.
Option 3:  Draft a back-up point guard
Anyone picked at the back end of a draft as weak as this is bound to be nothing more than a reserve player.  Also, if the team takes Rubio at #3, there is no need for another floor general.  The good news is that point guard is the strongest part of this draft, so the team might be able to find a guy who can give them solid minutes in the rotation.  The candidates include:
Eric Maynor (6'3", Virginia Commonwealth) -- Maynor is a guy who does everything well, but nothing outstanding. A lot of teams like him as a steady, true point prospect, but no one projects a lot of growth from him. Coming to Oklahoma City would be a benefit for Maynor who began his college career under the tutelage of Jeff Capel and would welcome the close proximity of his mentor. On the other hand, Maynor would have to slide to fall into OKC's lap.
Ty Lawson (6'0", North Carolina) -- The recent NBA combine has killed Lawson's stock. Watching tape of him, one has to believe he can be a good pro guard considering that he propelled the Tar Heels to the championship game with his strong leadership. However, measurements have not been kind to him. He was the shortest point guard invited to the tryout camp and was not one of the better athletes.
Patrick Mills (6'0", Saint Mary's) -- Mills' stock rose considerably during the Beijing Olympics in which he participated for Australia after his freshman campaign in the West Coast Conference. When the Aussie's played the Redeem Team, Mills was close to unstoppable due to his speed. He torched Jason Kidd, whose foot speed is suspect, but also Chris Paul, who is one of the fastest guards in the world.
Nick Calathes (6'5", Florida) -- Calathes just signed a contract to play in Greece for the next three seasons (with a reasonable buyout after every season). He is the best candidate for the "stash" option, and may be one of those hidden gems. Calathes has great size for a PG and could be a less athletic Brent Barry.
Darren Collison (6'2", UCLA) -- You have to feel sorry for Collison. He was the floor general for three Bruin Final Four teams and will have to watch two guys who backed him up get drafted well before him (Russell Westbrook and Jrue Holliday). But that's the cruelty of the NBA draft. Those two players are freakish athletes while Collison is just a smart, skilled point guard with tremendous shooting ability. He is one player I would be ecstatic at seeing in a Thunder uniform.BONUS for drafting Collison: A marketing campaign (you know where the team actually advertises themselves to the community and doesn't expect word of mouth like an obscure local blog) with Darren and Nick Collison touting them as brothers. After following Nick Collison on Twitter, I think his sense of humor could pull it off.
Option 4:  Take a center
This only happens if Ohio State's 7'1" project B.J. Mullens slips.  Some NBA scouts think he could be a Tyson Chandler type of player with great size and very limited offensive ability.  Most, though, are not enamored with him.  At this late point in the draft his project status is not really a hindrance, because if he fails, there weren't many better options and at least you go down swinging.
Josh Heytvelt, a 6'11" post player out of Gonzaga, is the only other center prospect I could see sneaking into the first round and that's a long shot.
Option 5:  Get a shooting guard
Like the point guard option, this becomes moot if James Harden is taken at #3.  There could be a couple of intriguing players to fill the two guard rotation behind Thabo Sefolosha including:
Wayne Ellington (6'6", North Carolina) -- I can't remember the last time the core of a national championship team all entered the draft and none of them even sniffed the lottery. North Carolina's Tyler Hansbrough is not even being considered in the top-15. Lawson, who had the best chance, is watching his stock plummet, and Ellington who was the Final Four's "Most Outstanding Player" is an after thought. He would be a good fit on the Thunder, though, considering how much the team needs shooting.
Chase Buddinger (6'7", Arizona) -- What happened to this guy? Since his freshman year at Arizona he has been talked about as a lottery pick, but he begged off his first two seasons, and now he enters an awful draft and is a borderline first rounder. Most of it probably has to do with how he deferred to other players on some pretty disappointing Arizona teams. Odds are, though, that Buddinger is a better pro prospect than college player. He has ideal height, good shooting touch, and better than you'd expect from a white guy athleticism.
Option 6:  Pick up a small forward to use in the rare instance where Kevin Durant takes a breather
Sam Young, who was the guy who torched Oklahoma State to send them out of the NCAA tournament is the best bet for this option.  Another player who could fill this role is Omri Casspi who is hoping to become the first Israeli born player to make an NBA roster.  As long as his dream is just to make a roster, that would be mission accomplished, because he only sees the floor if Durant gets hurt.
Clark Matthews is a world-class checkers champion, co-founder, and basketball editor-emeritus of The Lost Ogle
Stay in touch
Sign up for our free newsletter