Everything Else
Peace, Love and Thunderstanding: Lottery Edition
12:18 AM EDT on May 14, 2009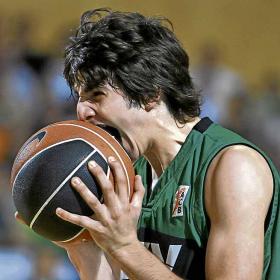 In less than a week, the Thunder will know their fate for this year's draft.  The results of the NBA's draft lottery will be unveiled on May 19th, but in the meantime, the focus will be on who the team sends to represent it on the made for TV event and the minister who talked about his thunderwear.  When it is all over, those will probably be the happiest memories from this portion of team history.
That's becase the lottery is a spiteful mistress.  Teams that fail miserably during the season clutch to the hope that the losing will end up with them lucking into the one player they need to turn their franchise around.  The problem is:  even the team with the worst record in the league has a 75% chance of getting screwed.
Remember, one in four, that's best case scenario.
For the Thunder, at least most fans of the team, winning the lottery is the only hope of satisfaction.  That's because hometown hero Blake Griffin is the big prize that all fourteen teams involved in the lottery hope to secure.  The problem that leads to is that as only the 4th worst team in the league, there is an 89% chance Oklahoma City is unhappy on May 20th.  Our resident expert on percentages, Dean Blevins, informs me that those are bad odds.  Truth be told, the Thunder have a better shot at falling to #6 (which is worst case scenario) than they do of moving up from #4 (which is the status quo).
Making matters worse is that this is a craptastic draft class.  It was awful when every player that could possibly enroll was tossed around as a possibility.  Now that the deadline for early entrants has passed, it's even worse.  Guys with upside potential like North Carolina sixth man Ed Davis, Sooner combo guard Willie Warren, and the current foreigner compared to Dirk Nowitzki (Donatas Montejunas) chose to screw themselves and wait a year to try their luck in what should be a much deeper draft pool.  Maybe they should have asked Tyler Hansbrough about how well his decision to do the same a couple of years ago worked out.
As it stands, assuming no one who is currently declared for the draft backs out, there are only two players that are expected to ever become all stars in the National Basketball Association.  The first is the afforementioned Blake Griffin whose fit with the Thunder I have already chronicled.  The other is Ricky Rubio, often thought to be the "Spanish Pistol Pete."
After the jump, I will explain why the Thunder might be better off landing in position to select Rubio and what pu pu platter they might be stuck with at any other slot.
Perhaps the best way to do this is to break it down by potential slotting in the draft.
1.  Blake Griffin (6'10" PF - Oklahoma)
I am about to make an argument that Ricky Rubio might be the better choice, but Sam Presti would never be dumb enough to listen to me.  Griffin is the "safe choice" and very likely the right choice...particularly considering he's a marketing goldmine thanks to his hometown hero status.
2.  Ricky Rubio (6'4" PG - DKV Joventut)
Did anyone watch the first round series between the Celtics and the Bulls?  If you didn't, you missed the best professional basketball on television this year.  The defending champion Celtics got everything they could handle from a team consisting almost entirely of role players.  The reason?  An elite point guard (rookie Derrick Rose) who made the whole better than the sum of the parts.
Snatching up a point guard of that caliber could be the magic bullet to make the Thunder an instant contender.  Think about it:  the Bulls' second best player is Luol Deng who isn't great and was injured for the Boston series, yet they still nearly knocked off the defending champs.  Get a guy who knows how to run a team feeding Kevin Durant, Jeff Green, Nenad Krstic, and Russell Westbrook, and suddenly everyone on the team is a potential all-star.
Think I'm exaggerating?  The Hornets won 18 games the year before they drafted Chris Paul.  Two years later, they were in the Western Conference finals.  His supporting cast was hardly comperable to what Rubio would take for the Thunder.  David West sucked until he was paired with Chris Paul and Tyson Chandler was thought to be a draft bust.  Now, all three of those guys have played in the all-star game.  All of it can be attributed to CP3's court vision and basketball IQ.
Rubio has similar abilities, and he has prototypical size.  While he typically gets compared to Pete Maravich because of their identical hair styles and tendency to make a flashy plays, Rubio's game is actually very different.  The primary difference is that Maravich never gave any effort on the defensive end, but Rubio is considered to be one of the best defensive point guards in the world.  That is saying something when you consider that the Spaniard is only eighteen years old.
If I had to compare him to anyone, it would be a young Jason Kidd (minus the alleged wife beating issues).  Rubio seems to find teammates, who didn't even appear to be open, with perfect passes for easy baskets.  He also keeps defenses honest because no defender can stay in front of him and once he gets into the lane, there is a good chance he drop it off to another player.  In fact, defenses can never know what Rubio is going to do with the ball because his offensive creativity is just off the charts.
A player like this does not come along often, whereas power forwards are a lot easier to find.  For that reason, I would be thrilled if the Thunder lucked into the #2 position just like the year they drafted Kevin Durant (and Greg Oden was the "safe pick" at #1).
3.  Hasheem Thabeet (7'3" C, Connecticut)
I hate myself for even typing Thabeet's name next to #3, but the circumstances of this draft make it pretty much the only choice.  Personally, I hate the mantra "you can't teach size" and that probably comes from listening to fans rant about Frans Steyn (the 7'2" South African rugby player that Eddie Sutton tried to mold into a basketball player) being the answer to the Cowboys lack of size at center...when it was clear that undersized Ivan McFarlin was the backbone of those teams.
Anyway, I have watched plenty of guys drafted because they just happened to be seven foot tall fail, and I would hate to see my first hometown team (a team whose previous GM rolled the dice and lost three straight years on seven footers when in Seattle) fall into that trap.  Believe me, I think drafting Thabeet would fall into the same category.
Those who disagree with me will point out that Hasheem was a dominant shot blocker for UConn.  And he was.  Then again, Josh Boone and Hilton Armstrong were just as good at that skill, at the same university, but neither has been even a serviceable pro.  That's because UConn coach Jim Calhoun lets his big men play free safety and partrol the rim.  It makes them look like better shot blockers and grosses up their stats similar to Mike D'Antoni's system helping out point guard assist numbers.  In the NBA, shot block specialists playing the way Calhoun teaches get called for illegal defense.
So why do I have Thabeet as the third best choice for the Thunder?  The dirty-not-so-secret about this draft class is that swinging for the fences anywhere past Griffin and Rubio is a recipe for getting burned.  The best a team can hope for at 3-60 is a player who can play a specific role.  That's right:  Hoping for a starter in this pool is a pipe dream.
So maybe I'm right and Hasheem Thabeet is more Shawn Bradley than Dikembe Mutumbo.  If he can come in and give six fouls and block a few shots with the second team, he might be the best for which we can hope.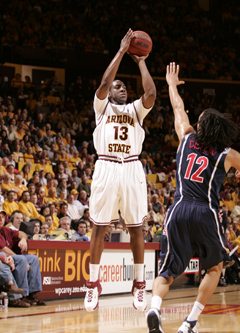 #4 - James Harden (6'4" SG, Arizona State)
Lately, I've been pretty sour on James Harden.  Most of it is that the very few times I saw ASU play, he was awful...particularly in the NCAA tournament.  His stats were good, but anytime he was on a stage to show why so many draft analysts liked him, he sucked.
Another thing I have against him is that the stats he does not excel at are the places the Thunder need help.  He is really only an adequate outside shooter, and the knock every scout brings up is that he is not very athletic meaning he will not be much of a defender.  So, considering that, he brings nothing to the table that would push Thabo Sefolosha for playing time.  My prediction is that Harden ends up having a career a lot like Rashad McCants.
The real issue, though, is probably spite.  Most of the people I see campaigning for Harden to be the Thunder pick tend to be the same people who tell me that Russell Westbrook is too short to play shooting guard.  Harden is ONE inch taller.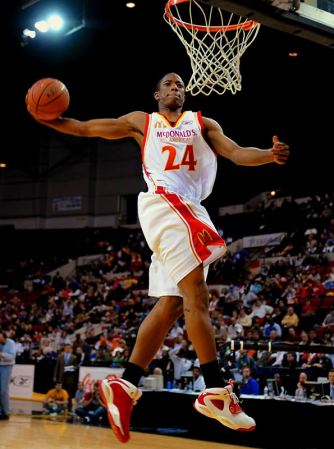 #5 - Demar DeRozan (6'6" SG, USC)
DeRozan is the kind of high risk, low reward guy that I bemoaned in the section about Thabeet.  Technically, he has the potential to develop into a really good player because he's rediculously athletic and very young.  Some scouts think he could become a player like Josh Howard.  He's more likely to be another Mickael Gelebale...assuming DeRozan is willing to focus on defense.
#6 - Jordan Hill (6'10" PF, Arizona)
Personally, I like Hill as the pick more than Thabeet or Harden.  While a lot of his knocks are similar to what scouts say about Thabeet (low basketball IQ, inexperienced) his style is a lot closer to what I desire from a post player (and Thabeet doesn't seem to care much about basketball).  Hill is a garbage man type of big man.  He hustles and scraps and battles for rebounds.  Unfortunately, I have seen no scenarios in which the Thunder would not get one of the players in that top-5.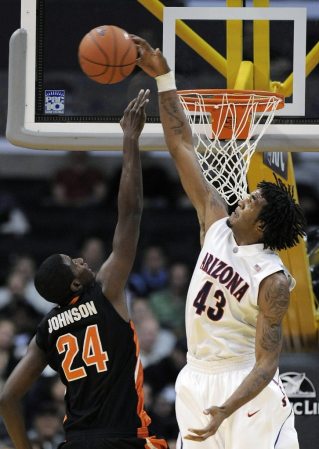 Anyway, those are the top-6 players and the worst case scenario for the Thunder is sixth.  A couple of players I'd like to see crack that list before the actual draft, though, include:
Stephen Curry (6'3" SG/PG - Davidson)
I don't buy that Curry will ever be a true point guard, but I do believe he will be an excellent shooter, probably in the Ben Gordon mold.  As a bomber off the bench, he could be a value pick.
Brandon Jennings (6'1" PG - Lottomatica Roma)
The first player to skip college to play in the Euroleague has not set the world on fire as a rookie in Italy.  At the same time, he is still considered the second best point guard prospect in the draft and I desperately want to see Russell Westbrook played at shooting guard more.
Ty Lawson (5'11" PG - North Carolina)
I hate North Carolina, but I have always enjoyed watching Lawson play.  The leadership ability he showed during the tournament really impressed me.  All season I've been saying I'd like to see him drop to the Thunder's second first round slot, but now I don't see that happening.  So, maybe, the Thunder should consider reaching for him the same way they did Westbrook when they couldn't trade down last year.
Wayne Ellington (6'6" SG - North Carolina)
Everything I said about Lawson applies to Ellington, as well.  During the tournament, he was actually the player I enjoyed watching the most and his shooting ability is desperately needed in Oklahoma City.
Clark Matthews is a world-class checkers champion, co-founder, and basketball editor-emeritus of The Lost Ogle
Read More:
Stay in touch
Sign up for our free newsletter