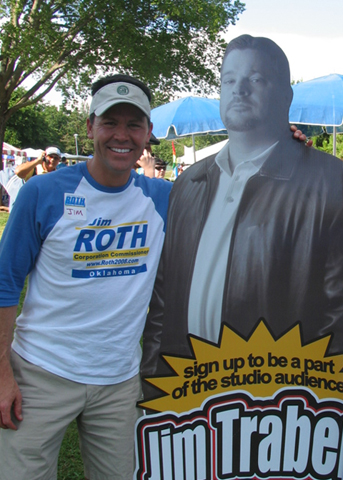 Last week, Phillips Murrah announced that former Corporation Commissioner Jim Roth joined their law firm as attorney of counsel.  This is a pretty big deal, because it finally means that we've got one of Cardboard Jim Traber's homeboys working for a powerful downtown law firm.  That means that nobody in downtown will want to sue us, and if they do, they will be knocked to the ground like a Japanese pitcher.  It also means that the Phillips Murrah employees know how to break in a baseball mitt.
Anyway, since the depth of our law firm knowledge is built upon watching Clark Matthews' complete collection of LA Law on VHS, we decided to interview Mr. Roth.  Find out his thoughts on Brent Rinehart, Sally Kern and doggie daycare after the jump.

Q: Congratulations on your new position at Phillips Murrah. In a recent Journal Record column, Ted Streuli wrote that the Phillips Murrah Christmas Card was one of his favorites from 2008. How does it feel to work for a firm that does such an outstanding job at extending holiday cheer?
A: ...Nothing says 'aggressive law firm' like "Ho, Ho, Ho."
Q: What exactly are you going to do at Phillips Murrah? I assume it will be more than just counting paperclips and making sure everyone turns out the lights.
A: I am working with other P|M members to build a practice group that specializes in emerging energy and environmental issues, including the likelihood of new opportunities (renewables) and new regulations (water and air), among others, from the new Obama Administration and local jurisdictions. We want Oklahoma to be successful in all forms of Energy.
Q:  One time a group of attorneys from there bought me several rounds of drinks at a trendy downtown spot and then tried to convince me to start using a "doggie daycare" service. Have they done this to you?
A: Not yet, although I have two golden retrievers (yellow dog democrats) who would love the idea of visiting a doggie spa to see how the 'other side' lives.
Q: Before your new position, you were a Corporation Commissioner. What does a Corporation Commissioner do? Is it like being Commissioner Gordon from Batman?
A: Just like it but without the Batmobile (state motor pool Chevys instead) and without the "sidekick" named Robin. The Corporation Commission does afford kicks to one's side, but that is an entirely different hazard.
Q: The lady who defeated you in last year's Corporation Commissioner race didn't even know how to spell the word "commissioner" in her campaign ads. How frustrating was that? And is it safe to assume that she'll do a terrible job?
A: I wsa nto vry frsurtated bye that btu eye doo hpoe she deos a gouda jobe.
Q: Last summer, our friend Cardboard Jim Traber ran into you at the OKC Pride Festival. Soon afterward, he was escorted off the premises by a man named Tina. Do you know this Tina, and can you help Cardboard Jim exact his revenge!?!
A: I do not and I would not suggest such a course, as I once read in an anti-drug ad that "Tina Kills."
Q:  Seriously, though, a lot has been made that you were the first openly gay individual to hold a statewide publicly elected office in Oklahoma. Did that make you feel extra-cool?
A: I am forever grateful that I have had a chance to be so involved in our democracy and that the kindness of Oklahomans allowed me to do so authentically.
Q: Have you talked with Sally Kern since she compared homosexuals to terrorists and blamed them for the fall of several civilizations?
A: I have not, although I have prayed for her.
Q: What did it feel like to be mentioned in the Brent Rinehart Comic Book? Did you want to respond with your own graphic novel or anime strip?
A: Brent Rinehart's final chapter is coming with a jury of "his peers." Now that idea removes all the humor possible.
Q: Since you were both County Commissioners, did you ever work with Brent? Is he as crazy as he appears?
A: We actually did work often together as our respective districts shared many lane miles of roadway. We focused on the work, and I think he is a sociopath.
Q: Last September, you chased down a driver who was involved in a hit and run. Do you keep a cape and mask in your trunk for these situations?
A: I was in a Prius...enough said.
Q: In his Q & A with us, Mayor Mick said he once swam in a pool with Jerry Park. Lee Symcox then said he was in Mayor Mick's NCAA Tournament Pool. Have you been in any pools with Mayor Mick?
A: I have not, unless we were both betting on the same thing.
Q: Who is your favorite weatherman?
A: Scott Padgett, now in Miami, formerly of local FOX. He is a good guy in spite of his past professional affiliations. :)
Q: Who is your favorite Thunder player?
A: Kevin Durant
Q: Besides the Mike McCarville Report, what is your favorite blog?
A: I only read.....are you ready for it?......wait......wait.......Ok, The Lost Ogle.
Stay in touch
Sign up for our free newsletter