Everything Else
Peace, Love and Thunderstanding: The Debut
12:09 AM EST on November 20, 2008
After a week in which Oklahoma City's big league franchise lost all four of its games by an average margin of 16 points, this seemed like the perfect time to start a weekly column chronicling the inaugural season of Thunder basketball. When Patrick suggested this column handing out weekly awards he wanted to call it "Clark Matthews Thunderwear". I vetoed the title thinking it sounded like I was promoting NBA apparel. He came back with "Clark Matthews' Dirty Thunderwear". Eventually, we were able to get off that particularly bad Thunder pun by coming up with others. Among the options were:
Thunder the MicroscopeThunder SeigeThunder the Tuscan SunThunderwhelmedThunder PressureThunderhanded ComplimentGeneral ThunderstandingSix Feet ThunderThunder Arrest
We both liked Peace, Love and Thunderstanding, but I was concerned it would be too long as a title. Patrick felt that too long fits my style. So keeping that in mind, here is the first edition of Clark Matthews' Peace, Love, and Thunderstanding weekly awards.
BEFORE

AFTER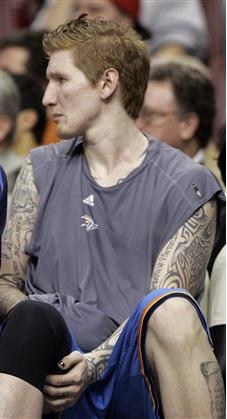 THIS WEEK'S REASON TO LOVE THE THUNDER EVEN THOUGH THE PRODUCT ON THE FLOOR IS AWFUL: Robert Swift's Hair
This actually happened a little over a week ago, but I didn't have a weekly Thunder column at that point, and these are the important things that need to be discussed. Robert Swift cut his hair.
Generally, one would think that a seven-foot tall, pasty, white guy, with body length cartoonish tattoos, fingernails painted black, and a face that resembles a Columbine shooter would stand out in the NBA. Apparently not...because when Robert Swift chopped off his curly Sideshow Bob red hair and replaced it with a closely cropped 'do combed into a mohawk, many fans were wondering if the Thunder had signed a new guy. That just goes to show that all white guys look alike.
QUOTE OF THE WEEK: Nick Collison
Regarding the mood of the locker room:
"It shouldn't be as happy as it is right now."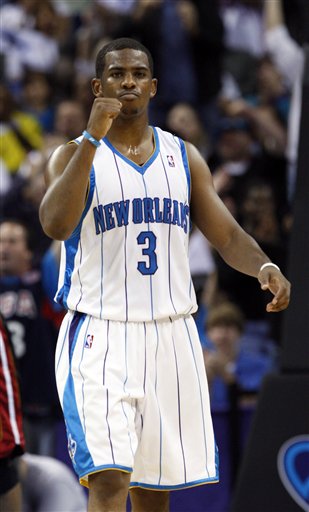 THING TO LOOK FORWARD TO THIS WEEK: Hornets Return
Tomorrow night, the Hornets (for those who don't remember, the first team that made OKC a "Big League City") will make their first appearance in the Ford Center as the visiting team. I for one miss Chris Paul more than I, as a heterosexual man, care to admit. On the other hand, they are now the enemy. We as Oklahoma City fans need to realize this. So cheer, for our old guys during the player introductions if you must, but once the ball has been tipped, remind them why they never should have returned to New Orleans.
ALL STAR OF THE WEEK: Kevin Durant
With the exception of Kevin Durant playing in the Rookie/Sophomore game, the Thunder won't be represented in the all-star game. Rightly. As such, the only thing the Thunder franchise can take pride in is that three members of the team made it on to the ballot. You see, unlike Major League Baseball, not all regular starters are listed which makes it more difficult for large markets to stuff the game full of their players (i.e. how Kosuke Fukodome was a starter for the National League this year).
The three players are Kevin Durant (obviously), Chris Wilcox (really?), and Nick Collison (are you kidding me?). In this section, I will name which candidate did the most in earning the homer-style votes the people at the Ford Center are giving them in return for the shot at a free t-shirt.
This week, and probably most weeks, it is Kevin Durant. It really wasn't one of his better weeks, but Durant did average 21.7 points in the three games he played. He even shot better than 50% in one of them. He basically wins by default. Chris Wilcox didn't play at all while sitting out with injuries, and I'll get into why Collison disqualified himself later.
STATISTIC OF THE WEEK: 11.8%
That's the shooting percentage over the week of players other than Jeff Green or Kevin Durant shooting three point shots. Green was a respectable 6 for 14 from behind the arc, which might be an anomaly considering he shot 27% on the season last year averaging less than one attempt per game. If it isn't an anomaly, you can rest assured that opposing defenses will stop letting him take those shots wide open like they have been so far this year.
It should also be noted that these were not generally contested shots with the defender getting a hand in the shooter's face. Opposing teams are begging the Thunder to jack up three point shots by giving them about as much space as I give my son when I'm "guarding" him while we play on his toy hoop. And, I'm pretty sure the ClarkPupp has a better success rate.
This is an important statistic because Kevin Durant needs some help. Until the Thunder can establish that they have players who can hit an outside shot, the defenses will continue to run defenses that pack in to keep Durant from driving to the basket or posting up shorter guards. In the meantime, we are going to spend a lot of time watching a great offensive player being forced into taking long jump shots.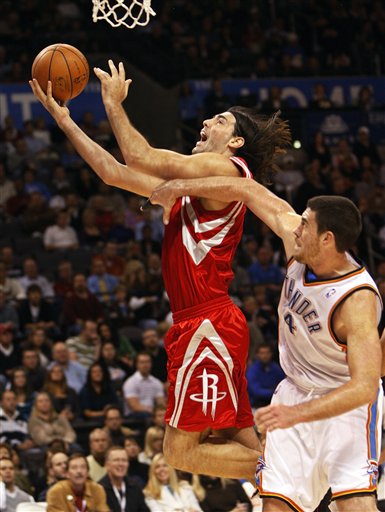 GOAT OF THE WEEK: Nick Collison
I can accept that Robert Swift or Johan Petro would get abused by Dwight Howard (30 points, 19 rebounds, 10 blocks) and Zach Randolph (29 points, 19 rebounds). Howard and Randolph are all star caliber post players while Swift and Petro are draft busts who are just lucky to still be on a professional roster. When they look totally befuddled while trying to keep a beast like Howard away from the basket, it is par for the course.
Nick Collison, on the other hand, is a veteran who has the longest, most lucrative contract remaining on the Thunder books. He was signed to that contract because of his defensive prowess. One would think he could at least slow down the opposing team's best post player. Then there's the whole thing about Luis Scola dropping 23 on him, also. Scolas's supposed to be, at best, Houston's fourth best player.
INSPIRATION OF THE WEEK: Durant returns from ankle injury
Early in the week, Kevin Durant aggravated an ankle injury he suffered during the pre-season. That caused him to miss the first game of the week in which the team looked entirely outclassed by the Orlando Magic. By Friday, though, the team decided that his leg was healed enough to play against the New York Knicks. I'm sure the league had no influence in getting one of the league's brightest young stars to return when the Thunder played in the nation's largest market.
Anyway, you could tell how happy the team was to have their best player back as they got completely demolished in the first half versus the Knicks.
SILVER LINING OF THE WEEK: At least we aren't Minnesota
Clark Matthews is a world-class checkers champion, co-founder, and basketball editor-emeritus of The Lost Ogle
Read More:
Stay in touch
Sign up for our free newsletter