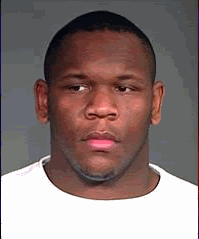 (Note: This article was written at halftime of the Fiesta Bowl. If the University of Oklahoma came back to win in the second half, the introduction of this article will not make much sense.)
Unless you live under a rock or hate football, you are well aware that DeMarcus Granger, the Sooners' top run stuffer, was suspended for the Fiesta Bowl. Typically, the Sooners would just jam another 5-star recruit in the missing player's position and roll up another victory. This time: not so much. Apparently, when you come up against the best running team in the country, it helps to have your best defenders against the run. Who knew?
So what transgression was so bad that Granger could not play and personally cost me 31 points in my Bowl Confidence Pool? Did he sleep with a twelve year old? No, that was this guy. Did he participate in a mass cheating scandal? No, that was these guys. What he actually did was rip off a Burlington Coat Factory by shoplifting a $75 jacket...even though he apparently had the cash necessary to make the purchase in his pocket.
Brilliant! A co-worker and I were discussing the situation yesterday and trying to figure out if there were other players with Granger when he failed to make his purchase. Theoretically believing that those players would have either stopped him, or been culpable enough to be sent home, as well. I was convinced that no player goes off without some of his teammates while on a road trip, especially for a bowl game. He thought that the fellow Sooners probably disowned the nose tackle when he suggested going into Burlington Coat Factory. My co-worker had a point, but in Granger's defense he probably couldn't get into the parking lot at French Market Mall so he could steal a coat while still in Oklahoma.
Anyway, being a diligent journalist, I interviewed some stores around town to see if DeMarcus had stolen anything from them. While I struck out in finding anything specifically taken by him, I did learn that shoplifters had been taking a toll on some local businesses. The shopkeepers asked that I pass along the suspect profiles, and I do so after the jump. If you have any information that may lead to bringing these fugitives to justice, leave it in the comments section.
Popeye's Chicken
A tall, athletic male reportedly was seen taking a bucket of chicken that an older woman then hand fed him.
CD Warehouse
Four grungy men were spotted sifting through the dollar bin and stuffing Nickleback and Puddle of Mudd albums into their leather pants and high fiving. Police think the men may have been seeking music to rip off for their frat rock band.
BeautyCo
A man, approximately forty years of age, was caught by a mother, of children, trying to abscond with a crate of mousse. When security surrounded him, he wielded his pointy hair as a weapon and screamed about "three quarters of what she says is inaccurate."
Burger King
A bald man with an incredibly annoying voice attempted to steal a Whopper at one the remaining Burger King stores in town by placing it on Bob Stoops' tray. When the Whopper was taken back by the employee, the perpetrator insisted that Coach Stoops had never even offered to take the burger and that the Whopper was overrated.
Byron's
The liquor retailer reported that a woman, who did not have any children, absconded with several bottles of tequila. Said bottles were seen on Good Morning America.
TheLostOgle.com
A group of regional radio stars blatantly plagiarized the work of the website's Patrick Nelson. In this case, that's close enough for shoplifting to be reported.
Clark Matthews is a world-class checkers champion, co-founder, and basketball editor-emeritus of The Lost Ogle
Read More:
Stay in touch
Sign up for our free newsletter