Everything Else
Saving Grace Wants to Film in OKC
12:30 AM EDT on October 13, 2007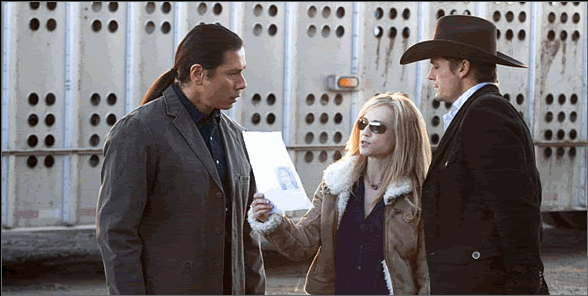 After being handed the "key to the city", Holly Hunter decided she would like to use it.
"We love Oklahoma City," Hunter said. "We're here with the hope of being able to shoot our series here, in part, and kind of brand Oklahoma City, expand the scope of the stories we want to tell and just include the city with the characters."
That's a nice sentiment, and all, but having watched a couple of episodes of the show, I was left asking: That's Oklahoma City? Sure, I heard the characters mention OKC, Grace works for the OKCPD, and her brother had an obsession with the Murrah Building bombing. Truthfully, that's probably as far as they needed to go to convince the majority of the viewership--who think the May 3, 1999 tornado destroyed a lot of horse barns and made the residents in the area teepeeless--that the show was in Oklahoma.
To the trained eye, however, Saving Grace looks nothing like the place we call home. As best I can tell, the sets they created at their Los Angeles studio were designed to look like one of those small towns along Route-66 where the inhabitants drive into Oklahoma City once a month for groceries. They hang out at a bar that has barren surroundings, and most of their investigation leads them to ask questions of ranchers (which aren't exactly plentiful within city limits). Watching the detectives navigate the town in their, apparently OKCPD issued, beat up pick up trucks reminds me more of how my dad describes Stillwater (circa 1969).
Explaining that to the minds behind the show seems fruitless, however. Nancy Miller, a producer and writer of the show thinks:
"This is a personal thing for us. (Oklahoma City) is already a character, but we could make it a lead character."
She went on to describe her plans for what they would film if the city covers their expenses for them:
"We've already got scenes in our mind along the Oklahoma River, at the (Oklahoma City) Museum of Art, at Bricktown "" that's what we're hoping."
What she didn't describe was what she'd be filming.
At the Oklahoma River: they will probably film a shot of youth dressed similar to Huckleberry Finn fishing with tree branches and twine.
At the Museum of Art: They will require that the staff of the museum remove the Botero Baroque exhibit and replace the pieces with cornhusks decorated by local FFA chapters. The Chihuly glass exhibit on the third floor will be replaced by wagon wheels and bleached steer heads.
In Bricktown: Filming will be normal, but the plotline being portrayed will be Grace and her compatriots at a convention in San Antonio.
While Mayor Mick deserves scorn for offering Miller and Hunter a "key to the city" in what I can only hope was an attempt to secure a cameo role on the show (where wardrobe would make him wear a bolo tie and ten gallon hat), he has been hesitant about promising funding. This is despite the lobbying of Jill Simpson at the Oklahoma Film and Music Office:
"We see this as a way to brand Oklahoma City in a similar way that the (New Orleans) Hornets did for us, and to get that updated image of Oklahoma City to a national and international audience. At least 6 million viewers are watching every week now, and we expect those numbers to grow, so what better way to update our image than through a show like this?"
How many times do you think she used the word, "synergy" in the presentation that quote was pulled from? While it must have taken superhuman strength for Mayor Mick to pass on something that was compared to the Hornets, her final question was easily answered with, "Any other show."
Clark Matthews is a world-class checkers champion, co-founder, and basketball editor-emeritus of The Lost Ogle
Read More:
Stay in touch
Sign up for our free newsletter