Things were a lot different when I sat down for my draft journal last season. For one, I was covering the Hornets then. This year, I'm obviously more interested with how the Sonics fare. Second, I was not a father last year. The ClarkPupp was just a growing fetus who had made his mother's belly button disappear. As such, there will be a new character distracting me from my task at hand, and Angie XY will need a new nickname now that her abdomen is back to normal. (For the record, the canine family has to end here. If you think about it really hard, you'll understand why.) Finally, and most importantly for the rest of this journal, there was more drama at the 2006 draft about what order the players would go, but less drama in all.
In 2006, Andrea Bargnani, the Italian seven footer I had been touting for months, was eventually the first selection by Toronto, but there was doubt up until the moment it was announced. As of this morning, any question of who Portland would take first is gone. Ohio State's Greg Oden will go first.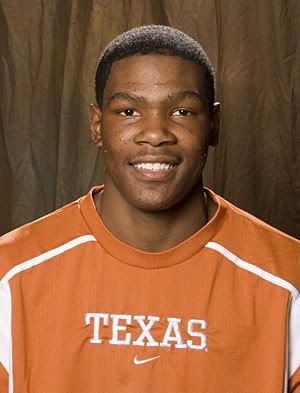 That makes even less drama for who goes to the Sonics at #2. For instance, had the Blazers made Kevin Durant their choice (and I guess technically that is still a possibility), this journal probably would have ended at 6:35 with "David Stern takes the podium with Portland's pick and it's"¦" Then, rather than reading this, you would probably be looking at an article by Patrick making fun of the weird story in The Oklahoman of a local blogger going catatonic. That would have made for a lot of drama.
There will be plenty about Kevin Durant later, but for now let's set the scene. Matthews Manor is the site of this year's "War Room" where the television (an anniversary gift, which makes sense, because five years is the "Plasma Anniversary") and TiVo box are the only really important items to mention. I will be flanked by the ClarkPupp (whose analysis will probably be limited since draft picks are not something which can be picked up and placed in one's mouth) and my wife (who, despite the portrayal you are about to read, actually has a keen mind for basketball). Now, on to the main event:
6:01
If you thought the "main event" was the draft, you are going to be disappointed. ESPN has thirty minutes of pre-draft coverage.
6:02
Angie XY (nothing new is coming to me) sees Greg Oden and informs me that, "he cleans up well. He's still an ugly bastard, but it's the best I've seen him. Are we sure that's him and not his dad?"
6:03
The ClarkPupp is in his jump-a-roo happily practicing for draft day 2027. I think he could already out jump Spencer Hawes.
6:05
ESPN has chosen an All American Rejects song as the theme song of this show. Fans of TheLostOgle.com are probably already aware that this band is from Stillwater, so I'm taking this as a shout out to Oklahoma. They also used a Rejects song in last nights show, "This Ends Tonight". I found that odd considering it was a preview show from the night before the draft.
6:07
Kevin Garnett is not getting traded tonight. I don't see how he gets traded at all now.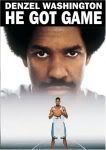 6:08
Big news about the Sonics. Andy Katz is reporting that the Sonics will trade Jesus Shuttlesworth (also known as Ray Allen) and his ridiculous contract for the #5 pick, Delonte West and Wally Szerbiak. Whose horn need tooting? Clark's horn!
6:09
Mark Jackson hates the deal. Stephen A. Smith agrees with the sentiment. I hate to say I agree with Smith, but why pay Ray Allen $75 million to hoist threes and take shots away from Kevin Durant. With this deal, the Sonics will have two years to develop Durant and then have some cap space to make a deal for a free agent when Szerbiak's deal expires.
6:13
Jay Bilas just unveiled his "Best Available". Unsurprisingly, this xenophobe has the top international player, with a concensus ranking in the top-5, all the way down at #9. Maybe they should ask Bilas how well panning Andrea Bargnani worked for him last year after Bargnani helped turn Toronto into a playoff team last year.
6:18
Greg Oden and Mike Conley, who have played on the same team since they started playing basketball were just interviewed by Lisa Salters. There must have been some great stories, but the best information she got out of them was that Oden was shy, and Conley didn't like him originally because Oden still watched cartoons.
6:19
Kevin Durant is wearing a pink shirt with an orange tie. His suit doesn't look like it fits. Angie XY is being surprisingly kind in regards to this. But when they cut to Joakim Noah wearing a "seer sucker" suit with a bow tie, she brings out the claws. "He looks like Colonel Sanders"¦if he'd cut his hair. Could his agent not front him some money for a comb?"
6:26
Jim Gray is reporting that the Lakers have no intention of trading Kobe Bryant and that the Golden State Warriors are now working to get in on the Kevin Garnett sweepstakes.
6:27
As their international expert, Fran Frischilla is being asked about Yi Jianlian. A point I wish more people would make is that Jianlian is not an unknown quantity as pundits like Bill Simmons have been suggesting. He has been playing in international play for years including a pretty impressive performance against Team USA in last year's World Basketball Championships where he was going against some guys you may have heard of: Dwight Howard, Chris Bosh, LeBron James, Dwyane Wade, Carmelo Anthony"¦
6:30
As the intro starts, Angie XY is not impressed. She likes the graphics, but wishes the players were saying something funny. As they show Kevin Durant, she remarks: "Seriously, he looks like he could be Greg Oden's son."
6:32
The man, David Stern, is at the podium. The draft has begun.
6:35
Stephen A. is pulling a 180 on what he said about Portland last year. He bashed them, saying things like "they don't know what they're doing". Now: "They have done a tremendous job." I'd make fun of him if I hadn't done the same thing in the past twelve months.
6:37
It's official. Kevin Durant is still available. Oden is the pick. Mike Tirico just reported that Oden wanted to be a dentist, but then grew too much. Poor kid, he's going to get millions and won't be able to stick his fingers in people's dirty mouths.
6:41
As the card is presented to David Stern, Andy Katz is reporting that the deal with Boston is official and Jeff Green is who Boston will select on behalf of the Sonics. Now, for the most exciting moment of the night"¦
6:42
"With the second pick in the 2007 NBA Draft the SuperSonics select, Kevin Durant from the University of Texas." Music, Commissioner Stern. Music to my ears.
Mark my words, Durant will be the best player from this draft. He is an assassin. ESPN's Bill Simmons called him an "MJ/McGrady/K.G." clone with post moves like Hakeem Olajuwon. While that sounds crazy, it really isn't. Durant is clever with the ball, athletic, and he has that desire to have the ball with the game on the line. A lot has been made about him being unable to lift 185 pounds even once, but truthfully, that's a plus. Strength can be gained, and he's already amazing being weak. I cannot wait to watch him light up the Ford Center.
6:45
"Hard work beats talent when talent doesn't work hard." That's the quote Kevin Durant "instilled in (him)self". I don't know how he instilled a quote in himself, but I don't care. I also care very little about the zit on the middle of his forehead that my wife just noticed.
6:48
Billy Knight never fails to make me laugh. His Hawks need a center and a point guard. So what does he draft? Another power forward. Last year he took 6'8" Shelden Williams. The year before that, he took 6'9" Marvin Williams before trading for 6'8" Joe Johnson. The year before that, he took 6'8" Josh Smith, 6'9" Josh Childress, and 6'8" Boris Diaw. Now, he takes 6'9" Al Horford. It makes NO sense. It would be one thing if he was willing to move some of those players who are the same height and have similar skill sets, but Knight refuses to part with any of them"¦even when Amare Stoudamire is on the table. This is such a strong draft pool that you cannot go wrong if you draft for need. It's a shame that the ownership situation in Atlanta is so screwed up that they can't come to a consensus to fire this GM.
6:52
Memphis takes Mike Conley. I like this pick. He's the best point guard in this draft and Memphis has to play in the same conference as Steve Nash, Tony Parker, Chris Paul, among other good point guards. The Grizzlies will benefit from having a floor general they can trust.
6:56
Katz claims to have confirmation from both the Sonics and Celtics that the pick being made by "Boston", which is Jeff Green from Georgetown, is in fact for the Sonics. I would have preferred that the pick be Yi Jianlian, but with the Chinese government being his ultimate agent, this is the safer pick.
I think he'll fit well with Durant and fill the spot that Rashard Lewis will soon vacate. Green is a very versatile player, is a good passer, and has proven to be a winner.
7:00
Green's nickname is "The Predator". That's great, I suggest that Durant be called "The Assassin" and the new Sonic tandem would have a couple of imposing nicknames.
7:04
I knew when David Stern's voice cracked while making the announcement that an international incident had just been created. The Milwaukee Bucks, who were specifically not invited to watch Yi Jianlian workout just selected Yi Jianlian. China has made it clear they want Yi playing in a large city with a large Asian population. The six guys who work at the Hong Kong Buffet in downtown Milwaukee aren't what the Chinese government had in mind. Milwaukee thinks they can smooth things over by sending their owner and former senator Herb Kohl to the Far East to fix this.
My prediction, Yi ends up being traded.
7:08
Yi is being interviewed by Stuart Scott. I've heard that Yi is actually fluent in English, but it isn't showing in this interview. Of course, it's hard to understand Stuart even if you're from the U.S. Stu lets us know that Yi wears Sean Jean"¦the significance of that information escapes me.
7:09
Smith again says something that impresses me. He pointed out that Larry Harris, the GM of the Bucks, drafted Yi entirely on what he learned from his dad Del Harris, an employee of the Dallas Mavericks. Smith pointed out the conflict of interest there.
7:13
My pick for biggest bust of this draft was just taken by Minnesota. Corey Brewer had a great championship game, but only a so-so three years at Florida. A player rising in the draft due to one good tournament is, to me, akin to an NBA player having a good playoff run and cashing in a huge free agent contract. Speaking of which, how has Jerome James done for the Knicks?
Angie XY wants to know why there have been two Florida players selected and neither is named Joakim Noah. "I hated his suit, but I didn't think it meant he should slip in the draft because of it."
7:17
Leading up to Charlotte's first pick all we're hearing about is how Michael Jordan is involved with the team. Apparently, Jordan wants to trade this pick, but so far no offers have appealed to him.
7:19
Maybe there has been a trade"¦their time ran out a couple minutes ago.
7:20
Seriously? Are the Bobcats in the NBA or WNBA. It makes sense for a WNBA team to select players with local ties because the fanbase doesn't really know all the players available. In the NBA, the fans know too much about the players.
Charlotte just selected Brandan Wright from North Carolina. Two years ago, they took two other Tar Heels in the lottery. He is years away from contributing, and there is some concern about whether Wright cares enough about basketball to become a decent NBA player.
7:22
Jay Bilas loves this pick. Of course, he does. Only Dick Vitale overvalues ACC players more than Bilas.
7:25
Chicago takes Joakim Noah and all of his hair. I would love this pick if the Bulls had not just signed Ben Wallace to huge contract. Noah and Wallace are very similar players who play great defense and are weak on offense. That being said, any team is going to be lucky to have Noah. His energy, clubhouse presence, and winning pedigree are exactly what NBA teams should be seeking. He's basically the anti-Brandan Wright.
7:28
This is a non sequitor, but we are currently waiting on the tenth pick of the draft. If this were the NFL draft, we might have gotten the card for pick #2 by now.
7:32
Stiff alert! Spencer Hawes has been selected by Sacramento. The guy is seven feet tall and cannot rebound, what does that tell you? Even Jay Bilas is ripping his athletic ability.
Hawes probably would have been a good fit for Chicago, who needs a big man who can score to take pressure off of Wallace. Also, Wallace's shot blocking ability and elite rebounding ability would have worked as yin to Hawes' yang.
7:37
If Stephen A. Smith doesn't stop yelling, he's going to wake the ClarkPupp.
7:38
Billy Knight is picking again. Acie Law, a point guard, is selected. Did he grow six inches since he left A&M?
For the first time, in as long as I can remember, I have no material to use in making fun of Knight. Law is the point guard most prepared to step in and start next year, and the Hawks need a point guard to step in immediately.
7:43
From Billy Knight to Billy King. The 76ers have the #12 pick, and Sal Palantonio is explaining that King has been working hard to move up in the draft. Like with most of what King has done since taking over the Sixers, he was unsuccessful.
7:46
With the first of three first round picks possessed by Philly, they take Thaddeus Young out of Georgia Tech. This is the first really big surprise. Almost everyone had Al Thornton projected here, despite Thornton's protestations that he would go earlier. I guess everyone was wrong.
7:50
My favorite GM is being interviewed. Billy Knight said nothing that changed my opinion of him.
7:52
Now this is the biggest surprise of the draft so far. All reports out of New Orleans had the Hornets trying to choose between Thaddeus and Nick Young (no relation). After the Sixers took Thaddeus, I assumed their choice had been made for them. Instead, they took Julian Wright.
I'm not sure how he fits with the Hornets. He's a power forward who can play the three"¦so he's basically David West. What the team really needed was a shooting guard to replace Desmond Mason, like Nick Young.
7:54
Now I get it. Julian Wright is a serious bowler, so obviously Chris Paul influenced this decision.
7:58
With the last pick of the lottery, the L.A. Clippers take Al Thornton. For a draft eligible player, he is a dinosaur. At 24, he is probably the oldest player to enter the draft who did not complete a Mormon mission.
As a player, he is a fantastic scorer. He will probably make Corey Maggette expendable.
8:00
Here's how old Thornton is: he apparently modeled his speech patterns after Tim Meadows' "Ladies Man". I keep expecting him to offer Stu Scott a fish samwich.
8:05
ClarkPupp wakes up in time to see Rodney Stuckey be taken by the Pistons. He's so excited he stuck his fist in his mouth (ClarkPupp, not Stuckey). Stuckey is compared to Dwyane Wade and apparently ended up at a mid size school (Eastern Washington) because he did not qualify coming out of high school. He is a perfect fit for Detroit who just traded away their only reserve guard (Carlos Delfino).
8:07
Washington takes Nick Young. Stephen A. is killing this pick. He believes that the Wizards needed a big man.
Young's brother was apparently murdered, but ESPN has some technical difficulties as Stu Scott asks him about that. It apparently wasn't a too emotional experience because when the sound comes back, Young is laughing.
8:14
Madison Square Garden is in a frenzy as the Knicks have made a major trade. New York is getting Zach Randolph from the Blazers, and Portland is receiving Steve Francis and Channing Frye from the Knicks. I think Isiah Thomas has just swindled Kevin Pritchard. I have trouble believing the Blazers could not have gotten more in return for a high scoring power forward, even if he is a lunatic. At minimum, you would think they could have gotten the small forward they needed, and not had to take Steve Francis' horrible contract.
8:16
Speaking of lunatics, the New Jersey Nets have taken Sean Williams. Williams is, according to Andy Katz, an unbelievable talent, but he's stupid. He was arrested for drugs and dismissed from the Boston College program twice. Then rather than bending over backwards to impress teams that he was past this issue, he refused to leave Houston and would not commit to interviews with individual teams.
Williams is my vote for most likely to pull a "Birdman" and getting a lifetime suspension from the league.
8:23
Italian Marco Belinelli is the pick by Golden State. That's higher than he was projected, but probably closer to where he belonged. Marco is a great shooter and is very experienced. I was hoping he would fall to Phoenix, so I'm a little sad here.
8:27
Jim Gray and Ric Bucher are talking about Kobe Bryant. I'm more interested in ClarkPupp's efforts to crawl.
8:29
Javaris Crittenton is the Laker pick. Poor kid, he's going into the most dysfunctional situation in the NBA.
8:35
Miami takes Jason Smith from Colorado State. The analysts are calling him a replacement for Alonzo Mourning, but I cannot picture a player who looks any different than Mourning. Smith appears to have noodles for arms, all his highlights are outside shots, and he looks glued to the floor.
8:38
Lakers GM Mitch Kupchak is on and doing his best not to say anything. He is pretty successful. His fallout with Kobe may mean the end of his tenure in L.A., but he could have a future running for President of the United States.
8:41
The panel finally gets to discussing the Lakers pick and Mark Jackson is not impressed. He says the Lakers don't need a point guard because Phil Jackson is their coach. I guess Jackson was taking a nap when Jim Gray was talking about how Phil Jackson was likely coaching his final season for L.A.
8:43
Daequan Cook of Ohio State is the 21st selection by Philadelphia, but he is immediately traded to Miami for Jason Smith who was just taken eight minutes ago.
8:45
Rod Thorn, the Nets GM, is on defending the selection of Sean Williams. He insists that Williams is obviously smart because he scored a 1200 on the SATs. That's the first time I've heard of standardized test scores being used to evaluate a basketball player.
8:48
Michael Jordan must have just realized there were no other North Carolina players eligible for this draft. With pick #22, the Bobcats selected Jared Dudley of Boston College.
8:50
Spike Lee is touting Isiah Thomas as a genius. Had I respected Spike Lee before now, I would have lost all of it just now.
8:53
No surprise, the Knicks take Wilson Chandler who was rumored to have a promise from Thomas.
8:56
The Suns are on the clock, but as they did last year, they just sold their pick. Portland is the buyer. With the pick, the Trail Blazers get Rudy Fernandez. If he ever comes to the U.S., he could be pretty good. As Fran Frischilla is pointing out, though, FC Barcelona is ready to open their pocketbook to keep Fernandez in Spain. So, basically, I'm saying Portland just threw away $3MM. I have not been impressed with the Blazers decision making tonight.
9:04
Is Mark Jackson an idiot? He just said Utah is a great selector of talent. Sure, they got lucky with Paul Milsap last year, but Ronnie Brewer was their first round pick. In prior years, the Jazz have thrown picks away on Curtis Borchardt, Kris Humphries, Kirk Snyder, and Marcus Haislip. I was a huge Jazz fan back in the Stockton-to-Malone days, but their ineptitude in the draft has spoiled my love for the team. And Jackson thinks they are geniuses.
By the way, Utah ended up selecting Morris Almond a 6'6" SG from Rice University. The fact that he was selected by the Jazz means he will do nothing in the NBA.
9:12
Aaron Brooks? The Rockets really took Aaron Brooks? Really, if you can get a sub six foot point guard with a poor outside shot and give him a guaranteed contract, how can you pass that up? Great job Houston. The weird part is that Brooks probably would have been available when Houston selected in the second round"¦also the Rockets just traded for Mike James and already have Rafer Alston. Then, they have John Lucas, who is a better shooting version of Brooks, signed through next season.
9:14
Andy Katz is back on the air and he has two pieces of interesting information. One: Yi Jianlin's people have already threatened the Milwaukee management with a holdout. It's too bad Milwaukee didn't have access to the same information as, I don't know, me.
Two: This wasn't mentioned before, but the Sonics included the 35th pick in the Ray Allen deal.
9:17
Ric Bucher comes in with more Sonics data. The new plan for Sam Presti is to re-sign Rashard Lewis. (There goes the salary cap space the Sonics would have had in two years.) Now, I'm a little confused about the Jeff Green selection.
9:19
Detroit selects Arron Afflalo, another guard. He is a good fit for Detroit (big, strong, defense-minded), but the Pistons did nothing to address their aging front line with the first round.
9:25
The obsession with foreign players did not end when the Spurs lost Sam Presti to the Sonics. San Antonio just selected Tiago Splitter, a Brazilian playing in Spain. He has lottery talent, but it is questionable if he'll ever get out of his Spanish league contract. (Splitter plays on the same team as Luis Scola, another Spurs draft pick who has been locked up and unable to get across the pond.)
9:30
Pheonix is on the clock again. I wonder how they will go about not making this pick.
9:31
The Suns finally keep a pick, and they take Alando Tucker? He's a 6'5" power forward. Let's put it this way, he's Byron Houston without the sex offender status.
9:32
Philadelphia has the final pick of the first round. Normally this would be the end of my reporting, but because the Sonics have the first pick of the second round, I will stick around for an extra five minutes.
9:34
There is one pick left in the round and ESPN goes to commercial?
9:37
There is a trade to announce"¦except it is one that has already been reported. Jason Smith-Daequan Cook.
9:38
Petteri Koponen of Finland is the last player to get a guaranteed contract tonight. That's too bad, I was hoping the Sonics would take him to beef up the point guard slot. Instead, the Sixers will use him to back up Andre Miller. Koponen was a player who was not on anyone's radar until he played in the Nike Hoop Summit and shut down the player who will likely be the first overall pick next season (O.J. Mayo).
9:39
Koponen played for the Honka Playboys in Finland. What a great team name"¦if the Sonics decide to change names when they move to OKC, that's my suggestion.
9:41
Just as I expected, ESPN goes to another commercial between the rounds.
9:44
There is a rumor that the Sonics promised Greek shooting guard Renaldas Seibutus they would take him at #35. Now that this pick has been traded to Boston, it will be interesting to see if they still follow through in taking him.
9:45
Adam Silver, the deputy commissioner, who looks like David Stern if you shaved his head and stretched him like the kid in Charlie & the Chocolate Factory, takes over podium duty.
9:46
He announces Carl Landry a power forward from Purdue as the Sonics pick. There were a lot of players I would have taken before him. In fact dozens. Josh McRoberts and Glen Davis are still available. Taurean Green is available along with Gabe Pruitt"¦
9:47
Bonus Coverage: While I was rattling off players who would have made a lot more sense than Carl Landry, it was reported that Brandan Wright has been traded to Golden State for Jason Richardson. Personally, I see that as a no-brainer, but Stephen A. Smith emphatically disagrees with me. I'm still not sure what he dislikes. A high scoring player at a position the Bobcats have no one, in return for a project player who plays the same position as the Bobcats best player.
In relating this to the Sonics, it is pretty clear that the Bobcats will no longer be seeking Rashard Lewis now that they have taken on a big salary.
9:50
Good night.
Clark Matthews is a world-class checkers champion, co-founder, and basketball editor-emeritus of The Lost Ogle
Read More:
Stay in touch
Sign up for our free newsletter