Everything Else
Thunder Rolls, Critics Roar: OKC's $900M Arena Proposal Hits Public Ballot!
1:38 PM EDT on September 27, 2023
Yesterday afternoon, the Oklahoma City City Council officially advanced to a vote of the people a proposal to build a brand new $900+ million dollar arena for The Oklahoma City Thunder. 
As expected, the meeting was attended by the typical cast of characters who unsuccessfully oppose every MAPS-style campaign. 
David Glover gave a little speech. Steve Holt made his ADHD case. Nick Singer rambled. Nicole McAfee provided their pronouns. Even Joy Reardon made their way to the podium to angrily chastise the council while basking in the moment of having a captive audience…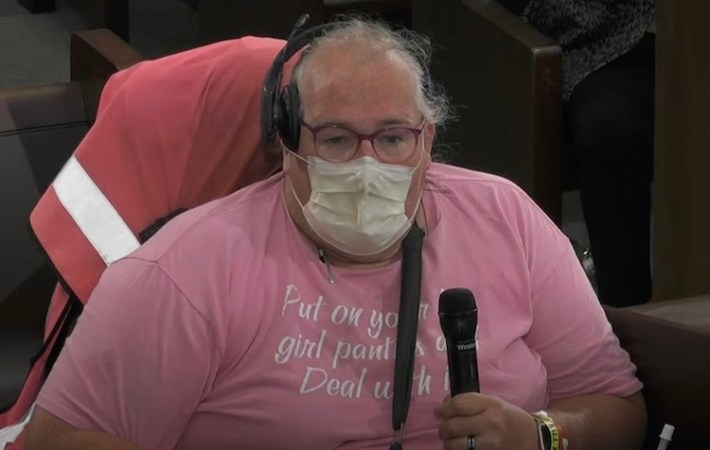 Although I agree with this zany cast of characters on some issues, I'm all for the new arena. 
Sure, it sucks that people who live in cities of our size have to line billionaires' pockets to experience the occasional joy and frequent frustration of high-level pro sports, but that's the world we live in and I'm begrudgingly okay with it.
If I have to pay a penny of every dollar to have a hometown NBA team to root for and watch in person (or on a shitty streaming service) on cold winter nights, so be it. 
Also, as a Thunder fan, I kind of want the team to get as good a deal as possible. It's hard enough for the team to compete with the LAs and NYs of the world when it comes to matching payrolls and seducing free agents, so the more money our team has to pay super-max contracts and go over the luxury tax line to keep our home-grown talent, the better.  
Some of the arena opponents made good points, but I was struck by how uninformed some of the speakers were. 
For example, a few people criticized Mayor Holt for striking a bad deal with Thunder, as if the Mayor had a say in any of this. He's just doing what the Thunder, OKC Chamber, and local Ruling Class tell him to do. He represents them more than someone who lives off SW 44th and Penn.
Also, a few other people mourned that a new arena could spell an end to Prairie Surf Media at the old Cox Center, apparently unaware that Prairie Surf Media was put in the Cox Center by the Ruling Class for the sole purpose of keeping the spot warm for a new arena.
After the citizen comments, the City Council went through the formalities of voting to advance the arena measure to a vote of the people. 
Councilwoman Jobeth Hammon – the council's resident Debbie Downer – gave an impassioned plea against the issue. She cited valid concerns such as the "trickle down" nature of the arena's economic benefits, or the fact that it was rushed to the City Council after being crafted in secret by the OKC Ruling Class. 
Councilwoman Nikki Nice – after complaining about how much her friends have to pay to accompany her to a game – also opposed the measure. If she ever needs a +1, she should let me know. 
But, it was all for naught, and the measure easily passed by a 7 - 2 margin. 
The Council – led by an emotional James Cooper – also passed a token measure to appease liberal moderates by forming a committee or something to make sure the arena pays people $15 dollars an hour.
At least I think that's the gist of it. Even though those extra costs will be passed to the people in the form of increased ticket and concession prices, I'm fine with it.  
To coincide with the council's vote, a group of arena opponents has launched a website called BuyYourOwnArena.com.
Naturally, they're going with a big fat misleading, made-up fact to drum up support against it…
I think they got the number by taking the city's portion of the arena cost and dividing it by our city's population, which ignores...
A) One cool thing about the MAPS model is that non-OKC residents – whether they live in the suburbs, rural Oklahoma or out-of-state – help financially contribute to projects.
B) People with higher incomes generally spend more than people with lower incomes, so they will likely pay more. 
In all fairness, this is politics, and misleading stats are part of the game. I'm sure the Thunder, David Holt, the Chamber of Commerce and others will promote and push their own misleading facts and stats as the vote nears.
For example, one thing Mayor Holt is already pushing is that Rumble will pack up the Thunder's bags and leave town if the arena vote fails. That feels like a big fat exaggeration and false threat designed to scare Thunder fans into voting yes. 
As a long-time pro sports fan who followed arena news closely dating back to the Hornets Central days, I know the NBA hates it when franchises relocate. 
Plus, the team is owned by a bunch of distinguished and wealthy OK Citians who enjoy being distinguished and wealthy OK Citians. I think Clay Bennett and Co. are fine being villains in Seattle, but I doubt they want their legacy tarnished in their own town. 
If this measure doesn't pass, I'm sure they'll go back to the drawing board, get the league involved, and the team and city will come up with some other way to get a publicly funded arena. 
But… I doubt that's going to happen. 
The Thunder has a better chance of winning a title next year than this vote does failing. The city has already set this up for success with a December election to coincide with the NBA season being in full effect. Plus, the Chamber of Commerce will likely pump hundreds of thousands into advertising and use its powerful citizen network to drum up support and get people out to vote. 
Meanwhile, all the opponents have is a little website, a few yard signs, and a pattering of support from civically engaged naysayers.  
Although I'm going to vote yes on December 12th, as a sucker for underdogs, I have to admit that I do admire these folks – especially the ones who have been doing it for decades – for fighting the losing fight each every time a MAPS-style vote comes due like an old soldier hiding in the jungle refusing to surrender. 
Someday, whether it be this arena vote or Maps XIII, they might actually get lucky and defeat one of these proposals.
Sure, it will sadly and ironically probably be one they organize that builds new libraries, homeless housing, or suburban parks, but I bet it will happen. 
Anyway, we'll continue to provide updates on the arena vote and cover any more news related to it. 
Stay with The Lost Ogle. We'll keep you advised. 
Stay in touch
Sign up for our free newsletter