Everything Else
Disgraced CEO and Looney Right-Wing Lobbyist Team Up For Lawton Refinery Deal…
9:58 AM EDT on August 25, 2023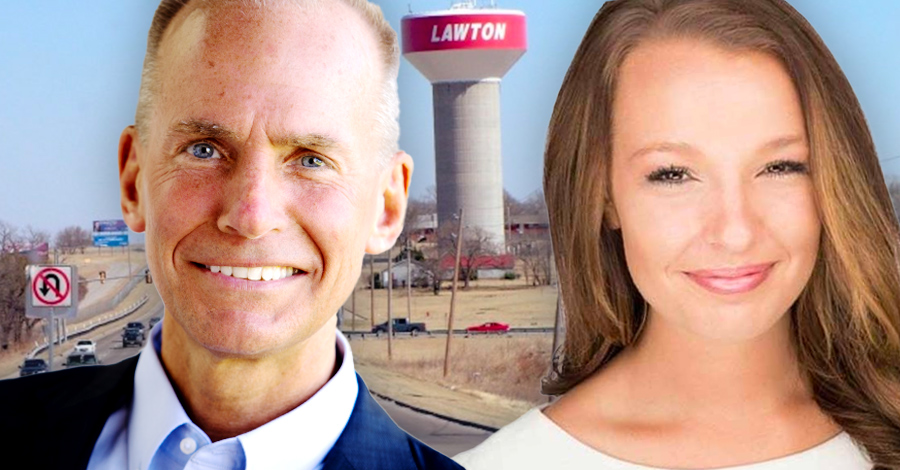 What do you get when you combine a grifter governor, a disgraced former aerospace CEO, and a quack right-wing lobbyist who promotes white supremacy conspiracy theories?
Apparently a new addition to our Overly Ambitious Oklahoma Business Projects Trivia Quiz!
Earlier this week, Westwin Elements – a company claiming to be America's major critical metals refinery – held a groundbreaking for a fancy test facility they're constructing in Lawton.
According to media reports, the company will import nickel and cobalt from the Congo all the way to Lawton, where it will then be refined into juice for EV vehicles, fighter jet parts, and other fancy things. 
Westwin apparently picked Lawton for the facility because A) the city is giving them money and B) it's probably the only city that offered to give them money.
The city of Lawton approved an economic development project in late February to designate $24 million in local funding to bring the refinery to the city's southwest side. Under the agreement, Westwin will build the plan by launching a $150 million Phase 1 by the end of 2023. It promised to bring 2,335 jobs to Lawton by five years and an average income of $100,000.
Yep, the company is promising to bring 2,335 jobs – a very specific number – earning an average income of $100,000 in five years. That sounds very believable and attainable, especially when you look at who is involved in the project. 
The big-money guy behind Westin is former Boeing CEO Dennis Muilenburg. 
In case you don't follow the news, Muilenburg was fired from Boeing in 2019 for misleading the public about the safety of the Boeing 737 Max – the commercial airliner that had a major design flaw that led to a couple of deadly crashes. 
Here are the details in case you need a refresher:
The two crashes, of a Lion Air flight that crashed into the sea off Jakarta and an Ethiopian Airlines flight from Addis Ababa, happened within four months of each other and involved a flight control function called the Maneuvering Characteristics Augmentation System (MCAS).

According to the SEC, after the first crash, Boeing and Muilenburg knew that MCAS "posed an ongoing airplane safety issue, but nevertheless assured the public that the 737 Max airplane was 'as safe as any airplane that has ever flown the skies.' Later, following the second crash, Boeing and Muilenburg assured the public that there were no slips or gaps in the certification process with respect to MCAS, despite being aware of contrary information."
What a stand-up guy, huh? 
Even though he knew the jets were dangerous and not safe to fly, he still assured the public everything was fine just so his company could make an honest buck. 
Call me crazy, but that sounds exactly like the type of guy we need funding a company that will use futuristic concoctions to refine various metals!
Sure, nickel and cobalt refining can create toxic chemicals that pollute the local air and water supply,  negatively impacting both human health and the environment, but who cares – with ole' Denny leading the way, everything will be super safe.
Plus, if something does go wrong, it's only Lawton.
While Muilenburg is the money guy behind the company, the founder and CEO is an evangelical Oklahoma gal by the name of KaLeigh Long.
According to The Oklahoman, she started a kick-off breakfast for the project with a good old-fashioned prayer:
"It has to do with more than America's first nickel and cobalt refinery," Westwin founder and CEO KaLeigh Long said before citing a Bible passage, Micah 6:8, and asking board member Jeemes Akers to pray.

"What does the Lord require of you but to act justly, to love mercy, and to walk humbly with your God?" Long said, paraphrasing the Scripture. "The truth is what we're doing is incredibly significant. It really is a measure of competition, and one that I think we will win, against the communist system.
I did some quick research on KaLeigh. She is apparently a former conservative lobbyist and political operative who gives off very very heavy "I support Ryan Walters even though I home-school my kids" vibes. 
For example, when she's not trailblazing Oklahoma's path into the world of cobalt refining, she's making appearances on OAN and propagating fringe white supremacist-endorsed myths and conspiracy theories on YouTube!
Here's a video of her talking about the totally not-true white genocide in South Africa. My favorite part is where she makes the totally false and dubious claim that the fictitious "genocide" of whites has affected millions of people. 
Yep. Not only is that video real, but it's still posted on her own YouTube page! She seriously hasn't deleted it! She has the judgment and instincts to make this metal refining company a success!
Anyway, those two people – along with our always ethical and by-the-book Oklahoma politicians like Governor Kevin Stitt and Lt. Governor Matt Pinnell – appear to be the key players in the project. 
With all of them in charge, I'm sure this project will be a success, and Oklahoma will soon become a global leader in the emergency cleanup of toxic chemical spills.
Stay with The Lost Ogle. We'll keep you advised.  
Stay in touch
Sign up for our free newsletter