Everything Else
Stitt says "Bon Voyage" as Tulsa deals with massive power outage…
10:23 AM EDT on June 20, 2023
Tulsa's finally paying the price for those big beautiful tree-lined streets.
Late Saturday night, Tom Hanks followed through on his threat to blow through Tulsa, using his dark magic to materialize into a harrowing squall line that packed a stronger punch than the storm from Cast Away, obliterating the city with powerful, sustained ultra-magnum gale-force winds.
The storm brought some death and systematic destruction to Oklahoma's Second City, uprooting Tulsa's many old pretty trees and turning them into missile-like projectiles, all while tossing around the city's power lines like a bowl of hot linguini from Ti Amo, leaving hundreds of thousands of the city's residents without power and no place to complain about it but Twitter.
Usually, whenever a severe weather event twists and turns its way through Oklahoma, Governor Sttit likes to make an appearance a day or two later. While wearing his cool custom-monogrammed blue REI vest, he'll tour the damage and give a little press conference, letting the news cameras know that he's on the scene and on the story, doing fancy Governor stuff for everyone to see.
Well, that is unless he has to fly out for a little workcation in Paris. In that case, the Oklahoma people can wait!
Via KJRH:
Gov. Stitt, other Oklahoma officials in France for Paris Air Show

Governor Kevin Stitt, as well as state representatives Nick Archer, Kyle Hilbert, Kevin Wallace, and State Senator John Haste, are in France for the Paris Air Show.

The Oklahoma Aerospace and Defense Team announced Oklahoma's participation in the 2023 Paris Air Show, which is being held June 19-25.

Oklahoma's Aerospace and Defense Team represents the manufacturing, repairs, and operations capital of the world. Oklahoma supports programs geared toward the education of aviation and repairs.
Yep, while Tulsa deals with the fallout of a "mesoscale convective system" that walloped the city with sustained 80mph+ winds, and left hundreds of thousands of people sweltering in June heat and humidity without power and A/C, Governor Stitt is going full Clark Griswold in Paris at the World's Largest Air Show.
As they say in France, imagine ça!
Lost Ogle readers with good memories will know this isn't the first time Stitt's left the state during a weather emergency. Back in February of 2021, an Ogle Mole sent us a pic of Stitt and his kids at a Santa Fe ski resort a day or two after he declared an emergency in Oklahoma due to a snowstorm.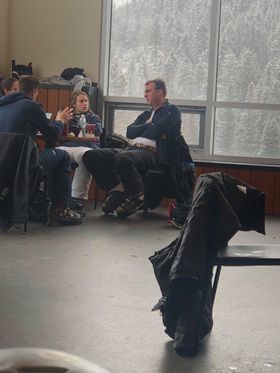 Friendly reminder to all powerful Oklahoma politicians and ruling elites – The Ogle Mole Network is everywhere! On that note, I guess if any French Moles spot the Stitt family on a Parisian patio eating croissants and creme brulee, send pics our way!
Of course, there are some key differences between the Paris workcation and the Santa Fe ski trip.
Paris trip has been on the calendar for a good while and is official state business, while the ski trip was a quick weekend family getaway. Plus, Stitt still hasn't made an emergency declaration for Tulsa!
The Governor's fiercest social media critics have latched onto this like a lineman digging his gaffs into a utility poll. For example:
Listen, I love to criticize Kevin Stitt. I literally make a living doing it, but this online flailing about the emergency declaration seems a bit overdramatic and unfair.
Don't get me wrong – I see why people are complaining.
During the Great Fall Ice Storm of 2020, I went a couple of weeks without power thanks to that pesky combination of Oklahoma weather and greedy utilities that won't bury power lines.
Being without electric power in Oklahoma, especially when it's really hot or really cold, makes you highly irritable and irrational and basically hate anyone and everyone, especially utility company CEOs, politicians, and drivers who turn into incompetent morons whenever they encounter busy intersections that have turned into chaotic four-way stops.
But...
If your work was sending you on an all-expenses paid trip to Paris, would you cut the trip short and return to Oklahoma to hang out in Tulsa without power for a week? Probably not.
Plus, declaring a "state of emergency" is a procedural move more than anything. It's not like one magic wave of Stitt's pen will magically restore everyone's power. It will still take time for Oklahoma's utility monopolies to fix this mess that happens every time we deal with a big weather event.
Also, it's not like Oklahoma is completely leaderless.
Even with Stitt going full oui oui in Paris, we still have Tourism Secretary / Lt. Governor Matt "Sunshine" Pinnel in charge of everything.
It's no secret he wants to be Governor in 2026, so he's obviously treating this situation seriously and with urgency, and using it as an opportunity to show Oklahomans he can lead a state through a crisis, right?
Really? Hundreds of thousands of people are without power in 90+ heat and you're telling them to go charge their phones and get free carousel rides at an aquarium?
I know Matt's also the Secretary of Tourism and everything, but sometimes – like when a major metropolitan area is suffering from a massive power outage – it's okay not to tie everything you do back to promoting tourism. Seriously, learn to read a room and/or city!
Anyway, I'm not 100% sure when Stitt gets back from Paris – and what air show souvenirs he'll bring back for the rest of us – but when he does, expect him to put on his little blue monogrammed REI vest, hold a press conference in front of a Mission Accomplished sign, and talk about Tulsans coming together to help other Tulsans, the hard work the lineman are doing to restore power, and all the other trite Oklahoma Standard cliches.
You know, the typical stuff he tosses out in these situations.
Also, expect him to pretend the Paris trip never happened, and – once everything is fixed and restored – for everyone to forget about the mass power outage until the next mass power outage when we all complain again.
Stay with The Lost Ogle. We'll keep you advised.
Stay in touch
Sign up for our free newsletter