Politics
Kevin Stitt hits New Mexico slopes while Oklahoma deals with massive winter storm…
8:57 AM EST on February 15, 2021
Yesterday afternoon, when David Holt and other city leaders were on a Zoom call talking about how the city is handling Siberian Snowpocalypse 2021, I remembered thinking "Why's Governor Stitt being so quiet? This 'Winter Weather Emergency' is a perfect opportunity for him to get in front of cameras, play the role of 'Crisis Governor," and most importantly, wear a heavier, more winterized version of those fancy, official-looking Oklahoma jackets he sported at the beginning of the pandemic."
Well, I guess we know the answer.
Last night, an Ogle Mole sent us this photograph of a worn-out and maskless Kevin Stitt hanging with his family after a long day of skiing the slopes in beautiful Santa Fe: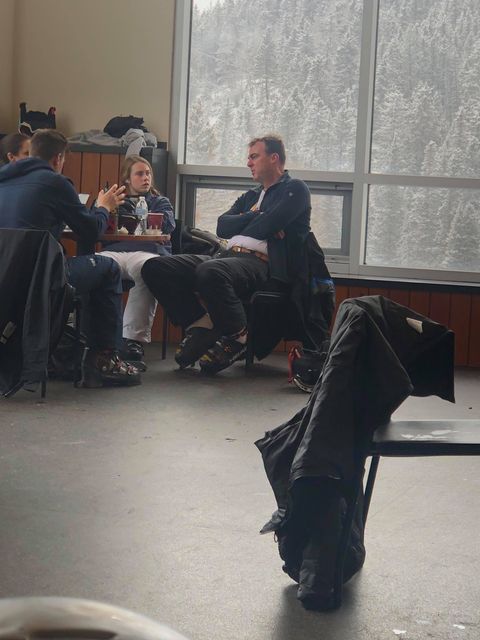 That's funny. When I first saw the photo without context, I thought Kevin Stitt and his family were simply taking the winter storm a bit too seriously, and relaxing after a long day helping Jonathan Conder and the National Guard rescue stranded mountain climbers in the Arbuckles. I should have known he was just following the fine example set by countless governors before him and leaving the state for a mini-vacation, as opposed to going to one of our beautiful state parks. Must be nice.
Obviously, it's not the best look for a Governor to flee his state just a day or two after declaring a state of emergency for his state, but you can't really blame a guy for not wanting to cancel a planned vacation because it's going to snow. That's even more of an incentive to leave!
According to the Mole, the photo was taken on Sunday at a hamburger restaurant on Santa Fe mountain. I have no clue when Kevin Stitt is coming back to Oklahoma, but I imagine it may be awhile. If he's smart, he'll follow his own advice and stay in New Mexico.
Governor Kevin Stitt and state officials are encouraging all Oklahomans to continue to pay attention to road conditions and to conserve energy where possible due to historic demand levels.

"State and local crews are working around-the-clock to clear the roads as quickly as possible," said Gov. Stitt. "Please stay home if you can to allow them to work more effectively and consider lowering your thermostat to 68 degrees or cooler and avoid using large appliances like your washer and dryer. Oklahomans take pride in helping their neighbors and we can make a big difference by taking a few small steps together."
Yep, "Oklahomans can make a big difference by taking a few small steps (and freezing our asses off) together," says the guy tossing another couple of logs of piñon on the fire in his cabin in New Mexico.
On that note, does anyone find it a bit ironic that the one time of the year we really need to use natural gas to heat our homes, the natural gas companies are begging us not to use natural gas? I guess it's not as pure, clean and abundant as we thought.
Anyway, if any other Moles have pics of the Governor going down the black course (or green circle) send them our way. Stay with The Lost Ogle, we'll keep you advised.
Stay in touch
Sign up for our free newsletter