Everything Else
OU Classics Professor accused of "relentless campaign" of sexual harassment and predation…
1:23 PM EDT on June 14, 2023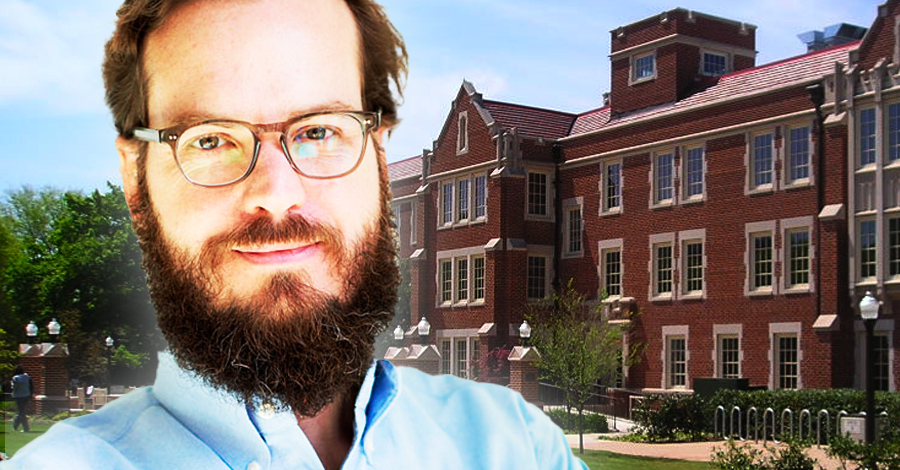 Yesterday, The Oklahoman published a report about yet another sexual harassment lawsuit involving faculty at The University of Oklahoma. 
This time around, a former employee claims she had to quit her job as an academic adviser because she was under "a relentless campaign of harassment and predation" by an OU professor in the University's esteemed Classics and Letters department. 
This harassment and predation allegedly involved creepy text messages, comments, phone sex, and even assault.
According to the victim, it culminated with the professor acting like a sleazy Byzantine emperor and making a sad, desperate, and totally unwanted move on her in his office.
Here are the basic details via The Oklahoman:
A former academic adviser at the University of Oklahoma is suing the school and her former department chair, saying she had to resign from her job because of relentless sexual harassment.

The former adviser, named in the federal lawsuit as "Jane Doe," claims the harassment and discrimination she allegedly suffered from the department chair "was sufficiently severe and pervasive to create an abusive and sexually hostile work environment."

According to the lawsuit, the defendant "John Doe" is a prominent scholar and a department chair in the OU College of Arts and Sciences.
When I read the article, my first question was probably a lot like yours: 
"I wonder who the John Doe is?!" 
I asked that question aloud on Twitter, and it didn't take long for the Ogle Mole Network to deliver. Thanks to it, we've learned the accusations are being made against OU professor Scott F. Johnson. 
Here's his pic:
According to his website, the Oxford-educated Dr. Johnson has been a professor in the Classics Department at OU since 2015, and has served as chair of the Department of Classics and Letters since 2021. He's written a bunch of probably boring books on late antiquity literature and culture, and specializes in Greek, Syriac, and Coptic. Whatever that means. 
In addition to that, he's also listed as part of the team at Commonplace Books – a bookstore located in Midtown Oklahoma City. The words he uses to describe himself are "Hickory" and "Wind."
I haven't been able to track down the federal lawsuit that names OU as a defendant, but I did locate the state lawsuit Jane Doe filed in Cleveland County in June of 2022. 
Many of the allegations in it are disturbing. 
Jane Doe claims that a couple of months after she started work for OU in January 2020, Johnson embarked on a lengthy campaign of predatory sexual harassment. 
According to the lawsuit, he would allegedly make comments about her appearance, text her about masturbation, and at one point, even coerced her into phone sex!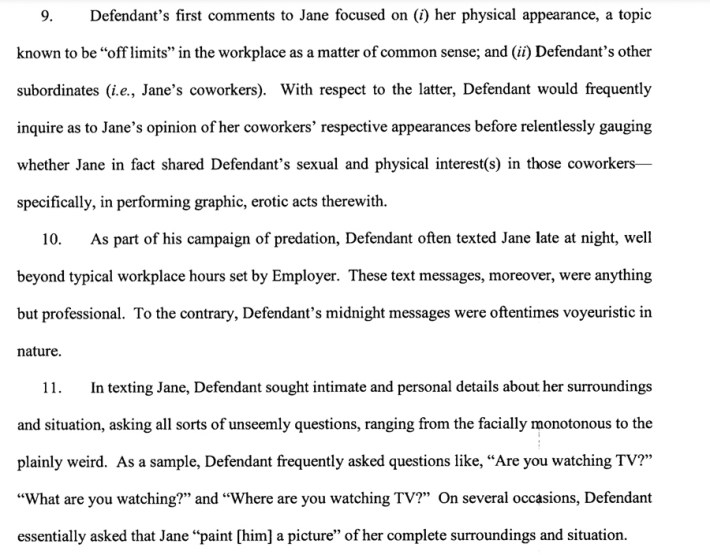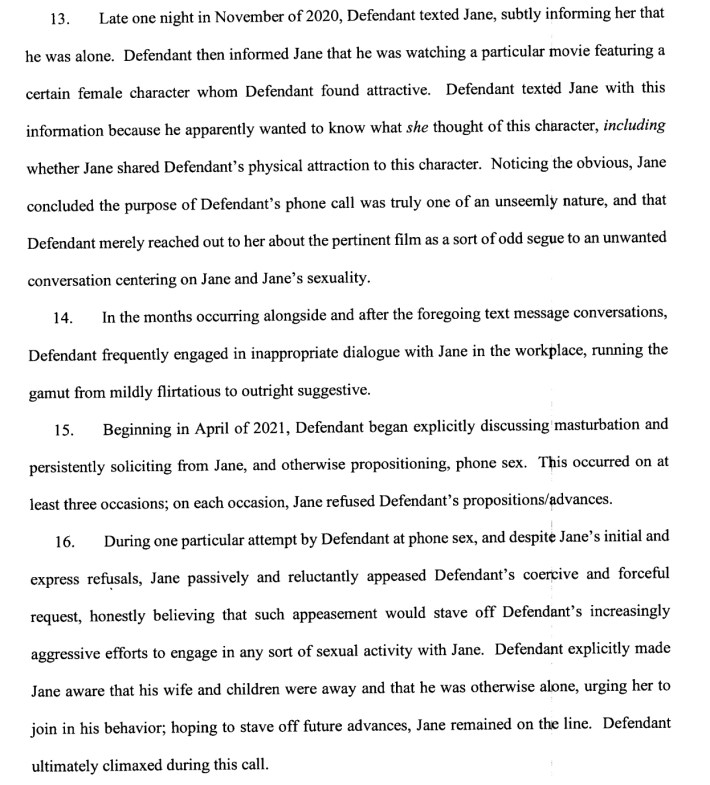 According to the federal lawsuit The Oklahoman obtained, Jane Doe isn't the first OU employee to deal with harassment from Johnson.
Check this out:
The former adviser claims at least six women in her department quit or retired because of the chair's "discriminatory" treatment.

The behavior dates back to at least 2015, when, according to the lawsuit, during a meeting with several people to discuss a draft paper, the department chair allegedly reached under a table and placed his hand between a colleague's legs.

In 2018, at a university-affiliated event, the department chair is alleged to have openly harassed a former adjunct professor, including making unwanted sexual advances. 

He also is accused of uninvitedly touching another faculty member's wife at an off-campus event in approximately 2017 or 2018.
After dealing with all the stuff, Jane Doe eventually started looking for new work and successfully found a new job. When she stopped by Johnson's office to say goodbye, he did a quick Oizys impression before channeling his inner Eros and Dolus and making a move.
From the lawsuit: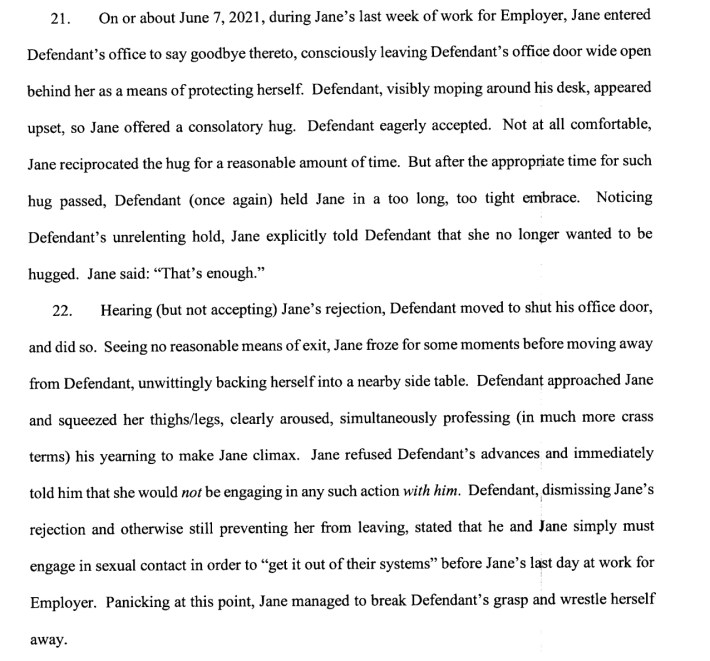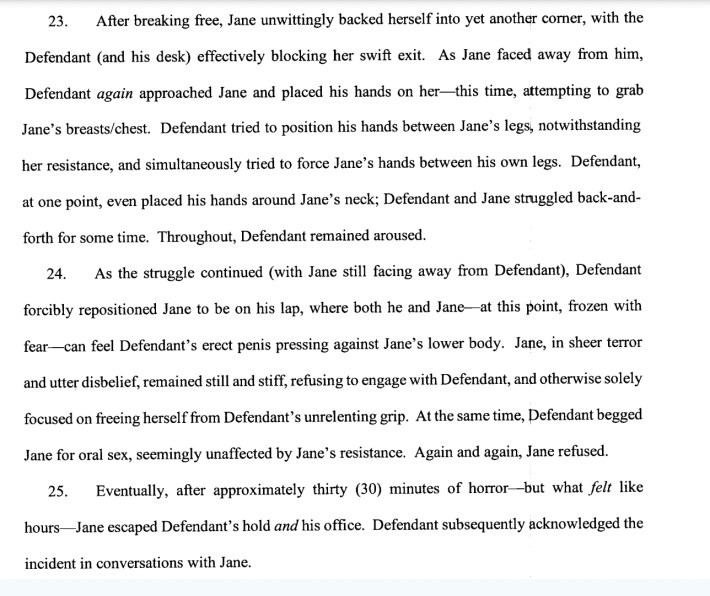 Once again, I should stress that these serious claims are all allegations filed in a civil lawsuit in Oklahoma and federal court, and no criminal charges against Johnson have been filed.
We also don't know how OU's handled the accusations and/or if there's been any disciplinary action taken against Johnson. Considering OU's so keen on protecting staff that they'd rather break the law than reveal open records, it may take them a while to let everyone know. 
Also, there are some fair questions to ask of Jane Doe that would make some liberal types mad, like...
"If this guy had been sexually harassing in an unwanted manner you for a year, and made your life such a living hell that you had to find a new job to get away from him, why are you stopping by his office to say goodbye?" or "When he allegedly made his move on you in his office, why didn't you kick him in the nuts and scream for help?"
I know using power and position of authority to coerce people into doing things they don't want to do is part of the predatory playbook, but as they say in Rome, periculum in mora.
Also, as Ron Ron recently reminded us, there are always two sides to every story. As a result, I sent Johnson an email earlier today to get his thoughts and comments on the matter: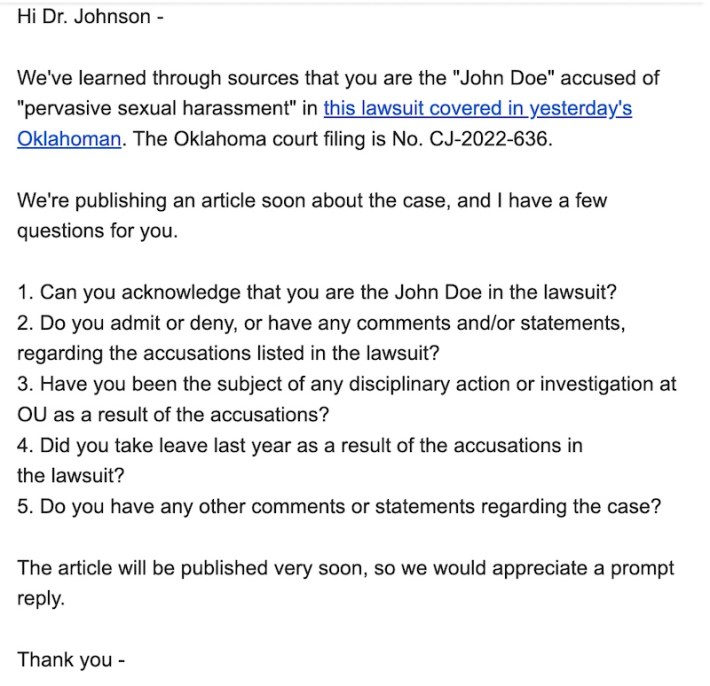 As of publication time, he hasn't responded. We'll let you know if he does. We'll also keep our on eyes and ears on this story and provide any updates as they become available. You can read the state case here or about the federal case involving OU over at The Oklahoman.
Stay with The Lost Ogle. We'll keep you advised.
Stay in touch
Sign up for our free newsletter